Sat Aug 4, 2018, 01:18 PM
Collimator (1,486 posts)
Looking at a photo of Barack Obama. (Birthday Boy)
There is a picture posted on another site that show Obama surrounded by a number of black Africans. Everyone in the photo is relaxed and happy.

It called to mind many other pictures of him surrounded by people of different colors and nationalities and ages. So many show people with the same engaged, happy expressions on their faces.

The thought came to me: He truly is a Man of the People. ALL of the People. Just like "All lives matter."

With President Obama, there was no need to remind people that "black lives matter (too)" and that white lives were suddenly "losing ground" because he was only going to look after his "own" people.

We were all his own, and he was ours. I was never prouder to be an American, and I was happy for my black friends and co-workers for seeing that example of accomplishment that reflected their identities.

Heck, if there were ever an Italian-American president I would be happy. It would be a fun thing for me to imagine big pots of tomato sauce simmering in the White House kitchens.

It might not be as important to me as Obama's election was to the Black community, because Italian-Americans aren't still suffering systematically from prejudice in this country. Unfortunately, many of my ethnic group have moved on to being "White" and are convinced that everything is slanted to advantage all those "n-words" and that "hardworking people like them can't get a decent break".

They don't remember their moms and dads, grandparents or great-grandparents being called "dago" and "wop". And even if they heard the word today, it could never measure in pain to the "n-word".

That makes Barack Obama's accomplishments more noteworthy. He had to appeal to the larger part of America's better nature in accepting him. All whats-his-name has to do is appeal to the worse in a small portion of America and let them spread the ugly.
7 replies, 1949 views
Replies to this discussion thread
| | | | |
| --- | --- | --- | --- |
| 7 replies | Author | Time | Post |
| Looking at a photo of Barack Obama. (Birthday Boy) (Original post) | Collimator | Aug 2018 | OP |
| | malaise | Aug 2018 | #1 |
| | Collimator | Aug 2018 | #2 |
| | malaise | Aug 2018 | #3 |
| | Collimator | Aug 2018 | #4 |
| | Mosby | Aug 2018 | #5 |
| | DFW | Aug 2018 | #6 |
| | Collimator | Aug 2018 | #7 |
---
Response to Collimator (Original post)
Sat Aug 4, 2018, 01:21 PM
malaise (254,704 posts)
1. What exactly do you mean by black Africans? n/t
---
Response to malaise (Reply #1)
Sat Aug 4, 2018, 01:33 PM
Collimator (1,486 posts)
2. There were black people and there were wearing African attire.
Furthermore, they were very dark skinned, which suggests there was no admixture of other genes, so I didn't register them as Black Americans.

I designated the term "black Africans" because there are people living in African nations who are not black and they consider themselves African.

Just trying to be precise. I am an Anthropologist by training. I could have used terms such as "phenotypically representative of an indigenious African genotype", but that would have seemed a tad pretentious.
---
Response to Collimator (Reply #2)
Sat Aug 4, 2018, 01:48 PM
malaise (254,704 posts)
3. So they were Africans period n/t
---
Response to malaise (Reply #3)
Sat Aug 4, 2018, 03:22 PM
Collimator (1,486 posts)
4. I noted their color. . .
Because it lead into the first statement of the second paragraph about Obama's poise and approachableness to people of "all colors, nationalities etc. . ."

I am unsure of your point. If you are concerned about my views and my status as an acceptable person on this forum, perhaps you could review some of my earlier posts to determine where I stand on certain key issues.

If there is something awkwardly worded in my OP on this thread that has you concerned and/or offended, please allow me to apologize. Anyone who really knows me is aware that I am not very comfortable with conflict and that I am unfailingly polite and respectful of nearly everyone that I encounter.
---
---
Response to Collimator (Original post)
Sat Aug 4, 2018, 03:46 PM
DFW (50,637 posts)
6. Not all Italian-Americans are suited for the presidency, don't forget. I have a modest example.....
Rudolfo Giuliani
As for African attire, you never know who that stuff will fit:
[URL=
.html][IMG]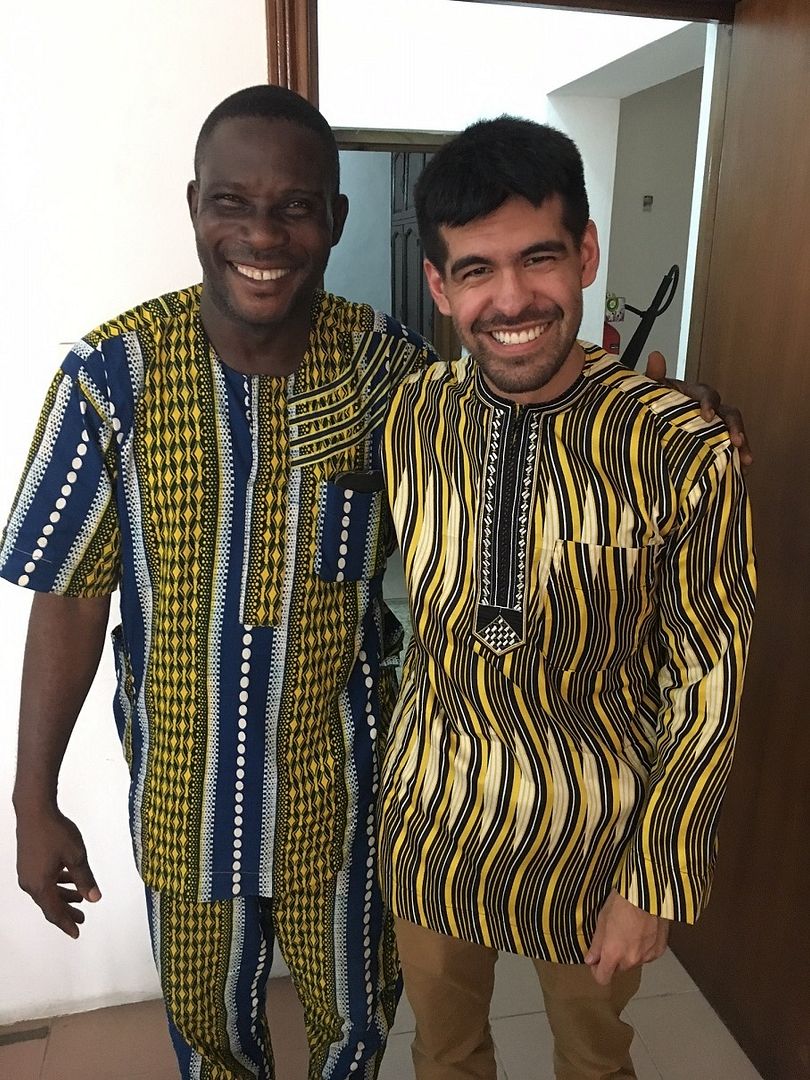 [/IMG][/URL]
(A local friend with my nephew in Kano, Nigeria)
---
Response to DFW (Reply #6)
Sat Aug 4, 2018, 04:48 PM
Collimator (1,486 posts)
7. Oh, I can think of a LOT of Italian-Americans who are not suited for the Presidency.
And the immediate examples that come to mind share both my genotype and phenotype.
And if there was ever an example about the content of a man's character and the color of a man's skin being unrelated, I give you our glow-in-the-dark Pretendisent.
His entire
raison d'etre
as a person and leader is based on the supposed "superiority" of being a member of the "white race." Well, no one with blood in their veins has truly white skin, there is actually only the one human race and Trump has all the integrity of a goldfish.
Wait! I meant that he has the
intelligence
of a goldfish, which IS reflected in the color of his complexion. His character would be more properly compared to a neo-natal shark that eats its siblings.
But I don't want to focus on whats-his-face. It is Barack Obama's birthday and his character is truly the gold standard for all would-be leaders. People who refuse to see his worth are only measuring the melanin of his phenotype.