Tue Jul 31, 2018, 01:01 PM
kpete (67,616 posts)
SEN WARNER dispenses w- Facebook hedging that it might NOT be Russia-Pins it directly on the Kremlin
SEN. WARNER dispenses with the Facebook hedging that it might not be Russia, pins it directly on the Kremlin:

NEWS: Facebook is seeing signs that Russia-backed actors -- or someone else mimicking their 2016 strategy -- are mounting an ongoing political influence campaign in the U.S.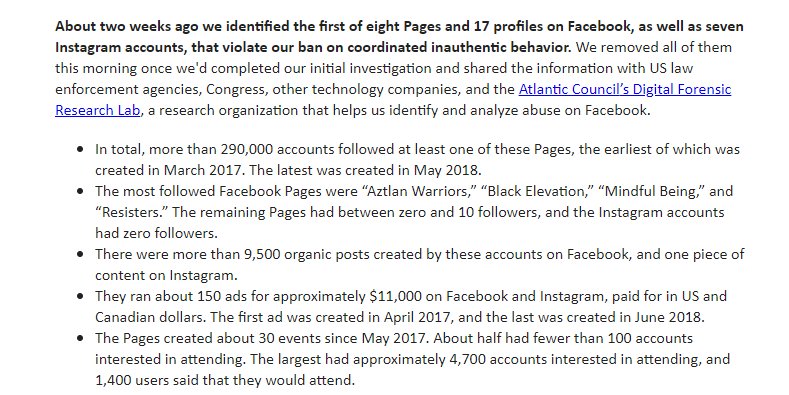 Link to tweet
Link to tweet
7 replies, 1152 views
Replies to this discussion thread
| | | | |
| --- | --- | --- | --- |
| 7 replies | Author | Time | Post |
| SEN WARNER dispenses w- Facebook hedging that it might NOT be Russia-Pins it directly on the Kremlin (Original post) | kpete | Jul 2018 | OP |
| | Gothmog | Jul 2018 | #1 |
| | NRaleighLiberal | Jul 2018 | #2 |
| | leftieNanner | Jul 2018 | #3 |
| | renate | Jul 2018 | #4 |
| | C_U_L8R | Jul 2018 | #5 |
| | brooklynite | Jul 2018 | #6 |
| | lame54 | Jul 2018 | #7 |
---
Response to kpete (Original post)
Tue Jul 31, 2018, 01:04 PM
Gothmog (95,432 posts)
1. Senator Warner is correct in that this interference is from Russia
---
Response to Gothmog (Reply #1)
Tue Jul 31, 2018, 01:18 PM
NRaleighLiberal (54,613 posts)
2. interference? meddling? how about hacking? how about theft?
---
Response to kpete (Original post)
Tue Jul 31, 2018, 01:21 PM
leftieNanner (9,909 posts)
3. It's great to see this direct blame on the Kremlin
There is a young man in my community who is spreading the Russian BS all over FB. He and I discussed our interest in some of Bernie's ideas before the 2016 election and he went waaaay over to the Bernie or Bust side of the equation. He posted and shared a lot of that vile anti-Hillary stuff.

Well, fast forward two years and he is still posting some of the obvious divisive Russian memes. I have challenged him on it but he sticks his fingers in his ears and tells me I'm part of the problem. Not sure how I can reach him to explain that the Democratic party is open to all kinds of good people. He is still pissed about the way he perceives that "his" candidate was treated.

He's not a stupid man, but he could be a part of the solution. Do I need to say that he was a Jill Stein supporter?

sigh
---
Response to kpete (Original post)
Tue Jul 31, 2018, 01:26 PM
renate (13,326 posts)
4. I don't understand why people respond to obvious trolls, or to natural-born morons for that matter
Has any actual Trump supporter--I mean literally, even one?--been swayed by any response they've ever read on a message board or in a comment section? Of course not. The idea is wholly laughable. And the Russian trolls are just doing the job they're paid to do.

So why do people engage with them, whether they're paid trolls or actual Trump voters who aren't worth engaging with in the first place? They deserve to be entirely ignored, whether they believe the crap they're shoveling or are just doing their job. To do otherwise is to do EXACTLY what Russia wants Americans to do.

They should be ignored completely. Let them spew their insults into an empty room. The Russians must be laughing their asses off at the way they've managed to distract the American people for years with their FRICKIN OBVIOUS TROLLING.

Trolling and disinformation are two different things. Ignoring the trolling is something we can actually do. It's up to Facebook et al, not individuals, to deal with the spreading of false information from Russia. As far as Trump's cult members are concerned, logic, reason, and facts are not going to make an ant-sized dent in the monolith of Trump supporters' ignorance. Trying to correct the tsunami of Russian disinformation one comment at a time is utterly pointless, it gives the Russians exactly what they want, and it wastes time and energy that could be better spent elsewhere, and I just don't understand why people persist in attempting it.
---
Response to kpete (Original post)
Tue Jul 31, 2018, 01:53 PM
C_U_L8R (40,331 posts)
5. Trump-sponsored Russian hackers and trolls
There is a obvious patron and beneficiary to all this 'collusion' and criminal conspiracy.
---
Response to kpete (Original post)
Tue Jul 31, 2018, 02:40 PM
brooklynite (70,617 posts)
6. In all fairness...it could be a 200 kilo guy in his basement in a Moscow suburb...
---
Response to kpete (Original post)
Tue Jul 31, 2018, 04:37 PM
lame54 (30,207 posts)
7. who says Russians can't be 400 lbs