Tue May 1, 2018, 11:34 AM
Exotica (1,461 posts)
Learn to Spot the Secret Signals of Far-Right 'Sovereign Citizens'
A surprising number of Americans are caught up in the throes of a fringe anti-government conspiracy theory, adherents to which have telltale "tics."
https://www.vice.com/en_us/article/8xkp74/learn-to-spot-the-secret-signals-of-far-right-sovereign-citizens
Almost immediately after it came out that
alleged Waffle House shooter Travis Reinking
had
self-identified
as a "sovereign citizen," Mark Pitcavage started getting phone calls. He's an expert at the Anti-Defamation League's Center on Extremism who's been studying the far-right clique for a quarter of a century, mastering the ins-and-outs of the complex conspiracy theory that grounds their beliefs. And while making sense of this specific brand of anti-government ideology requires a lot of specialized knowledge—among other things, learning to decode several unhinged dialects—he doesn't mind the effort. After all, sovereign citizens are his favorite group to study.
"I don't know if I'm supposed to have favorites," Pitcavage clarified in an interview. "But let me just say the sovereign citizen movement is this strange mix of bizarre or even humorous and incredibly scary."
Still, he sometimes struggles in presentations to illustrate telltale signs exhibited by sovereign citizens. That's because, unlike the
alt-right
, or
neo-Nazis
, for instance, their's is not a neatly-defined subculture. That is to say, though adherents of sovereign citizen thinking tend to follow specific gurus, they don't often have distinct memes or tattoos that pop in a PowerPoint presentation. Even so, when I called up Pitcavage for an insider's take on how to decode the signals and "tics" exhibited by these people, he offered a few ways to tell if someone you know might have been radicalized by their strange ideology.
VICE
: Do people who are kind of flirting with this stuff actually associate with the Don't Tread on Me—a.k.a. Gadsden—flag, or is that a misconception?
Mark Pitcavage
: I'm sure some do, but that's more of either a Tea Party thing or a militia movement thing. It's not, like, a specifically sovereign citizen sort of symbol. It's a patriotic symbol that a lot of different types of people—both extremists and not extremists—can use. Sometimes, you have people on one of those websites where you can put anything on a cap or a T-shirt—they'll put something, with like [the part of the
Uniform Commercial Code
sovereigns believe preserves their common law rights] UCC 1-207 or the sovereign citizen flag on one of those.
snip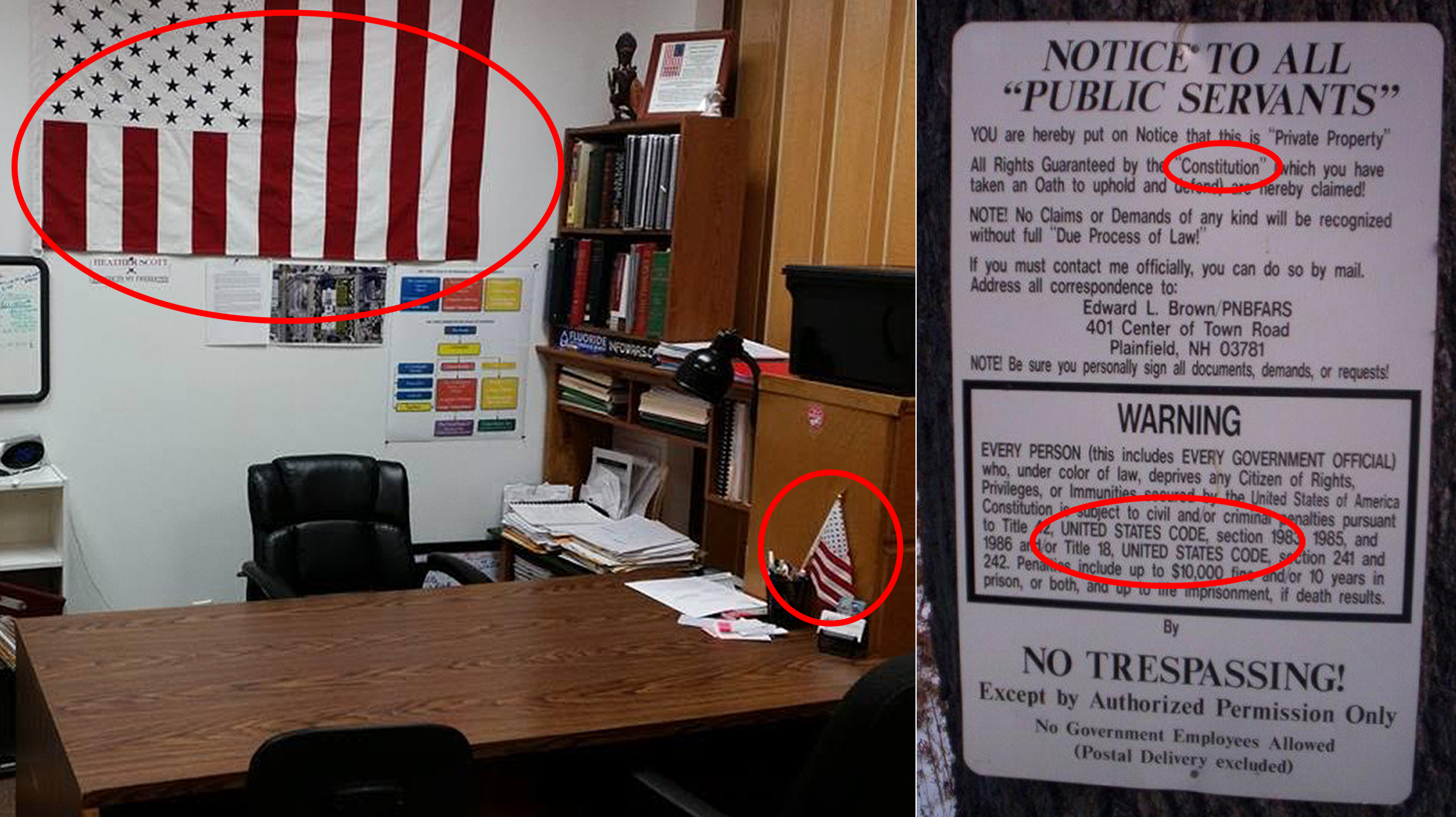 7 replies, 1285 views
Replies to this discussion thread
| | | | |
| --- | --- | --- | --- |
| 7 replies | Author | Time | Post |
| Learn to Spot the Secret Signals of Far-Right 'Sovereign Citizens' (Original post) | Exotica | May 2018 | OP |
| | niyad | May 2018 | #1 |
| | PJMcK | May 2018 | #2 |
| | flotsam | May 2018 | #5 |
| | Wellstone ruled | May 2018 | #3 |
| | GrapesOfWrath | May 2018 | #4 |
| | Runningdawg | May 2018 | #6 |
| | snort | May 2018 | #7 |
---
Response to Exotica (Original post)
Tue May 1, 2018, 11:46 AM
niyad (66,962 posts)
1. good to keep handy
---
Response to Exotica (Original post)
Tue May 1, 2018, 11:47 AM
PJMcK (10,916 posts)
2. I like the sign on the right
At the bottom, it says, "No Government Employees Allowed (Postal Delivery excluded)."

He'll take the service offered by USPS. What if there's a violent person on the premises? Are the police (government employees) excluded? What if there's fire in the building? Are the firemen (government employees) excluded?

These people are stupid. They really don't present a threat to our country except for their idiocy. We seem to have a lot of that these days.
---
Response to PJMcK (Reply #2)
Tue May 1, 2018, 12:23 PM
flotsam (2,206 posts)
5. The sign rang a bell:
---
Response to Exotica (Original post)
Tue May 1, 2018, 12:03 PM
Wellstone ruled (27,041 posts)
3. Most of the
Sovereign's we encounter tend to be very aggressive. Usually packing and have zero regards for others property rights.
---
Response to Exotica (Original post)
Tue May 1, 2018, 12:14 PM
GrapesOfWrath (442 posts)
4. There's a book on the shelf
---
Response to GrapesOfWrath (Reply #4)
Tue May 1, 2018, 12:36 PM
Runningdawg (2,522 posts)
6. Many of the conspiracy theorists
believe fluoride is how the government controls our minds. I know one of these goobers and when he travels which is not often or far away, he has a tank in the back of his pickup to haul his own well water.
---
Response to GrapesOfWrath (Reply #4)
Tue May 1, 2018, 02:38 PM
snort (1,880 posts)
7. infowars.com is right next to it