Tue Mar 6, 2018, 05:22 PM
Tommy_Carcetti (38,481 posts)
The latest of bizarre and shady pro-Trump social media figures on parade: An0maly
If you've followed any of my postings here on DU over the past 2-3 years, you'll note that I seem to take a keen interest in certain individuals who, notwithstanding their lack of talent or intellectual prowess, have become "internet famous" social media personalities whose punditry is parroted by those on the right as if they are Confucius.
This begun before we really knew the full extent of Russian interference and meddling in the 2016 election. It harkens to the earliest days of Trump as a presidential candidate, back when we all assumed he'd fade away before the most recent season of The Apprentice.
The first such individual was "Gary Forbes", who popped up on my Facebook feed in 2015 when a slide of his laughably proclaimed that Donald Trump had an IQ in the 99.9905490555th percentile. His face subsequently showed up claiming that Trump had received the endorsement of aviation legend Chuck Yeager (he hadn't) and similarly bogus claims. Forbes claimed to be in charge of "The Forbes Group" and said he had an entire staff of volunteers at his disposal working to spread the word about Donald Trump over social media. When the Republican convention approached and some Republicans indicated they had some reservations about nominating Donald Trump as their presidential candidate, Forbes encouraged subscribers of his social media feed to threaten and harass GOP delegates who might get out of line.
Problem was, "Gary Forbes" didn't actually exist. His real name was Gary Pasquariello, and before hawking Donald Trump, he had unsuccessfully attempted careers in self-help book writing, inspirational speaking, and jazzy new age piano playing. "The Forbes Group" wasn't a real corporation, and there was no evidence that any of his supposed staff were real people. Someone was pumping up this guy to push out massive amounts of disinformation on social media about Donald Trump, but at the time I had no clue who it might be.
But "Gary Forbes" wasn't the only absurdly bizarre pro-Trump figure to pop up on social media. You had folks like Kim Dotcom, a fugitive convicted fraudster and shitty part-time EDM deejay, who Sean Hannity insisted held crucial information about the death of DNC staffer Seth Rich. (Predictably, Mr. Dotcom's bombshell evidence never actually materialized, and Hannity was left ranting like the crazy little weasel that he is). Even more sinister as the truth about Russian interference came to light I found out about people like Artem Klyushin and Konstantin Rykov. Klyushin is a wealthy Russian who escorted Donald Trump around Moscow during his 2013 Miss Universe pageant and then began to pimp Trump's presidential aspirations over Twitter long before Trump officially announced. Much like Beetlejuice, if you merely say his name over social media, he'll start following you, like it or not. His good buddy Rykov, a Kremlin-linked propagandist, made a boastful confession over Facebook just days after Trump's election in November 2016 claiming that he had spearheaded a social media campaign from Russia to get Trump elected. His confession included claims that he used Cambridge Analytica data in order to build up "pyschotypes" for gullible potential Trump voters over social media who could be fed information that would influence them to support Trump. You had his partner Maria Katasonova, the glamorous Jennifer Lawrence lookalike who once presented roses to Marine La Pen and starred in her own music video plainly titled, "Russian Hacker."
Lately, I've found that there's been a newcomer to the pro-Trump social media agiprop that's creeped its way onto my social media feeds. He goes by the name "An0maly" and by all indications unlike Dotcom, Klyushin, Rykov and Katasonova, he's a homegrown concern. He's probably most like "Gary Forbes" in that much like Pasquariello, he has an embarrassing awful pre-propaganda career on display. Whereas Pasquariello dabbled in smooth piano, An0maly's claim to fame is that before he was a social media darling whose mission was to spread the word of Donald Trump, he was a rapper.
Just not a very good one. Here, you can see for yourself:
Without saying much more, Chuggo would be done proud.
I first came across Mr. An0maly when it appears that whoever handled the social media account for a winery I liked on Facebook decided to slip in one of his propaganda videos, "Why I support Donald Trump" onto his employer's Facebook account for everyone to see. I'm not going to post that here, but it's all up on Youtube if you are so daring to watch.
My first impulse was to nickname An0maly "Douchebag Jesus" because physically he bore a strong resemblance to the classical European depiction of the bearded Jesus Christ. Except that whereas the actual Jesus was wise and sage, Douchebag Jesus is a annoying Trump loving douchebag whose whiny speaking delivery immediately makes you want to punch him in the face.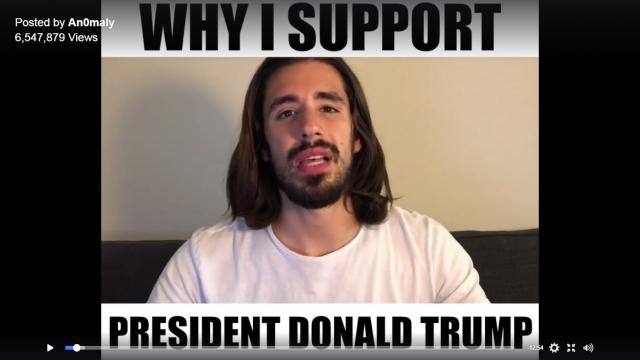 But nevermind that. He's a real hardcore genuine rapper, yo, and he's here to deliver a message about his main homeboy Donald J. Trump.
However, unlike "Gary Forbes"--who never personally appeared on any his social media postings beyond a couple of stock photos (thus only adding to his mystique)--An0maly's far from camera shy. And he seems to be coming from a particular angle aimed at what Rykov described as a certain "psychotype".
Basically, An0maly claims he is a former Bernie Sanders supporter and "Ex Democrat" who came to support Trump after the primaries. He'll insist that he doesn't agree with everything Donald Trump stands for, but then proceeds to support everything that Donald Trump stands for. Frequently he'll use his posts to attack the main whipping boy of the right, the "mainstream media." Other times, he'll attack the Russian investigation as a "hoax". He's even gone as far as to criticize military action against the Syrian government. (Are you suspicious yet?)
Interestingly enough, if you see his Facebook feed, peppered amongst all the musings about Donald Trump and attacks against his enemies, he'll put up little new age maxims and inspirational messages that are meaningless but I assume are intended to convey the idea that he has some sort of depth. In some of his video messages, he actually appears next to a statue of Buddha.
Needless to say, I'd be surprised if this guy
wasn't
receiving material support from underground sources backed by--ahem--certain Eastern European authoritarian regimes. While claiming that the Russians have their fingers over everything on the internet has become almost a cliché, a little known failed rapper hardly strikes mas having the sophistication to pull off this operation on his own.
It all goes back to Rykov's "psychotypes" and a certain targeted segment of the population that the Russian hacking community wants to exploit. You see, An0maly's no bible beating uptight conservative from the heartland. He's a rapper! And he supported Bernie Sanders! And he likes cool new aged stuff! He's hip! He's with it! And he's going to tell you all you need to know about Donald Trump and the Deep State that wants to bring him down!
Whether any of this actual works, I have no idea. But this guy's social media footprint shows that there are people out there still trying to screw with our heads out there.
If this guy An0maly was a nobody, I wouldn't be wasting anyone's time. But his whiny "woke" diatribes have appeared on my own social media feed on numerous occasions. He's got over 400,000 followers on Facebook, 12,000 followers on Twitter, and 13,000 subscribers on Youtube and he's constantly being shared and re-tweeted. If anything, Douchebag Jesus's existence shows that social media is still very much a battlefield where malicious elements and rogue states are still attempting to exploit the thoughts and trends of the American voters, and we should continue to remain vigilant.
9 replies, 12603 views
Replies to this discussion thread
| | | | |
| --- | --- | --- | --- |
| 9 replies | Author | Time | Post |
| The latest of bizarre and shady pro-Trump social media figures on parade: An0maly (Original post) | Tommy_Carcetti | Mar 2018 | OP |
| | underpants | Mar 2018 | #1 |
| | Tommy_Carcetti | Mar 2018 | #5 |
| | underpants | Mar 2018 | #6 |
| | Tommy_Carcetti | Mar 2018 | #7 |
| | Cha | Mar 2018 | #2 |
| | poboy2 | Mar 2018 | #3 |
| | Tommy_Carcetti | Mar 2018 | #4 |
| | poboy2 | Mar 2018 | #8 |
| | Tommy_Carcetti | Mar 2018 | #9 |
---
Response to Tommy_Carcetti (Original post)
Tue Mar 6, 2018, 05:33 PM
underpants (151,334 posts)
1. Way to stay on it
---
Response to underpants (Reply #1)
Tue Mar 6, 2018, 05:56 PM
Tommy_Carcetti (38,481 posts)
5. Just a little bit of internet sleuthing and public records show that An0maly's real name is....
.....Albert J. Faleski.

He's from New Jersey.

Faleski strikes me more of a Polish than a Russian name, so I don't think he's got any Russian homeboys abroad.
---
Response to Tommy_Carcetti (Reply #5)
Tue Mar 6, 2018, 06:32 PM
underpants (151,334 posts)
6. He could be fishing for support
---
Response to underpants (Reply #6)
Tue Mar 6, 2018, 06:34 PM
Tommy_Carcetti (38,481 posts)
7. You never know with these weirdos.
---
Response to Tommy_Carcetti (Original post)
Tue Mar 6, 2018, 05:38 PM
Cha (256,158 posts)
2. K&R
---
Response to Tommy_Carcetti (Original post)
Tue Mar 6, 2018, 05:41 PM
poboy2 (2,078 posts)
3. Thank you for your research. Cambridge Analytica/psychotypes
A #TrumpRussia Confession in Plain Sight
by Martin Longman November 24, 2017
What it looks like to me is that on November 12th, 2016, Konstantin Rykov posted pretty close to a full confession in Facebook. We've spent over a year since then trying to piece together what happened, but there's a strong sense in which he already told us.
Could he possibly have made such boasts without having any knowledge of what would soon be divulged or discovered about Russian hacking and collusion between Wikileaks and Cambridge Analytica or the work that was done by Cambridge Analytica and how it was utilized on social media?
https://washingtonmonthly.com/2017/11/24/a-trumprussia-confession-in-plain-sight/
---
Response to Tommy_Carcetti (Original post)
Tue Mar 6, 2018, 05:42 PM
Tommy_Carcetti (38,481 posts)
4. And just to further my theory that this guy is some Russian pushed joke....
...he's also using his page to support moon landing hoax conspiracy theories.

I swear, there are people in St. Petersburg Russia who are laughing their asses off at us right now.
---
Response to Tommy_Carcetti (Reply #4)
Wed Mar 7, 2018, 11:00 AM
poboy2 (2,078 posts)
8. Here is one you might know of or be interested in-
BEN COLLINS
03.07.18 5:20 AM ET
In the Reddit community TumblrInAction, a group devoted to mocking posts by "social justice warriors" who "pretend they're oppressed," a user named TheStonedWizard was dumbfounded by a post written on a Tumblr page called "Hustle in a Trap"
last April. For good reason.
"The Beast is eating, sniffing & injecting us," the Tumblr post by Hustle in a Trap reads. "Melanin $158,144 a pound, 185 pounds in the Average Black mans body. Dead black man with 185 pounds of melanin worth $29,256,640."

In short, when Hustle in a Trap's post isn't confusing melanin, the natural pigments produced by all people that makes skin darker, and melatonin, the hormone that regulates sleep, it's alleging this: African-Americans are being kidnapped for their melanin, but America is too distracted by "issues pertaining to homosexuality" to notice.
"What world do these people live in?" TheStonedWizard asked.
The answer to that question is Savushkina Street in St. Petersburg, Russia.
more
https://www.thedailybeast.com/the-russian-troll-tumblr-post-so-stupid-it-went-viral?ref=home
---
Response to poboy2 (Reply #8)
Wed Mar 7, 2018, 11:05 AM
Tommy_Carcetti (38,481 posts)
9. Reddit and 4Chan were and still are sewers when it came to Trump support.
And Russian trolling ate it all up.