Mon Feb 26, 2018, 03:31 AM
rpannier (23,225 posts)
Pictures from the First CPAC Conference -- sort of. (KInd of pic heavy)
The first pic is of Fritz Julius Kuhn, the leader of the German-American Bund (C-PAC of the 30's)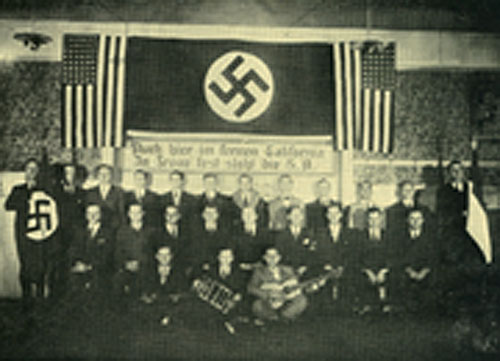 6 replies, 1745 views
Replies to this discussion thread
| | | | |
| --- | --- | --- | --- |
| 6 replies | Author | Time | Post |
| Pictures from the First CPAC Conference -- sort of. (KInd of pic heavy) (Original post) | rpannier | Feb 2018 | OP |
| | nocalflea | Feb 2018 | #1 |
| | MrScorpio | Feb 2018 | #2 |
| | nocalflea | Feb 2018 | #6 |
| | JI7 | Feb 2018 | #3 |
| | nocalflea | Feb 2018 | #5 |
| | Scarsdale | Feb 2018 | #4 |
---
Response to rpannier (Original post)
Mon Feb 26, 2018, 04:41 AM
nocalflea (1,387 posts)
1. I wonder how many of the CPAC Nazis understand that they're beholden to the Russian mob and it's boy Putin.
I wonder how many care. That's the scary part.

Some seemingly intelligent people are willing to abandon US sovereignty. Whether an individual is compromised or is just a useful idiot you would think that they understood the ramifications of what they are supporting.

They talk about strength ,but they're "all in" on being a puppet state.

I am not talking about those blinded by Trump, but the "knowing".


---
Response to nocalflea (Reply #1)
Mon Feb 26, 2018, 05:17 AM
MrScorpio (73,203 posts)
2. Think of a new Molotov-Ribbentrop Pact...
Only with our own proto-fascists in DC and Putin's Neo-bolsheviks.

That's the way we can explain it to them.
---
Response to MrScorpio (Reply #2)
Mon Feb 26, 2018, 06:18 AM
nocalflea (1,387 posts)
6. LOL. Literally Nazis and russians. But that comparison gives too much autonomy to Trump.
Dumping of the Paris Climate Accords , trade pacs and the gutting of the US State Dept. are Putin's agenda and not in the best interest of the US.

The Soviets and Nazis were wary of each other. Trump kisses Putin's ass.

Mattis seems to be the only cabinet member who isn't playing the destroy America game and he gets away with it because Trump's afraid of him, doesn't know shit and depends on his expertise.
---
Response to nocalflea (Reply #1)
Mon Feb 26, 2018, 05:26 AM
JI7 (85,473 posts)
3. which seemingly intelligent people ?
---
Response to JI7 (Reply #3)
Mon Feb 26, 2018, 05:56 AM
nocalflea (1,387 posts)
5. "seemingly" is key here.
La Pierre while disgusting he isn't a complete idiot. Yeah, stupid enough to get in bed with the Russians .

Dershowitz-doubt if he was at CPAC ,though

Paul Ryan is complicit and though not as near smart as the press makes him out to be, not a complete idiot either. Ayn Rand disicple... oops, nevermind.

Cotton,Gowdy ... . I see you're not buying it. I think It's best if I concede your point.
---
Response to rpannier (Original post)
Mon Feb 26, 2018, 05:52 AM
Scarsdale (9,426 posts)
4. The swastika has to be
replaced with the hammer and sickle, to thank Putin for putting the US on the fast track to destruction. He had to wait for several years for the Orange Turd to come along. Someone stupid and gullible enough for Vlad to place into the WH. Now the entire world is laughing at the US.