Edited on Wed Nov-14-07 09:14 PM by stillcool47
This new topic is awaiting edits. It was started by ProSense.
The shadow war in Iraq
Blackwater Chief at Nexus of Military and Business
Top Shiite cleric (Sistani) hits out at Iraq security contractors
Officials balked on '05 Blackwater inquiry (State Dept. e-mails discussed how to deflect questions)
Iraq cabinet okays law to end foreign firms' immunity
Blackwater Launches Campaign Urging Supporters To 'Influence' Congress With Misleading Spin
Did Blackwater sneak silencers into Iraq?
U.S. Colonel: Blackwater "Actually Drew Their Weapons On U.S. Soldiers."
http://www.prweb.com/releases/2003/5/prweb64820.htm
Melbourne, Florida based Aviation Worldwide Services owns and operates STI Aviation, Inc. Air Quest, Inc. and Presidential Airways, Inc. which specialize in military training operations and aviation transport.
Moyock, North Carolina (PRWEB) April 28, 2003 – Blackwater USA ("Blackwater") announced today that its parent company has successfully completed the acquisition of Aviation Worldwide Services and its affiliated companies ("AWS").
AWS is an aviation services company founded by Richard Pere and Tim Childrey focused on military training operations and aviation transport for the U.S. Government. AWS supports U.S. and other government agencies worldwide. AWS conducts business under three operating subsidiaries: STI Aviation, Inc. Air Quest, Inc. and Presidential Airways, Inc. Presidential Airways is an FAA Part 135 operation and STI Aviation is an FAA/JAA 145 repair station.
-----------------------------------------------------------------------------
Blackwater USA consists of Blackwater Training Center, Blackwater Target Systems, Blackwater Security Consulting and Blackwater Canine. Blackwater has set the standard for firearms and related training to the U.S. military, Federal agencies, Federal, State and local law enforcement as well as foreign military and law enforcement. Blackwater's 5,200 square acre facility located in Moyock, NC (35 miles South of Norfolk, VA) is the largest privately-owned firearms training facility in the nation and contains state of the art firearms ranges and training apparatus.
http://www.prweb.com/releases/2003/5/prweb64820.htm
Saturday, June 17, 2006
Senator to look into mercenary list-up, exercises in Subic
SENATOR Rodolfo Biazon will file a resolution seeking to investigate the lease of properties, including a protected area in Subic, Zambales, for the recruitment and training ground for American soldiers for their war in Iraq and Afghanistan.
Biazon, chairman of the Senate committee on national defense and security, said on Friday that the Subic Bay Metropolitan Authority (SBMA) had approved the lease contract with Satelles Solutions, Inc., an affiliate of American security agency Greystone Limited involved in recruitment and training of prospective American soldiers.
-----------------------------------------
The senator wondered which countries the recruits will come from. Blackwater USA, also an American security agency involved in recruitment and training of prospective American soldiers that has set up similar establishments in Guatemala, has been recruiting trainees from Chile, Guatemala, Colombia, El Salvador, and Honduras.
Blackwater was actually the one applying for a lease contract with the SBMA but it was granted to Greystone.
http://www.sunstar.com.ph/static/man/2006/06/17/news/se...
(REC/Sunnex)
Here are NAMES in CIA Flights, Front-companies, Rendition Story!
Por Clayton Hallmark - Wednesday, Apr. 05, 2006 at 7:37 PM
http://argentina.indymedia.org/news/2006/04/393732.php
Amnesty International has released its long-awaited report on CIA flights by front companies for the rendition of Muslims accused of terror activities. Earlier, the Council of Europe (March 1, 2006) released its report on countries' safeguards against CIA kidnapping, torture, and prisons in Europe. It says the safeguards aren't adequate. My report goes both of them one better. Below are four pieces of photo evidence.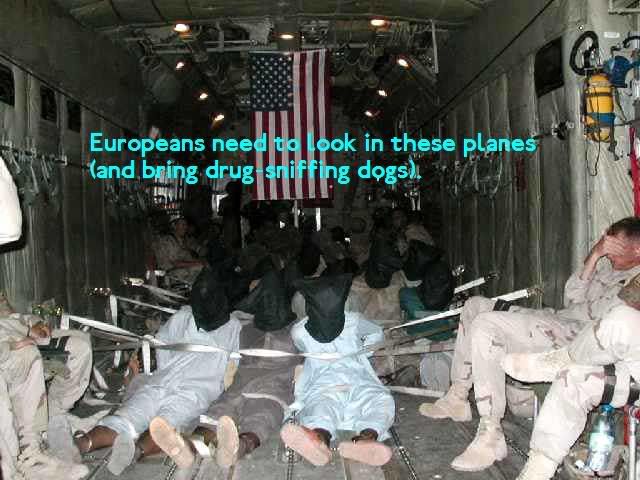 There are 51 different planes in the table but 57 N-numbers (FAA registration numbers, or tail numbers). Thus some planes have duplicate numbers. This is because of the CIA practice of moving a plane to another shell company once it becomes known to the public. You are not supposed to know how people are transported to torture.
There are 26 planes operated by 8 known CIA front companies ("air proprietaries"). The number of planes varies from time to time. The front companies are marked with asterisks (*) at the end. The list is as up to date and complete as practicable. Planes are moved from one front to another in a kind of shell game. The CIA buys and sells planes through the fronts and occasionally creates and deletes fronts. Some of the leasing companies in the list, like ALAMEDA Corp. (which owns former US Marshals Service prison plane N822US), might be CIA front companies that have not been identified yet. (The real cover was not Brewster Jennings but was Burke Dennehy and Paul Jennings.)
Another 10 of the planes are registered to Blackwater USA of Moyock, NC, the famous mercenary (soldiers of fortune) company. This company is an important contractor for the CIA and the US military, providing personnel and training as well as aviation services. It provides aviation services through its subsidiaries, Aviation Worldwide Services and Presidential Airways. (The latter is not to be confused with Presidential Aviation, an aircraft-leasing company owned by the super-rich Mark J. Gordon, who sold his telemarketing company for over $600 million.)
The 26 CIA-front planes and 10 Blackwater planes are CIA frequent fliers. The other 15 planes in the list (26 + 10 + 15 = 51 planes, total) represent occasional leases from companies like Gordon's. For example, N85VM is leased out by Richmor Aviation and is hangared in Schenectady, NY. This plane was used in the rendition to Egypt of militant cleric Abu Omar from Milan, Italy, in 2003. The 22 CIA abductors soon might be tried there in absentia. The plane is owned by Assembly Point Aviation. That in turn is owned by Phillip H. Morse, a Jupiter, FL, inventor/businessman who also made hundreds of millions on the sale of a business (NAMIC USA
of Glen Falls, NY) and who co-owns the Boston Red Sox. Asked about his plane's use to fly prisoners to Guantanamo Bay, Morse said, ''It just so happens one of our customers is the CIA. I was glad to have the business."