Mon Jun 11, 2012, 05:37 PM
Robb (39,658 posts)
Meet my 30,000(ish) new houseguests! [View all]
So, some may have noticed a
note I posted last night
. Pics were requested, so here's the story.
Yesterday afternoon, at what has become the neighborhood kids' "let's fool around after dinner" time, I brought my daughter out to see who was riding on what scooter, or who had inflated what leaky pool, etc. The whole neighborhood was crowded at my next-door-neighbor's house, to witness this:
Yes, it's a honeybee swarm. My neighbor had already called an exterminator, who wasn't going to make it until the next day. Mrs. Robb, of course, had other plans. I was just happily taking pictures.
The swarm was acorn-shaped, about the size of two basketballs, and was 100% bees -- on a branch about at eye level. Here's the close-up:
Anyhow, Mrs. Robb kept bees back when she was in the Peace Corps in South America. She mulled it over a bit, and finally told me we were adopting the bees. She cleared it with the neighbor (who really just wanted to get 30,000 bees a little further away from his front door!), and she found a beekeeping supply place that not only answered their phone at 8:30 on a Sunday night, but whose owner hopped in his car to go open the store so Mrs. Robb could buy a nice bee box ready-to-go.
Apparently there's some urgency to these things; when bees swarm, it's because they've ditched their old hive as being too small. They're kind of hanging out (!) while the scouts go find a new spot to set up shop. It only lasts a day or two; the bee store dude was amazed at the serendipity of someone with experience handling bees getting a swarm they could reach without a ladder
right next door
. It seems people spend a lot of time looking for bees.
Anyhoo. She ran out and got the box while my helper and I suited up.
OK, she didn't really help. She's 3. But she caught me in the early moments when I was still considering wearing a motorcycle helmet. Hell, I was planning to look like an astronaut, but when Mrs. Robb didn't even wear the goggles I dutifully brought her, I felt like a weenie.
So,
I
wore the goggles.
The plan was to walk over with the big branch loppers, and I'd cut through the branch the bees were on while Mrs. Robb held the branch itself; once I'd cut the branch, she'd just walk out of the neighbors' yard and into ours, then plop the bees into their new box. My neighbor held the flashlights --
30 feet back.
You'll understand why I don't have any pictures of me trying to cut a branch without waking up 30,000 bees inches from my helmet-less face. But I managed it, and to my amazement (if not Mrs. Robb's), the little dudes barely budged. In fact, as I was walking ahead and opening gates and such, I snapped off a picture of my eternally-surprising-me-with-mad-skillz wife, holding the new charges right before she dropped 'em in.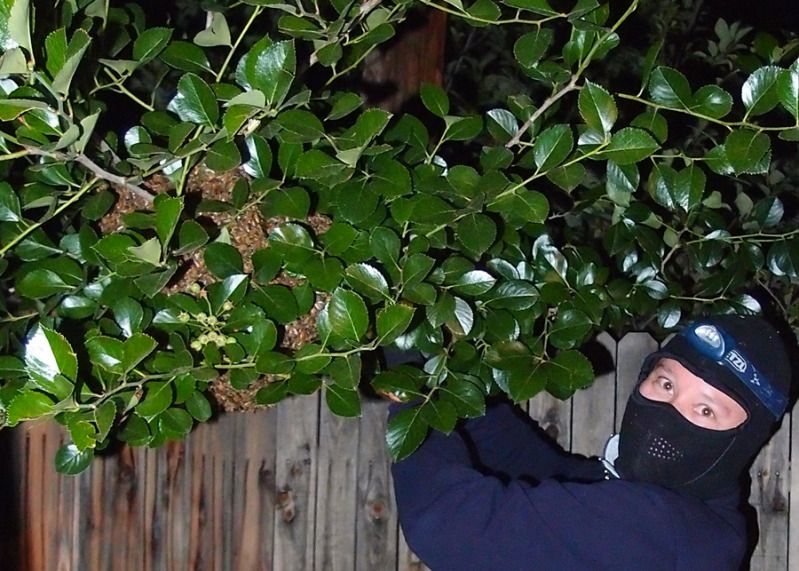 Nothing sexier than a woman in a balaclava carrying a swarm of bees.
Next I took the lid off the bee box, removed a few of the vertical comb dealies to make some room, and she tapped the branch and knocked the bees in. After a bit we put the comb deals back in (sorry I don't know what they're called, it's my first day!). At first they didn't fit snugly -- there were bees underneath! Eventually the little guys worked their way down, we put on the lid, and went to bed.
And they stuck around. Here they are this morning: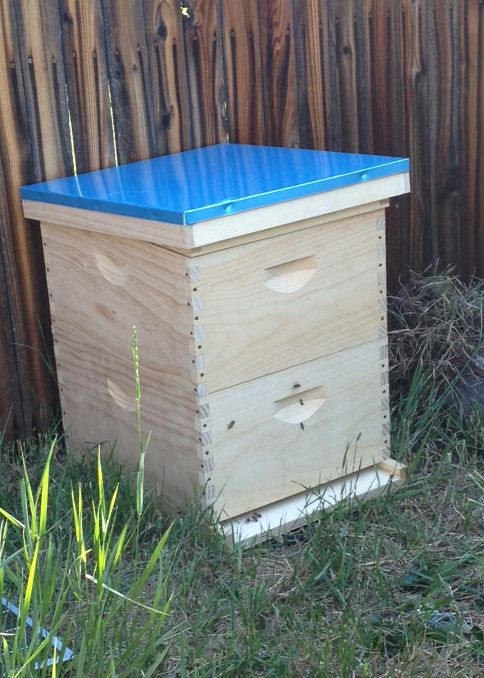 Nice digs, I think. Plus they're right next to several established apple, peach and pear trees. Strawberries and raspberries, too, all of which I hope will also see the benefit of a local bee population.
I'd say "ask me anything," but I still know
nothing
.
Tell me anything!
76 replies, 10192 views
Replies to this discussion thread
76 replies
Author
Time
Post

Meet my 30,000(ish) new houseguests!

[View all]

Robb
Jun 2012
OP
NYC_SKP
Jun 2012
#1
bluesbassman
Jun 2012
#2
TahitiNut
Jun 2012
#73
rug
Jun 2012
#3
Robb
Jun 2012
#15
montanto
Jun 2012
#37
trof
Jun 2012
#4
Swede
Jun 2012
#7
awoke_in_2003
Jun 2012
#68
LaurenG
Jun 2012
#5
Denninmi
Jun 2012
#6
Robb
Jun 2012
#16
joanbarnes
Jun 2012
#36
cliffordu
Jun 2012
#8
HopeHoops
Jun 2012
#9
Flaxbee
Jun 2012
#10
GoneOffShore
Jun 2012
#11
Ednahilda
Jun 2012
#38
wryter2000
Jun 2012
#64
Ednahilda
Jun 2012
#67
nolabear
Jun 2012
#12
Lochloosa
Jun 2012
#13
YellowRubberDuckie
Jun 2012
#14
Tsiyu
Jun 2012
#17
Woody Woodpecker
Jun 2012
#41
Tuesday Afternoon
Jun 2012
#18
Kali
Jun 2012
#19
GoCubsGo
Jun 2012
#22
Kali
Jun 2012
#31
sarge43
Jun 2012
#60
harmonicon
Jun 2012
#26
Kali
Jun 2012
#32
Skinner
Jun 2012
#20
Rhiannon12866
Jun 2012
#21
YankeyMCC
Jun 2012
#23
Bertha Venation
Jun 2012
#24
lunatica
Jun 2012
#25
Old and In the Way
Jun 2012
#27
Ptah
Jun 2012
#28
Voice for Peace
Jun 2012
#48
BanzaiBonnie
Jun 2012
#29
nadine_mn
Jun 2012
#30
mopinko
Jun 2012
#33
tclambert
Jun 2012
#34
sinkingfeeling
Jun 2012
#35
Ednahilda
Jun 2012
#39
Woody Woodpecker
Jun 2012
#40
TexasProgresive
Jun 2012
#42
babylonsister
Jun 2012
#43
fizzgig
Jun 2012
#44
RiffRandell
Jun 2012
#45
Cleita
Jun 2012
#46
Voice for Peace
Jun 2012
#47
AllyCat
Jun 2012
#49
freshwest
Jun 2012
#50
berni_mccoy
Jun 2012
#51
Rainngirl
Jun 2012
#52
lunasun
Jun 2012
#53
MADem
Jun 2012
#54
Recursion
Jun 2012
#55
AnneD
Jun 2012
#56
sarge43
Jun 2012
#57
ceile
Jun 2012
#58
lumberjack_jeff
Jun 2012
#59
KT2000
Jun 2012
#61
horseshoecrab
Jun 2012
#62
wryter2000
Jun 2012
#63
handmade34
Jun 2012
#65
Auggie
Jun 2012
#66
awoke_in_2003
Jun 2012
#69
pa28
Jun 2012
#70
Bossy Monkey
Jun 2012
#71
Fla Dem
Jun 2012
#72
redqueen
Jun 2012
#74
oldandhappy
May 2013
#75
oldandhappy
May 2013
#76