Sun Aug 19, 2012, 10:11 AM
xchrom (108,903 posts)
Scientology detox programmes: expensive and unproven
http://www.guardian.co.uk/science/blog/2012/aug/17/scientology-detox-programmes-expensive-unproven-dangerous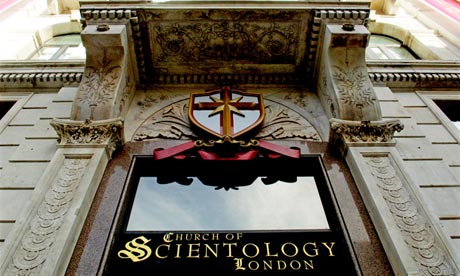 The Church of Scientology's detox programmes are becoming popular in many countries, including the UK. Photograph: Sarah Lee/Guardian
Imagine a therapy that "enables an individual to rid himself of the harmful effects of drugs, toxins and other chemicals that lodge in the body and create a biochemical barrier to spiritual well-being". If you were told that the treatment was entirely natural and had already "enabled hundreds of thousands to free themselves from the harmful effects of drugs and toxins and so achieve spiritual gains", wouldn't you be tempted to try it?
Who doesn't want a body free of nasty chemicals? And who wouldn't be delighted at the chance to counter a growing threat to an "advancement in mental … wellbeing"?
These claims are being made for the "Purification Rundown" ("Purif" for short) and the closely related Narconon detox programmes, which mainly consist of regular exercise, sauna and nutrition, with industrial doses of vitamins and minerals added for good measure. Some of the claims are quite specific: the Purif programme is supposed to increase your IQ, reduce the level of cancer-causing agents in your body, and even enable you to lose weight easily and quickly. The Narconon programme is more specifically targeted at drug and alcohol dependency and is claimed to have an impressive success rate of 75%.
Both programmes were developed by L Ron Hubbard (1911-1986) and are currently marketed by the Church of Scientology. The CoS is not generally known to be an organisation that promotes healthcare programmes. Hubbard, the pulp-fiction writer who founded the CoS, portrayed himself somewhat over-optimistically as a pioneer, innovator and nuclear physicist.
2 replies, 1079 views
Replies to this discussion thread
| | | | |
| --- | --- | --- | --- |
| 2 replies | Author | Time | Post |
| Scientology detox programmes: expensive and unproven (Original post) | xchrom | Aug 2012 | OP |
| | cbayer | Aug 2012 | #1 |
| | xchrom | Aug 2012 | #2 |
---
Response to xchrom (Original post)
Sun Aug 19, 2012, 05:51 PM
cbayer (146,218 posts)
1. While detox from some things are exceedingly unpleasant, but not inherently dangerous,
detox from others can be life-threatening.

Most dangerous are alcohol, barbiturates and short acting benzodiazepines.

I sure hope they are not using these methods for those.
---
Response to cbayer (Reply #1)
Sun Aug 19, 2012, 06:22 PM
xchrom (108,903 posts)
2. I don't know about the particulars - but
I do know people w/ all sorts of addictions have tried these unproven methods - certainly barbs were among that crowd.