Mon Apr 2, 2012, 08:51 PM
Enrique (23,891 posts)
Romney asked about Mormon view on blacks
&list=UUc9wGMAvCI2KxgItIr_lhCg&index=1&feature=plcp
GREEN BAY, Wis. (AP) — Republican presidential candidate Mitt Romney was questioned about his Mormon faith while campaigning for Tuesday's Wisconsin primary.
A Ron Paul supporter, 28-year-old Bret Hatch, asked Romney whether he agreed with a passage from the Book of Mormon that describes a cursing of people with a "skin of blackness." Romney's staff took away the microphone before the Green Bay man could read the passage.
"I'm sorry, we're just not going to have a discussion about religion in my view, but if you have a question I'll be happy to answer your question," Romney said Monday.
Hatch then asked whether Romney thought it was a sin for interracial couples to have children.
"No. Next question," Romney responded curtly.
Hatch was citing verses from Mormon scriptures which he argued called it sinful for blacks and whites to have children.
http://www.npr.org/templates/story/story.php?storyId=149866216
9 replies, 1611 views
Replies to this discussion thread
| | | | |
| --- | --- | --- | --- |
| 9 replies | Author | Time | Post |
| Romney asked about Mormon view on blacks (Original post) | Enrique | Apr 2012 | OP |
| | jaysunb | Apr 2012 | #1 |
| | FrenchieCat | Apr 2012 | #2 |
| | rgbecker | Apr 2012 | #3 |
| | leftofcool | Apr 2012 | #4 |
| | murielm99 | Apr 2012 | #5 |
| | sakabatou | Apr 2012 | #9 |
| | SemperEadem | Apr 2012 | #6 |
| | Enrique | Apr 2012 | #7 |
| | Demiourgos | Apr 2012 | #8 |
---
Response to Enrique (Original post)
Mon Apr 2, 2012, 08:55 PM
jaysunb (8,248 posts)
1. It's not the last time this will come up.
And I suspect there will be enough "dogwhistle" to get him some votes among racists.
---
Response to Enrique (Original post)
Mon Apr 2, 2012, 08:55 PM
FrenchieCat (67,338 posts)
2. Guess that according to the Book of Mormon.....
---
Response to Enrique (Original post)
Mon Apr 2, 2012, 09:10 PM
rgbecker (2,302 posts)
3. Mormon? Just hold it upside down and shake it....Clears the screen! Like Magic.
---
Response to Enrique (Original post)
Mon Apr 2, 2012, 10:12 PM
leftofcool (7,012 posts)
4. Romney............" some of my best friends own Black people"
---
Response to Enrique (Original post)
Mon Apr 2, 2012, 10:45 PM
murielm99 (13,259 posts)
5. Yet someone in of Romney's audiences asked a question
that included references to Obama being a Muslim. He did not correct that person.

They all have allowed lies about Obama's religion. But if Rmoney becomes the nominee, it is only fair that his religion is scrutinized, too. Obama is a devout Christian. If he was a devout Muslim, I don't think I would care. The sort of people who use that as a smear are ignorant.
---
Response to murielm99 (Reply #5)
Sun Apr 15, 2012, 11:28 AM
sakabatou (30,290 posts)
9. What did you expect?
Last edited Sun Apr 15, 2012, 11:28 AM - Edit history (1)
I am a wanderer, that I am.
---
Response to Enrique (Original post)
Tue Apr 3, 2012, 12:57 PM
SemperEadem (8,053 posts)
6. I guess I will never understand
why Bret Hatch thinks it's any of his got damb business who people he will never, ever know in life marry.

And for someone whose party's ideology is "government out of people's business", what, exactly does he propose the government do to stop interracial marriage and progeny? Grow to the size where it is grabbing interracial couples/children by the neck and arresting them for being? Who amongst the paul supporters will be first in line to have their taxes raised in order to pay the salaries of cops so that they can do this?

Doesn't even coming up with this line of question put the lie to his libertarianism? He's a tax and spend republican. Period.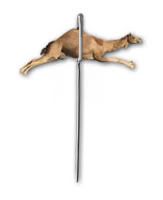 The truth is incontrovertible, malice may attack it, ignorance may deride it, but in the end; there it is. Sir Winston Churchill (1874-1965)
---
Response to SemperEadem (Reply #6)
Tue Apr 3, 2012, 01:09 PM
Enrique (23,891 posts)
7. Bret Hatch is the one challenging Romney on it
I think he's on our side on this.
---
Response to Enrique (Original post)
Sun Apr 15, 2012, 01:36 AM
Demiourgos (1 post)
8. Romney's Answer was a NON-Answer!!!
The question that was put to Romney was rather interesting, IMHO. They asked him whether a white guy could marry and procreate with a black woman, or if it was a sin. I want to know his answer to whether a black man can do the same with a white woman.

There's a very subtle difference within the tribal mentality.

It's seen as a matter of "We're taking their women" vs. "They're taking our women".

Romney's answer was a NON-answer. I would expect him to permit white men taking on black wives. If he's truly not a racist Tribalist, I would need to know whether he supports members of the opposite race 'taking' the females of his race.

Does Romney support black men marrying white woman? That is the key question. This questioner probably asked this question in order to make it appear that Romney is more race-tolerant than he really is. It may well be downright deceptive.