Sat Sep 15, 2012, 05:57 PM
struggle4progress (76,251 posts)
Assange and Ecuador: no monopoly on hypocrisy (WW4Report)
Submitted by Bill Weinberg on Fri, 09/14/2012 - 19:39
... Keane Bhatt of the Manufacturing Contempt blog on the website of the venerable North American Congress on Latin America (NACLA) calls out the mainstream media, e.g. The Economist and the Los Angeles Times, for hypocrisy in pointing out that Rafael Correa's Ecuador, where Julian Assange is seeking asylum, has a less than stellar record on press freedom. By contrast, Bhatt notes, no eyebrows were raised when Emilio Palacio, an editor at the Guayaquil daily El Universo who was convicted of libel against Correa in Ecuador, fled to Miami last year—despite the fact that the USA doesn't have a stellar record on press freedom either ...
At issue in the libel case was an editorial Palacio wrote accusing Correa of "crimes against humanity" by ordering his troops to fire on a civilian hospital during the 2010 coup attempt. Bhatt notes the favorable coverage Palacio has received, e.g. on National Public Radio. But he also downplays the nature of the case against him in Ecuador, writing only that he was "sued by Correa." In fact, as Huffington Post and BBC News noted, he was convicted of criminal charges, and faced prison time in his home country, as well as millions of dollars in damages.
Bhatt also says Palacio's claim was made "without a shred of evidence." In fact, the hospital in question was that in which Correa was being held in during the abortive coup, and shots were exchanged when he was rescued by forces loyal to him—although no patients were hit. So, there were certainly no "crimes against humanity," but neither was there "no evidence" for the claim that Correa's forces had fired on a hospital. Bhatt also calls out Palacio's editorial for referring to the democratically elected Correa as a "dictator." He doesn't note that Correa used the same rhetorical abuse, hailing the conviction of Palacio as a blow against Ecuador's "media dictatorship" (NYT, Feb. 27).
Bhatt also links to a commentary in The Guardian which notes that Palacio and three co-defendants from El Universo were finally pardoned by Correa, and accuses human rights groups of "inventing a media crackdown in Ecuador." Sorry, we can't go along with that. Palacio's case is actually the least egregious, but there is indeed a media crackdown underway in Ecuador. And as we (but few others writing in English, alas) have noted, its primary targets have not been bourgeois organs like El Universo, but Ecuador's indigenous and campesino movement that opposes the Correa government over the free hand it has granted the resource extraction industries ...
http://www.ww4report.com/node/11508
Give me the courage to change what I can change, the patience to accept what I cannot change, and the wisdom to hide the bodies of people I had to kill because they pissed me off -- St Francis, Revisited
5 replies, 971 views
Replies to this discussion thread
| | | | |
| --- | --- | --- | --- |
| 5 replies | Author | Time | Post |
| Assange and Ecuador: no monopoly on hypocrisy (WW4Report) (Original post) | struggle4progress | Sep 2012 | OP |
| | unc70 | Sep 2012 | #1 |
| | struggle4progress | Sep 2012 | #2 |
| | freshwest | Sep 2012 | #3 |
| | KoKo | Sep 2012 | #4 |
| | joshcryer | Sep 2012 | #5 |
---
Response to struggle4progress (Original post)
Sat Sep 15, 2012, 06:04 PM
unc70 (2,332 posts)
1. Highly contested in comments at link
Several back stories on all sides, too.
---
Response to unc70 (Reply #1)
Sat Sep 15, 2012, 06:23 PM
struggle4progress (76,251 posts)
2. The discussion in the comments centers around the question of whether
Wikileaks, through Assange's good friend, "Israel Shamir," the anti-Semite and holocaust denier, was helping Lukashenko consolidate his hold on power in Belarus, by supplying information from unredacted US State Department cables to Lukashenko in order to help him identify opponents of his regime
Wikileaks, Belarus and Israel Shamir
05 Feb 2011
It has been reported that an "accredited" journalist for Wikileaks, Israel Shamir, met with Uladzimri Makei, the Head of the Presidential administration in Belarus. Subsequently, it was reported in the Belarus Telegraf that a state newspaper would be publishing documents about the Belarusian opposition ...
http://www.indexoncensorship.org/2011/02/wikileaks-belarus-and-israel-shamir/
Israel Shamir and Julian Assange's cult of machismo
That Shamir ever gained access outraged many at WikiLeaks. Now Assange's dictator-admiring friend has surpassed himself
James Ball
Tuesday 8 November 2011 16.15 EST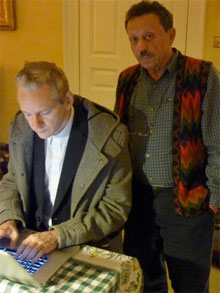 ... Shamir has a years-long friendship with Assange, and was privy to the contents of tens of thousands of US diplomatic cables months before WikiLeaks made public the full cache. Such was Shamir's controversial nature that Assange introduced him to WikiLeaks staffers under a false name. Known for views held by many to be antisemitic, Shamir aroused the suspicion of several WikiLeaks staffers – myself included – when he asked for access to all cable material concerning "the Jews", a request which was refused.

When questions were asked about Shamir's involvement with WikiLeaks, given his controversial background and unorthodox requests, we were told in no uncertain terms that Assange would not condone criticism of his friend. Instead, a mealy-mouthed statement distancing WikiLeaks from its freelancers was issued. Still later, when damning evidence emerged that Shamir had handed cables material to the dictator of Belarus – a man he holds in high esteem – to assist his persecution of opposition activists, Assange shamefully refused to investigate ...
http://www.guardian.co.uk/commentisfree/cifamerica/2011/nov/08/israel-shamir-julian-assange-cult-machismo
Julian Assange and Europe's Last Dictator
The former WikiLeaks chief will moderate a public discussion about Belarus, despite damaging the cau
By Kapil Komireddi
Published 01 March 2012 16:11
... In December 2010, Israel Shamir, a WikiLeaks associate and an intimate friend of Julian Assange -- so close, in fact, that he outed the Swedish women who claim to be victims of rape and sexual assault by Assange -- allegedly travelled to Belarus with a cache of unredacted American diplomatic cables concerning the country. He reportedly met Lukashenko's chief of staff, Vladimir Makei, handed over the documents to the government, and stayed in the country to "observe" the presidential elections.

When Lukashenko pronounced himself the winner on 19 December 2010 with nearly 80 per cent of the vote, Belarusians reacted by staging a mass protest. Lukashenko dispatched the state militia. As their truncheons bloodied the squares and streets of the capital, Minsk, Shamir wrote a story in the American left-wing journal Counterpunch extolling Lukashenko ("The president of Belarus ... walks freely among his people"), deriding the dictator's opponents ("The pro-western 'Gucci' crowd", Shamir called them), and crediting WikiLeaks with exposing America's "agents" in Belarus ("WikiLeaks has now revealed how... undeclared cash flows from the U.S. coffers to the Belarus 'opposition' ") ...
http://www.newstatesman.com/blogs/the-staggers/2012/03/belarus-assange-lukashenko
Give me the courage to change what I can change, the patience to accept what I cannot change, and the wisdom to hide the bodies of people I had to kill because they pissed me off -- St Francis, Revisited
---
Response to struggle4progress (Original post)
Sat Sep 15, 2012, 07:50 PM
freshwest (37,296 posts)
3. Most interesting thing I take from this story is there are countries arresting good media pundits.
Allegedly for telling the truth the government doesn't want put out there. I cannot imagine that any country allows the cancerous sewage we have broadcast daily, unless it's some radical religious country. I won't name any names, but somewhere there are. We live in a country that doesn't arrest media pundits, instead we allow them to lie, distort and incite hatred, no matter how many people get hurt or much brainwash people. Can't win for losing in this world.

---
Response to freshwest (Reply #3)
Sat Sep 15, 2012, 09:17 PM
KoKo (73,387 posts)
4. +1
---
Response to freshwest (Reply #3)
Sun Sep 16, 2012, 01:06 AM
joshcryer (43,106 posts)
5. Isn't that something to be proud about though?
I think it's detestable for instance when we arrest and jail a journalist for not revealing sources.
I'm
a Huey Long Democrat. They've got a set of Republican waiters on one side and a set of Democratic waiters on the other side, but no matter which set of waiters brings you the dish, the legislative grub is all prepared in the same Wall Street kitchen. - 1932