Thu Nov 15, 2012, 09:55 PM
Omaha Steve (37,603 posts)
Hundreds gather in Federal Way to support striking Walmart workers
Source:
The News Tribune
Post by Kathleen Coope
Protests by Walmart workers that are spreading across the country came to Federal Way on Thursday, with between 20 and 30 employees leading a rally demanding better working conditions and pay.
The employees, from six Western Washington Walmart stores, gathered outside the store on South 314th Street, cheered on by at least 200 supporters. Many were from other unions and organizations including SPEEA, the National Organization for Women and One America, an immigrants' rights group. The large group marched between a staging area at the end of the parking lot and the front of the store, chanting and talking to customers.
Sara Gilbert, who works at the Federal Way Walmart, said she went on strike to stand up for the dignity of workers and their rights to complain without fear of retaliation.
In an interview, she spoke of her struggle to make ends meet even while working fulltime at Walmart. She earns $11.65 an hour and is her family's only source of income since her husband was laid off. They and their five children rely on state assistance for housing, food and healthcare.
FULL story at link.
Read more:
http://blog.thenewstribune.com/business/2012/11/15/hundreds-gather-in-federal-way-to-support-striking-walmart-workers/
---
Protest at a Federal Way Walmart on Thursday. Photo by Jamie Way, posted to Twitter
http://www.ecologyfund.com/ecology/_ecology.html
Please click every day for a free donation.
7 replies, 1622 views
Replies to this discussion thread
| | | | |
| --- | --- | --- | --- |
| 7 replies | Author | Time | Post |
| Hundreds gather in Federal Way to support striking Walmart workers (Original post) | Omaha Steve | Nov 2012 | OP |
| | Cal Carpenter | Nov 2012 | #1 |
| | lonestarnot | Nov 2012 | #2 |
| | hedgehog | Nov 2012 | #3 |
| | myrna minx | Nov 2012 | #4 |
| | ailsagirl | Nov 2012 | #5 |
| | GP6971 | Nov 2012 | #6 |
| | ROBROX | Nov 2012 | #7 |
---
Response to Omaha Steve (Original post)
Thu Nov 15, 2012, 09:56 PM
Cal Carpenter (2,504 posts)
1. K & R
Not only can we manage very well without the interference of the capitalist class in the great industries of the country, but that their interference is becoming more and more a nuisance. ---F Engels (1881)
---
Response to Omaha Steve (Original post)
Thu Nov 15, 2012, 10:04 PM
lonestarnot (71,853 posts)
2. Hells yeah! K & R!
---
Response to Omaha Steve (Original post)
Thu Nov 15, 2012, 10:16 PM
hedgehog (31,988 posts)
3. I about fell off my couch last Sunday.
Last edited Thu Nov 15, 2012, 10:17 PM - Edit history (2)
I was watching 60 Minutes all about how manufacturers can't find people with the needed skills. Most manufacturers now want people to pay for 2 years of community college. The story talked about a program where a county paid for people to take an intensive 10 week (?) course to learn how to be a machinist. After all that, the people got jobs paying the lordly sum of
********* $10/hr **********
It's about damn time wages caught up with real life!
---
Response to Omaha Steve (Original post)
Thu Nov 15, 2012, 10:20 PM
myrna minx (20,948 posts)
4. K&R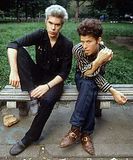 Those who can make you believe absurdities can make you commit atrocities. -Voltaire
---
Response to Omaha Steve (Original post)
Thu Nov 15, 2012, 10:38 PM
ailsagirl (9,864 posts)
5. YESSS!! And kudos!!
What fresh Hell is this??
---
Response to Omaha Steve (Original post)
Thu Nov 15, 2012, 11:04 PM
GP6971 (744 posts)
6. Back in the 90's
I managed a teamsters warehouse. 2 of the senior guys continually railed against the only Walmart in the area at was then adjacent to what was known as the Supermall. We went to the Supermall one Sunday and whose truck do I see in walmart's parking lot? Our most senior guy. Boy, did I have fun afterwards!!
GP
---
Response to Omaha Steve (Original post)
Fri Nov 16, 2012, 01:45 AM
ROBROX (392 posts)
7. BETTER WAGES FOR A BETTER LIFE
It is sad that we have lost so much in the past few years. I am glad I am not part of the RAT RACE, but my children are stuck under the GLASS CEILING.
It will take more than a lifetime for everything to improve. I just hope we are not headed for SOYLENT GREEN. Everything that is happening today sure happened in the movie and the HOT weather sure was right about our weather today. Next will be the dead oceans.
I think in the future those rotten people will be taken care of by those who suffered. Then maybe society can reset and everyone will be so happy and nice.
LET US NOT REGRESS TO THE AGE OF SPUTNIK