Sun Sep 23, 2012, 04:02 PM
WillyT (45,496 posts)
Top Romney Adviser: U.S. Is A 'Nation Of People Dependent On Government' - RawStory
Last edited Sun Sep 23, 2012, 04:05 PM USA/ET - Edit history (1)
Top Romney adviser: U.S. is a 'nation of people dependent on government'
By David Edwards - RawStory
Sunday, September 23, 2012 14:57 EDT
<snip>
Bay Buchanan, a senior adviser to Mitt Romney's campaign, on Sunday doubled down on the Republican presidential nominee's comment that 47 percent of Americans refused to take personal responsibility for their lives by asserting that the entire country was "a nation of people dependent on their government."
...
...
...
During a panel segment on NBC's Meet the Press, Democratic strategist Dee Dee Myers said that Romney's comments showed that he had a "very limited universe" and "really has no feel for what real people are doing."
"To characterize the personal life of Mitt Romney as Dee Dee has is to show that she does not know the man, she does not know what he has done," Buchanan shot back. "This is a man who has spent a life in serving others. That is the basis of what he believes."
"We are in perilous times in this country," she continued. "We are looking at financial ruin."
"We are a nation of people dependant on their government, and that is what Barack Obama gives us. And he promises more of that in four more years."
<snip>
Link (w/Video):
http://www.rawstory.com/rs/2012/09/23/top-romney-adviser-u-s-is-a-nation-of-people-dependent-on-government/
Bay... dear... WE ARE THE FUCKING GOVERNMENT YOU IDIOT !!!
We the People of the United States, in Order to form a more perfect Union, establish Justice, insure domestic Tranquility, provide for the common defence, promote the general Welfare, and secure the Blessings of Liberty to ourselves and our Posterity, do ordain and establish this Constitution for the United States of America.
9 replies, 725 views
Replies to this discussion thread
| | | | |
| --- | --- | --- | --- |
| 9 replies | Author | Time | Post |
| Top Romney Adviser: U.S. Is A 'Nation Of People Dependent On Government' - RawStory (Original post) | WillyT | Sep 2012 | OP |
| | a geek named Bob | Sep 2012 | #1 |
| | Drunken Irishman | Sep 2012 | #2 |
| | MadDash | Sep 2012 | #3 |
| | chowder66 | Sep 2012 | #4 |
| | Frustratedlady | Sep 2012 | #5 |
| | DollarBillHines | Sep 2012 | #6 |
| | quaker bill | Sep 2012 | #7 |
| | Volaris | Sep 2012 | #8 |
| | aint_no_life_nowhere | Sep 2012 | #9 |
---
---
Response to WillyT (Original post)
Sun Sep 23, 2012, 04:07 PM
Drunken Irishman (24,587 posts)
2. Bay Buchanan is looking more & more like the Crypt Keeper...
Remember a few years ago when she decided to Palin herself up with Palin-like glasses?
Seems she gave up on that one.
---
Response to WillyT (Original post)
Sun Sep 23, 2012, 04:29 PM
MadDash (87 posts)
3. What's she talking about?
Romney wants to sponge off taxpayers the rest of his miserable life.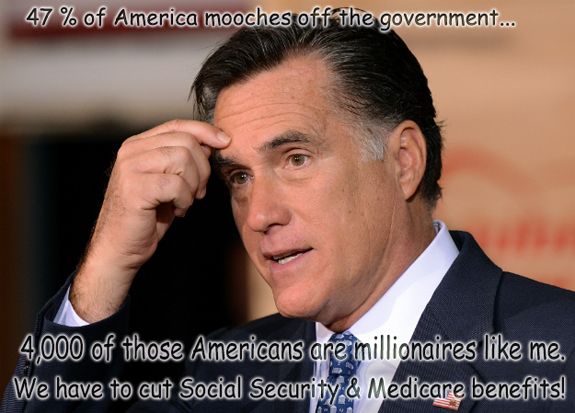 ---
Response to WillyT (Original post)
Sun Sep 23, 2012, 05:08 PM
chowder66 (1,209 posts)
4. Says the "Political Adviser" who has spent her entire career in Politics. How parasitic of you Bay!
It just blows my mind that the people who seem to hate government the most are the ones who have careers in or based on it. Then all they do is spew their bullshit around to the fools they need to keep their careers going. Circle of Life.

If you don't like government then get out and let the adults fix what you guys broke or are in the process of breaking...again.
But this time...do us all a favor, don't come back to break it again. It pisses me off that Democrats, Independents and the Now-Extinct Republicans willing-to-compromise and work together are always picking up the messes the hardline Republicans and now their newly elected Tea-Cousins leave or will leave behind.

Any time Democrats get any serious amount of time to get shit done, things work out pretty damn well for the majority of the nation; bottom,middle and top. Think if we had a couple of decades to not only clean up their crap but also spend time solely working on serious solutions that benefit us all. This nation would be singing or at the very least humming.

Unfortunately for us though we have to always spend the first four years cleaning up after the disasters and this time around it's going to take a lot longer than that. Hardline Republicans count on this cycle. If they didn't count on it they know they would be one of us instead of a career politician sucking off the PEOPLE's teat or worse...a politician willing to work and play nice with others.

Oh the terror!
---
Response to WillyT (Original post)
Sun Sep 23, 2012, 05:24 PM
Frustratedlady (8,903 posts)
5. Oh, well shoot. That explains a LOT to me about the crazy stuff Romney says/believes...
the rudeness of Ann toward the common folk, the stupid moves this campaign has made.

I was not aware Bay was part of his campaign. I just thought she was spewing off her mouth for a living.

Bay and Pat need to go to Gilligan's Island where they can argue the point of politics and world affairs, yet leave the rest of us alone. They've caused more heartache and supported racist actions more than people realize. I can't believe Bay is still invited to discuss her views. Bay is Pat in drag.
---
Response to WillyT (Original post)
Sun Sep 23, 2012, 08:11 PM
DollarBillHines (1,922 posts)
6. "This is a man who has spent a life in serving others."
"serving"?

I thought it was called "screwing".

Go back to the crypt, Bay. You look as tho you could use some rest.
---
Response to WillyT (Original post)
Sun Sep 23, 2012, 08:49 PM
quaker bill (7,127 posts)
7. Well um... and Y'all are campaigning to run it....
curious eh! Actually, everyone, 100% are dependent on government. I am pretty sure the rich like security, a stable currency, a reasonably fair system of justice, basic law and order in which to conduct business, the subsidies and grants, and no doubt enjoy the rare but occasional bailout.
---
Response to WillyT (Original post)
Mon Sep 24, 2012, 03:02 AM
Volaris (1,582 posts)
8. You said "WE ARE THE FUCKING GOVERNMENT YOU IDIOT !!! "...
Last edited Mon Sep 24, 2012, 03:12 AM USA/ET - Edit history (2)
And you would be correct. But NOT to people like Bay. WE see a government Of the People, Etc., and SHE sees a red-tape, unrestrained (and unaccountable) tyrannical, Regulatory Nightmare-scape built by Meddling, Bleeding Heart Liberals (during and after the Civil Rights Movement and the INSANITY of the Vietnam "war") with only ONE function...to make it harder for her and the rest of the traditional elites to wage wars we don't need, destroy environments they don't personally live in, and not care about people in their immediate Class/Social Circle.
ALL of this goes back to the idea that "We, the financially self-empowered, are going to do whatever in Hell WE WANT TO, and you DAMNED KIDS can just shut up about it, because you don't know what you're talking about." Ultimately, this isn't about "The Government", it's about :
Watergate
The 60's
Minority Rights
Vietnam (and the idea that it was EVER a winnable "war")
Communism
Unions
Women's ability to wear a short skirt in a BAR (even if that bar is illegal, cause booze is banned)
The Progressivism of the Roaring 20's
Gilded-Age Robber Barons and a less-than-empowered Government
States Rights after the Civil War (see Jim Crow Laws)
Freed Slaves,
and FEAR of all of the above.

The aggregate of Election cycles is Political Cycles. The aggregate of POLITICAL CYCLES is MAJOR SOCIAL CHANGE at a lasting level. The last time we went through something of this magnitude socially-politically was the onset of the Great Depression and the outbreak of WWII, and before that, the Civil War and Re-construction. With the election of President Obama, we let ourselves know that we are READY for a dynamic upheaval of the existing social and political Order, and that WE ARE NOT AFRAID of it. Most of us, anyway. Clearly, Bay and those like her who function from a place of FEAR, will never be on our side, will never understand what is happening around them, will NEVER understand what it is to be a "First Half of Life Culture" in the best sense of term, and will see themselves as victims of a Youth Culture that doesn't know anything, and clearly doesn't "Respect Authoritah!", especially HERS.
Too fucking bad that you feel that way, bitch. If you die sad, scared, and miserable, I DO have empathy for you, but REALLY, you did it to yourself, because of your fear-based inability to embrace the inherent dynamism of a political system that is SELF GOVERNING. Yes, indeed, WE ARE THE GOVERNMENT, and that that sentence is even POSSIBLE in a real and expressed way is the thing that gives her nightmares when she sleeps.
Fuck her.

FORWARD.




---
Response to WillyT (Original post)
Mon Sep 24, 2012, 03:16 AM
aint_no_life_nowhere (18,936 posts)
9. "a man who has spent a life in serving others" - Romney has a cookbook!