Mon Sep 17, 2012, 05:47 AM
xchrom (97,315 posts)
Occupy Your Victories: Occupy Wall Streetís First Anniversary
http://www.alternet.org/occupy-your-victories-occupy-wall-streets-first-anniversary
Occupy is now a year old. A year is an almost ridiculous measure of time for much of what matters: at one year old, Georgia OíKeeffe was not a great painter, and Bessie Smith wasnít much of a singer. One year into the Civil Rights Movement, the Montgomery Bus Boycott was still in progress, catalyzed by the unknown secretary of the local NAACP chapter and a preacher from Atlanta -- by, that is, Rosa Parks and Martin Luther King, Jr. Occupy, our bouncing baby, was born with such struggle and joy a year ago, and here we are, 12 long months later.
Occupy didnít seem remarkable on September 17, 2011, and not a lot of people were looking at it when it was mostly young people heading for Manhattanís Zuccotti Park. But its most remarkable aspect turned out to be its staying power: it didnít declare victory or defeat and go home. It decided it was home and settled in for two catalytic months.
Tents and general assemblies and the acts, tools, and ideas of Occupy exploded across the nation and the western world from Alaska to New Zealand, and some parts of the eastern world -- Occupy Hong Kong was going strong until last week . For a while, it was easy to see that this baby was something big, but then most, though not all, of the urban encampments were busted, and the movement became something subtler. But donít let them tell you it went away.
La Lioness said I'm Princess Spice. So there.
2 replies, 586 views
Replies to this discussion thread
| | | | |
| --- | --- | --- | --- |
| 2 replies | Author | Time | Post |
| Occupy Your Victories: Occupy Wall Streetís First Anniversary (Original post) | xchrom | Sep 2012 | OP |
| | pinboy3niner | Sep 2012 | #1 |
| | dougolat | Sep 2012 | #2 |
---
Response to xchrom (Original post)
Mon Sep 17, 2012, 05:54 AM
pinboy3niner (32,302 posts)
1. du rec
xchrom-style!
Happy Anniversary, Occupy!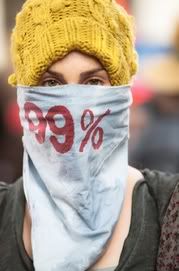 "Sometimes I wonder whether the world is being run by smart people who are putting us on or by imbeciles who really mean it." -- Mark Twain
---
Response to xchrom (Original post)
Mon Sep 17, 2012, 07:26 AM
dougolat (393 posts)
2. The "Owned Media Megaphone" ...
...wants it gone, unless they can say something bad about it:
"stop making messes" (Breitbart's "stop raping!")
"stop confusing the issue of our controlled / limited debate"

Provocateurs get the headlines, ideas sneak in on coat-tales.
"Too Big To Fail" evidently means "Too Big To Jail"