Page: 1
upaloopa
upaloopa's Journal
Profile Information
Member since: Sun Apr 22, 2012, 10:24 AM
Number of posts: 4,053

Journal Archives
waiting to watch the launch from my back yard. Launch is at 2:56 AM Pacific time.
After a lengthy hiatus, the workhorse Delta II rocket that first launched a quarter of a century ago and placed numerous renowned NASA science missions into Earth orbit and interplanetary space, as well as lofting dozens of commercial and DOD missions, is about to soar again this week on July 1 with NASA's Orbiting Carbon Observatory-2 (OCO-2) sniffer to study atmospheric carbon dioxide (CO2).
OCO-2 is NASA's first mission dedicated to studying atmospheric carbon dioxide, the leading human-produced greenhouse gas and the principal human-produced driver of climate change.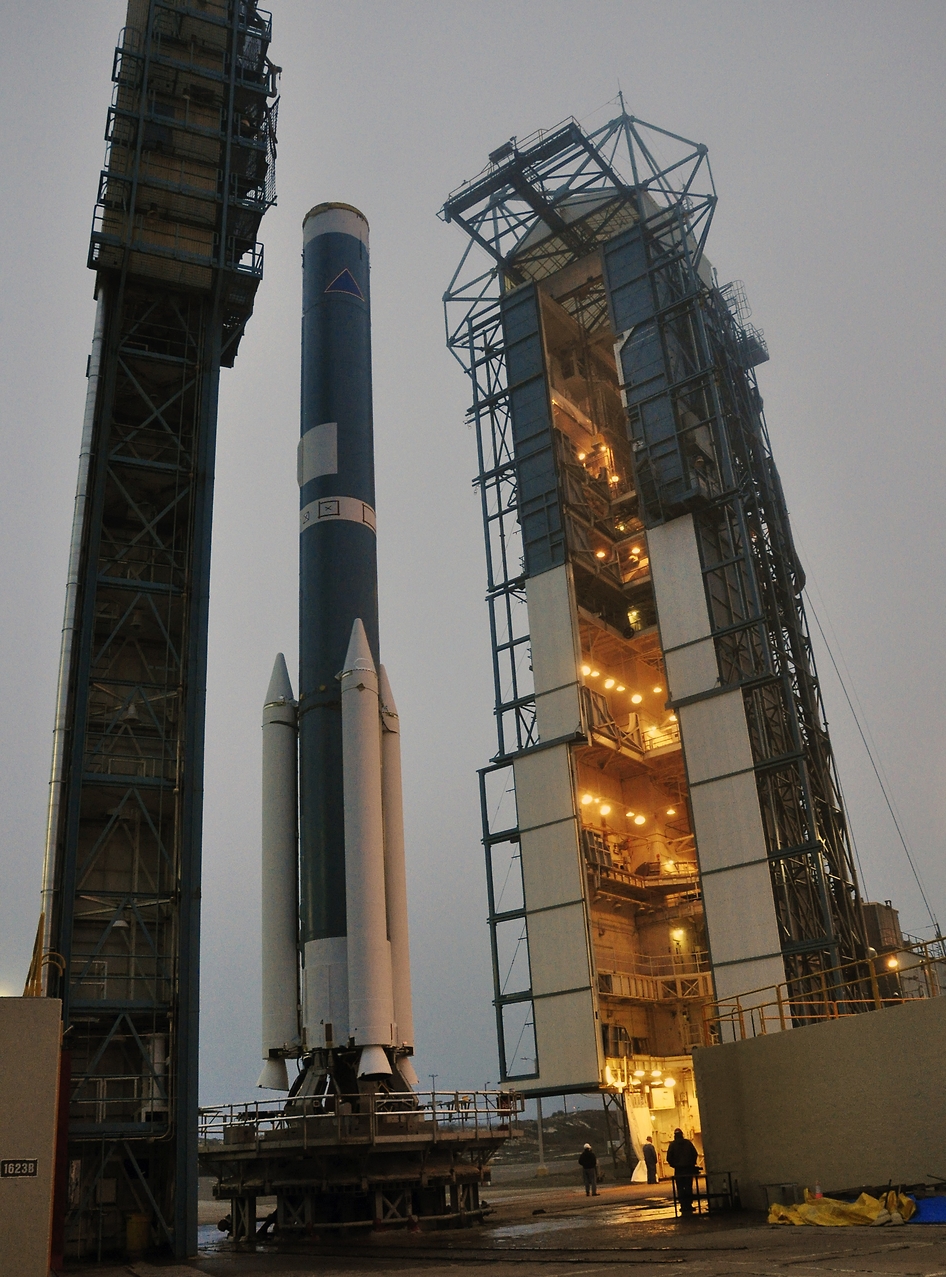 The 999 pound (454 kilogram) observatory is equipped with one science instrument consisting of three high-resolution, near-infrared spectrometers fed by a common telescope. It will collect global measurements of atmospheric CO2 to provide scientists with a better idea of how CO2 impacts climate change.
OCO-2's Delta II Rocket, First Stage At Space Launch Complex 2 on Vandenberg Air Force Base in California, the mobile service tower rolls away from the launch stand supporting the first stage of the Delta II rocket for NASA's Orbiting Carbon Observatory-2 mission. Three solid rocket motors (white) have been attached to the first stage. The photo was taken during operations to mate the rocket's first and second stages. Credit: NASA/Randy Beaudoin
http://www.universetoday.com/112869/nasa-set-to-launch-oco-2-observatory-on-july-1-sniffer-of-carbon-dioxide-greenhouse-gas/
of Santa Barbara County. (I work for this department.)

On behalf of the several hundred staff members of the Santa Barbara County Department of Alcohol, Drug and Mental Health Services (ADMHS), in this time of sorrow, our hearts are with the families and friends of those impacted by the tragedy in Isla Vista. Events like this highlight the importance of access to care, early identification, intervention and treatment for those experiencing symptoms associated with mental illness.

While recent high profile mass shootings appear to have a mental health component, it is important to recognize that people with mental illness are far more likely to be victims of violence, not perpetrators of violence. We hope that the tragedy in Isla Vista does not increase the stigma of those with a mental health diagnosis, as this would only discourage people from getting the care they need. This is particularly critical, because in a given year, approximately one in four American adults experience mental illness.

For those who do need mental health and substance abuse services, over the past year, ADMHS has been working on a new approach to strengthen the Santa Barbara County system of response, care and recovery. Within overall improvements that the department has been working on, included is greater collaboration with law enforcement. An anticipated increase in state mental health funding may well be invested in co-response units. Over $11 million in grant funding was recently secured to establish new countywide crisis response and triage 24/7 field teams, a crisis stabilization unit in partnership with Cottage Hospital and a crisis respite house. Outpatient programs are being restructured so they are more accessible and better able to address the needs of complex and dually diagnosed individuals.

In addition, we are working with Marian Medical Center to develop additional inpatient psychiatric beds. A number of other enhanced services have been proposed to improve our work with the mentally ill homeless individuals and for people with mental illness involved with the criminal justice system. For a complete listing of all ADMHS services, please visit www.countyofsb.org/admhs/

Specific to the Isla Vista incident, Federal and State privacy laws prevent the Department from discussing specific calls received by the crisis hotline. However, the following provides a general overview of the Access Line service:

• An ACCESS Line is available to the community 24/7/365 to link callers, or those calling with concern for another, with specialty mental health service needs at the appropriate level of care as determined by telephone screenings.
• ACCESS call screenings are conducted by trained qualified mental health professionals.
• Routine calls are transferred to an outpatient clinic during working hours to link the caller to services ranging from information only to brief therapy or ongoing care.
• If there is a concern about the immediate safety of an individual, law enforcement is contacted to conduct a wellness check to ensure the safety of that person. If law enforcement determines a need for an onsite psychiatric evaluation, the ADMHS CARES mobile crisis team is available 24/7 to conduct 5150 psychiatric evaluations in the field.
In response to the tragic event in Isla Vista, approximately 50 mental health professionals from throughout the county are working together to provide counseling and support to community members impacted by the event. Leaders in Santa Barbara County will continue to work collaboratively to build and sustain the community partnerships necessary to provide the early intervention and prevention services that are proven to be humane and cost-effective in addressing mental health challenges. ADMHS will continue to improve the accessibility and quality of mental health and substance abuse programs and services within the county.

How to Obtain Alcohol, Drug and Mental Health Services

ADMHS provides treatment, rehabilitation and support service to approximately 7,600 clients with mental illness and 4,500 clients with substance use disorders annually. Individuals needing assistance may call an Access Line, 888-868-1649, which is available to the community 24 hours a day, seven days a week. The content of telephone calls to the Access Line are confidential in accordance with Welfare and Institutions Code 5328 and California Civil Code 50.1.


Voted for Jerry Brown and Gavin Newsom and Kamala Harris. Those where no brainers for me. I think Newsom will be Governor some day.
Did not vote for Cindy Sheehan she is anti war but I don't think she would make a good Governor.
last week. I work for the County.

Community: New Information on Isla Vista Mass Murder Case
Hi XXXXXXX XXXXXXXXX,
The Santa Barbara County Sheriff's Office is releasing further information regarding the April 30th "check the welfare" call involving deceased mass murder suspect Elliot Rodger. Also being released is a time-line of when the Sheriff's Office received the so-called "Retribution" video and the 137-page "manifesto." The Sheriff's Office also wants to clarify information about a reported attempt by Rodger's family to contact law enforcement the night of the shooting rampage.
April 30, 2014 "Check the Welfare" Call
At approximately 10:17 p.m. on Wednesday, April 30, 2014, the Santa Barbara County Emergency Communications Center received a call from a mental health staff member assigned to answer the Santa Barbara County Alcohol, Drug and Mental Health Toll Free Access Line. The staff member requested deputies check the welfare of 22-year-old Elliot Rodger, who lived at an apartment in the 6500 block of Seville Road in Isla Vista. The staff member said she had been contacted by a person who identified himself as a friend of Elliot Rodger. Based on information from the caller and Elliot Rodger's mother, the staff member on the Mental Health hot line requested a welfare check on Elliot Rodger.
Four Sheriff's deputies and a UCSB police officer assigned to the Isla Vista Foot Patrol, along with a dispatcher-in-training, responded to the call. The Isla Vista Foot Patrol is made up of Sheriff's deputies and UCSB police officers who offer community policing by patrolling the area in groups of two or three, primarily on foot or bicycle, to protect and serve the large student population and other Isla Vista residents and visitors. Typically, in a "check the welfare" call of this nature, only two deputies would respond. In this case, deputies who were not assigned to the call, but who were familiar with Rodger as a victim in a January 2014 petty theft case, also decided to respond.
When Sheriff's deputies arrived at Rodger's address, they contacted him outside of his residence. Deputies found Rodger to be shy, timid and polite. When questioned by the deputies about reported disturbing videos he had posted on-line, Rodger told them he was having trouble fitting in socially in Isla Vista and the videos were merely a way of expressing himself. Based upon the information available to them at the time, Sheriff's deputies concluded that Rodger was not an immediate threat to himself or others, and that they did not have cause to place him on an involuntary mental health hold, or to enter or search his residence. Therefore, they did not view the videos or conduct a weapons check on Rodger.
A Sheriff's deputy on-scene called Rodger's mother and briefed her on the situation. He then passed the phone to Rodger so he could speak to his mother directly. During the conversation with his mother, Rodger told her he was fine and that he would call her later. Before leaving, deputies gave Rodger information on several local services he could contact if he needed help, including calling the Sheriff's Office. Deputies' contact with Rodger lasted approximately ten minutes.
Based on the information reviewed thus far, the Sheriff's Office has determined that the deputies who responded handled the call in a professional manner consistent with state law and department policy.
The Timeline for Receipt of the "Manifesto" and "Retribution"Video
The Sheriff's Office became aware of and received the "Retribution" video and the 137-page "manifesto" approximately one hour after the shooting rampage occurred.
The first gunshots were reported at 9:27 p.m. on May 23rd and approximately eight minutes later the incident was over. During that time, a total of three innocent victims were shot to death, 13 were wounded and the suspect died from an apparent self-inflicted gunshot wound. Three additional murder victims were subsequently found in Rodger's residence.
Rodger uploaded his "Retribution" video on YouTube at 9:17 p.m. At 9:18 p.m., he e-mailed his "manifesto" to several people, including his mother, father and therapist. The therapist saw the e-mail at approximately 10:00 p.m. and contacted the Santa Barbara Police Department at approximately 10:11 p.m. The Santa Barbara Police Department contacted Rodger's mother to obtain further information. This information was subsequently forwarded to Sheriff's detectives at approximately 10:26 p.m., at which time they first viewed the "manifesto" and "Retribution" video.
The Current State of the Investigation
This is one of the most complex investigations in the history of the Santa Barbara County Sheriff's Office. Sheriff's detectives are conducting numerous interviews and processing a huge amount of evidence in the case. Due to the fact that this investigation is ongoing, no further information related to the case will be released at this time. The Sheriff-Coroner's Office is conducting a complete death investigation on all six victims and the suspect. The Coroner's Office will not be releasing any further information, including autopsy reports and toxicology results related to the death investigations, until they are complete.
was sent to us this morning. We are a few miles from Isla Vista.

A note to the County of Santa Barbara family...

Words cannot express our sadness over the events of Friday night. I know all in the County family join with me in offering our assistance to those impacted and stand ready and willing to support the healing of the friends and families of those killed and injured in Isla Vista. All should be proud of the County family and your work over the last several days to ensure support to our community members and fellow employees. The incredible outpouring of support and the willingness to jump in to do whatever necessary was inspiring.

I am thankful for the extraordinary and heroic actions of law enforcement officers to stop the violence, medical responders providing treatment to the injured and our mental health professionals working throughout the community to provide much needed support to all impacted.


The incident touches the County family in many ways and many of you may have a personal connection to those killed or injured. Therefore, I wanted all to be aware that counseling services are available at 805-893-4411. This line is staffed by many our own staff as well as community volunteers. In addition, a number has been set up to address general community questions at 805-893-3901. I will make all aware as additional resources may become available. Please know that I am also available to you to address your questions or concerns. Never hesitate to reach out to me, any member of my office, or your department head if anything is needed.

While joined in sorrow over these tragic events, we stand committed to the healing of the community of Isla Vista and all we serve.

Mona

My hope is that some gunners would read this and get outside of their fetish and see how we are affected by the gun culture.
I am a Vietnam vet. I was drafted and sent to war. In that war I fought to survive and for the survival of my platoon. Your freedom was not on the line but my life was. You and I were pawns of the MIC. The same goes for Iraq and Afghanistan vets.

I get a class news letter each year at this time and it is that letter which brings me to write this. In the class letter is all the "fight for freedom" Freedom isn't free", You owe your freedom to a vet" bull shit. I think that talk is more for the writer's good feelings than it is for mine.

We will never really face the truth about these wars if we continue to fool ourselves and make excuses for spending billions on death and destruction so a handful of wealthy people like Dick Cheney can grow their wealth.

I really hate what this day has become. A flag waving patriot barbecue day to swill beer on what usually would be just another work day.

Me I am left with my memories. I don't need any thanks.
My place of work is a few miles from where the shooting took place. I work for the alcohol, drug and mental health dept of the county. I am not on the medical side but I know of our programs because I do reporting that pays for it.
First off we don't have enough beds to put everyone in a hospital. The hospitals are locked facilities. We try to keep people out of locked facilities if possible. Only severe cases are in locked facilities. Police do have the ability to send someone to the hospital if they are a threat to themselves or society. This decision is in conjunction with clinicians on a mobile crisis team. They are available 24/7 as are doctors.
We have 24/7 mobile crisis teams, crisis residential homes for crisis intervention.
We use drugs. All our clients do not become suicidal because of drugs. We do not give them out like candy and they are not an alternative to hospitalization.
You cannot predict when someone with mental illness will act out as this shooter has done.
Mentally ill people still retain their civil rights.
As in any shooting the shooter was a good guy before becoming a bad guy.
The common denominator here is the guns.
Would price a medical procedure. The insurance company is the payer not the provider. The provider sets the cost then bills the insurance company. The patient does not pay an insurance company for a procedure.
This smells fishy to me.
Insurance companies already determine what they will reimburse a provider for a procedure. That is nothing new.
that looks like a vagina is called obscene then the person must think a vagina is obscene too.