Page: 1
proverbialwisdom
proverbialwisdom's Journal
Profile Information
Member since: Wed Feb 10, 2010, 12:12 PM
Number of posts: 2,618

Journal Archives
As posted on another thread:
Read Martha Herbert's new book about autism. She
'strongly encourages vaccination. That said, we need more data on how children who have autism and perhaps other known or unseen vulnerabilities respond to the current vaccination protocol,'
so you should have absolutely no remotely valid objection:
INTRODUCTION: From Seeing What You Believe to Believing What You See

This book is based on real stories of children and adults with autism who didn't follow the textbooks. They got better - some dramatically so. Although I changed their names and was vague on details to protect their privacy, I was meticulous in sticking to the facts of their stories and letting their experiences direct how I explained the science.

Textbooks do not include the possibility that people with autism get this much better. Neither does a lot of scientific research.

In that sense, you may say that I have gotten ahead of the science. Not everyone will be able to get such fabulous results for themselves or their child. But I have confidence that science and medicine will make these advances possible to many more people going forward.

As I have dug into current research to write this book, I have been stunned by how much science there is to support the approaches parents are taking to get their kids better. Karen Weintraub, an experienced science journalist who has shared this journey with me, has been equally amazed. Every day our internet alerts and Listservs overflow with research publications and news stories about every area we discuss, and their findings are largely resonant with what we are explaining in this book.

<...>

Why are my ideas about autism so different from many other people's? I think there are three answers. One, as I'll describe in the first chapter, patients in my pediatric neurology practice at Harvard didn't fit what I had been taught. Two, my research yielded insights I could never have expected. And three, I lucked out in terms of timing. My rethinking of autism coincided with an explosion of science on so many different levels.

This book has been informed by entirely new fields with names like epigenetics, systems biology, gut microbioogy, nutrigenomics, and metabolomics, as well as new revelations in neurology, gastroenterology, environmental science and immunology. We have new tools that allow us to screen tens of thousands of genes in less time than it used to take us to find one. We can now examine single neurons or watch how clumps of them interact. We can explore how the balance of microbes in people's guts changes their health and their brains. New technologies and new research have uncovered previously hidden interconnections, allowing us to frame autism in a way that simply wasn't possible even five years ago.

But this is fundamentally not a science book. It is a book of success stories that make sense biologically.

I believe these triumphs have huge implications for medicine and science and the way we think about autism - and perhaps for much more. I believe it is so dramatic that it calls for a revolution in how we think and what we do.

MARTHA HERBERT, MD, PhD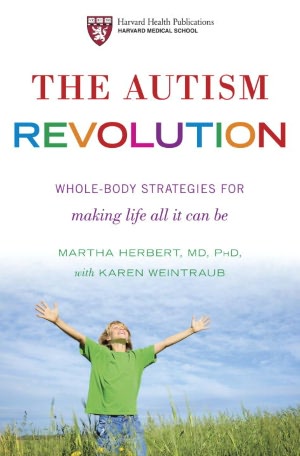 http://www.health.harvard.edu/books/the-autism-revolution
After years of treating patients and analyzing scientific data, prominent Harvard researcher and clinician Dr. Martha Herbert offers a revolutionary new view of autism and a transformative strategy for dealing with it.
Autism is not a hardwired impairment programmed into a child's genes and destined to remain fixed forever, as we're often told. Instead, it is the result of a cascade of events, many seemingly minor: perhaps a genetic mutation, some toxic exposures, a stressful birth, a vitamin deficiency, and a series of infections. And while other doctors may dismiss your child's physical symptoms—the diarrhea, anxiety, sensory overload, sleeplessness, immune challenges, and seizures—as coincidental or irrelevant, Dr. Herbert sees them as vital clues to what the underlying problems are, and how to help. In The Autism Revolution, she teaches you how to approach autism as a collection of problems that can be overcome—and talents that can be developed. Each success you achieve gives your child more room to become healthy and to thrive.
Drawing from the newest research, technologies, and insights, as well as inspiring case studies of both children and adults, Dr. Herbert guides you toward restoring health and resiliency in your loved one with autism. Her specific recommendations aim to provide optimal nutrition, reduce toxic exposures, shore up the immune system, reduce stress, and open the door to learning and creativity—all by understanding and truly meeting your child's needs. As thousands of families who have cobbled together these solutions themselves already know, this program can have dramatic benefits—for your child with autism, and for you, your whole family, and your next baby as well.
A paradigm-changing book that offers hope and healing for the millions of families who have autism in their lives, The Autism Revolution shows that there's plenty you can do every day to give someone you love the best possible gift: a life lived to the fullest potential.
Martha Herbert, MD, PhD,
is an assistant professor of neurology at Harvard Medical School and a pediatric neurologist at Massachusetts General Hospital, where she is the director of the TRANSCEND Research Program. She sits on the Scientific Advisory Committee for Autism Speaks.
Karen Weintraub, MA,
is an award-winning journalist and freelance health writer for outlets like The Boston Globe, USA Today, and the BBC. A past recipient of a prestigious Knight Center for Science Journalism fellowship, she also teaches journalism at the Harvard Extension School and Boston University.
For more info visit www.AutismRevolution.org
I can't find a date for this, but it appears current
http://www.progress.org/gene45.htm
Friends of the Earth News Release

Going GM-Free in Europe But Not USA
Major U.S. Companies Drop Genetically Engineered Foods in Europe
The survey shows that most of the top food manufacturers are aware of opposition to GMOs throughout Europe and have been forced to take action. The same companies in the U.S., however, have yet to make take similar action.
"It's only a matter of time before these companies are forced to make the same commitment to consumers here at home," said Larry Bohlen, Safer Food -Safer Farms campaign director for Friends of the Earth, U.S. "If companies are feeling the heat from 22 European nations, wait until they start hearing from 50 American states."
Bohlen noted that legislation to ban or to label genetically engineered foods has been introduced in several states including Minnesota, California, Vermont and Maine, and just last week, the Boston City Council voted unanimously in favor of a resolution to ban GE foods until they are labeled and subject to safety testing.
<...>
Companies that said that they currently source all their ingredients from GMO-free crops for the food and drink they sell in Europe, include Pepsi Cola, Coca Cola, Heinz, Mars, Danone, Kelloggs, Campbell Foods, Cadbury Schweppes and Kraft/ Jacobs/ Suchard. Almost all of these indicated that they also use GMO-free derivatives. And Europe's top fast food chain McDonald's Europe "have asked suppliers to source non-GM ingredients, additives and processing aids."
Liana Stupples, GMO campaign coordinator for Friends of the Earth Europe said: "This survey shows how food manufacturers are being forced to listen to European consumers increasingly concerned about potential health and environmental damage from GMO food and crops."
Today, at a Brussels press conference, Friends of the Earth Europe announced the launch of a new Europe-wide campaign to halt GMO pollution. FoEE groups in twenty-two countries across Europe will aim to safeguard for the people of Europe the right to choose GMO-free food, to grow GMO-free crops and to protect GMO-free habitats.
<...>
Diageo: Is made up of its drinks business (no information on GMO policy) and two food arms: Pillsbury - "None of our brands contain any ingredients derived from genetically modified crops which could fall within the labelling regulations in Europe. Recognising consumer concerns in Europe , we have been progressively removing ingredients and additives that could have been derived from GM crops, wherever it is technically feasible...for the last 18 months" and;
Burger King -"in relation to the countries in Europe... Burger King has removed GM ingredients from its menu items".
BK had no information on derivatives.
Friends of the Earth also contacted McDonald's Europe - Europe's largest restaurant outlet. It said that "
McDonald's in Europe have asked suppliers to source non-GM ingredients, additives and processing aids".
<...>
http://www.democracynow.org/2012/6/22/headlines#6227
Obama Urges Student Activism Ahead of Loan Deadline
Congress is facing a looming deadline to extend low-interest rates on federally subsidized Stafford loans or plunge millions of students into deeper debt. The rates were reduced to 3.4 percent in 2007 but will double on July 1st for new loans unless Congress intervenes. On Thursday, President Obama urged a group of students visiting the White House to pressure lawmakers.
President Obama: "You keep this going. Don't stop until it's actually done. There is nothing more powerful than millions of voices that are calling for change, and all of your voices can make a difference. So keep telling Congress to do what's right, to get this done. Tell them now is not the time to double interest rates on your student loans. Tell them to double down on an investment in a strong and secure middle class — and that means your education."
http://www.senate.gov/legislative/LIS/roll_call_lists/roll_call_vote_cfm.cfm?congress=112&session=2&vote=00161
U.S. Senate Roll Call Votes 112th Congress - 2nd Session as compiled through Senate LIS by the Senate Bill Clerk under the direction of the Secretary of the Senate
Vote Summary
Question: On the Amendment (Sanders Amdt. No. 2310 )
Vote Number: 161
Vote Date: June 21, 2012, 12:36 PM
Required For Majority: 3/5
Vote Result: Amendment Rejected
Amendment Number: S.Amdt. 2310 to S. 3240 (Agriculture Reform, Food, and Jobs Act of 2012)
Statement of Purpose: To permit States to require that any food, beverage, or other edible product offered for sale have a label on indicating that the food, beverage, or other edible product contains a genetically engineered ingredient.
Vote Counts: YEAs-26..... NAYs-73..... Not Voting-1
Grouped By Vote Position
YEAs ---26

Akaka (D-HI)
Begich (D-AK)
Bennet (D-CO)
Blumenthal (D-CT)
Boxer (D-CA)
Cantwell (D-WA)
Cardin (D-MD)
Feinstein (D-CA)
Inouye (D-HI)


Johnson (D-SD)
Kerry (D-MA)
Lautenberg (D-NJ)
Leahy (D-VT)
Lieberman (ID-CT)
Manchin (D-WV)
Merkley (D-OR)
Mikulski (D-MD)
Murkowski (R-AK)


Murray (D-WA)
Reed (D-RI)
Rockefeller (D-WV)
Sanders (I-VT)
Tester (D-MT)
Udall (D-NM)
Whitehouse (D-RI)
Wyden (D-OR)
Source:
The Herald Scotland
Thursday 14 June 2012

Sharp rise in child bowel disease cases

by Helen McArdle, News Reporter.
CASES of Scots youngsters being diagnosed with inflammatory bowel disease have soared by 75% in little over a decade, according to new research that points to changes in diet and low levels of vitamin D for the trend.
The Edinburgh University study found that between 2003 and 2008, 436 under-16s in Scotland were diagnosed with the condition, up from 260 cases when it was last monitored between 1990 and 1995.
Inflammatory bowel disease (IBD) is the umbrella term for a group of incurable, chronic bowel disorders including Crohn's Disease and ulcerative colitis – the condition which forced Scotland captain Darren Fletcher to take indefinite sick leave from professional football last year. It also includes inflammatory bowel disease unclassified (IBDU), a colon disorder which emerges in childhood but lacks the distinguishing features for doctors to diagnose it as either Crohn's disease or ulcerative colitis.
<...>
Meanwhile, a US study pub-lished today claims concentrated milk fat used in junk food may be behind soaring rates of IBD. Researchers in Chicago found genetically susceptible mice fed a diet high in milk fat tripled the rate at which they developed colitis.
Read more:
http://www.heraldscotland.com/news/health/sharp-rise-in-child-bowel-disease-cases.17863630
---
Link from:
http://www.ageofautism.com/