Page: 1
James48
James48's Journal
Profile Information
Member since: Sun Jan 3, 2010, 12:16 AM
Number of posts: 1,086

About Me
Was once a republican. long long ago, in a far, far away place. I apologize.
Journal Archives
Back in June, I was inspired by a Supreme Court decision to take up Sidewalk "Counseling." Since SCOTUS declared the buffer zone around Massachusetts' health clinics unconstitutional, I decided it was time for me to provide those seeking treatments to which I object with counseling of my own. Here, in my post, "My Morning as a Viagra Sidewalk Counselor" I explain why this made perfect sense to me. Eleanor McCullen, lead plaintiff in that Supreme Court case, had been vindicated. Because she prevailed, she has her country back. "It's America. I should be able to walk and talk gently, lovingly, anywhere with anybody."
ME TOO!!!
Now I can walk and talk lovingly anywhere with anybody, too!!! I have to be honest, I didn't realize how good it felt to attempt to veer people away from their own personal decisions until I became a sidewalk counselor myself. When the Supreme Court subsequently decided that Hobby Lobby was a "closely held" private company, and thereby could chose to not include treatments to which they have religious objections (however poorly reasoned those objections might be) in the health insurance plans they offered to employees, I said, "
Eureka!
" Among other things.
Not coincidentally, the treatments and medications to which Hobby Lobby object are the VERY SAME THINGS against which Eleanor McCullen and her Sidewalk-Counseling-Hare-Krishna-Kumbaya-All-You-Need-Is-Love-and-Salvation Posse object!!! Things that they (in some cases, mistakenly) believe lead to abortion!!! Forget that our fallen female bodies naturally abort "babies" all the time in the form of miscarriages. It's when women actually have a SAY in whether a blastula survives that we must fetch Mrs. McCullen (and now, the Green Family of Hobby Lobby fame) the smelling salts so that they may lovingly and gently show us the error of our ways. Because they. know. better.
Anywho, buoyed from my sidewalk counseling triumph regarding turning people away from the evils of Viagra, I decided to turn my loving and gentle gaze to another group of people who needed to be saved from their own behavior.
Hobby Lobby Shoppers.
#t=181
More:
http://www.patheos.com/blogs/theworthingtonpost/2014/08/my-afternoon-as-a-hobby-lobby-sidewalk-counselor/
Veteran needs help to get home back
Fundraising effort seeks $132,000 for Hamburg resident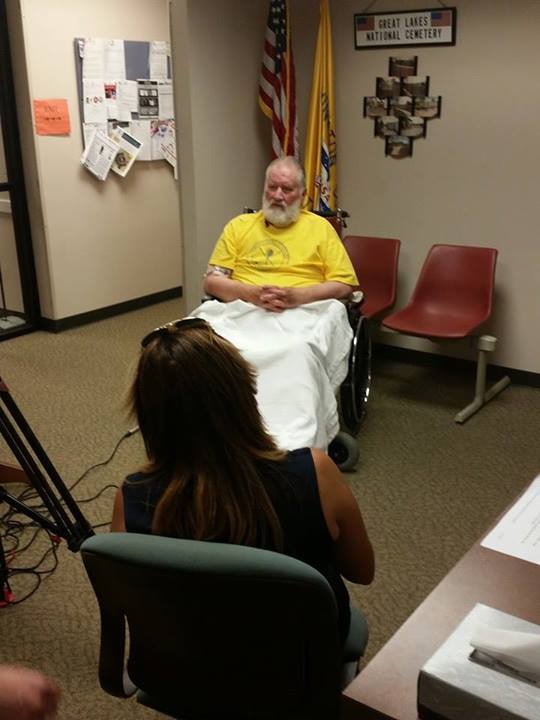 Howell, Michigan: -- A Livingston County Veterans Affairs employee hopes others will step up to help an 82-year-old Hamburg Township veteran on the brink of being homeless.
Joshua Parish, a veterans benefits counselor, launched a crowdfunding campaign June 25 and plans to host fundraisers to try and raise $132,008 for Ross Dahlberg to reclaim his home before a six-month redemption period expires Sept. 26.
Owing about $4,000 in mortgage payments, the Korean War-era veteran lost his home of 17 years at a sheriff's auction in March while in the hospital recovering from triple-bypass surgery. Parish said he believes Dahlberg was overlooked by a state system when he applied for financial assistance.
"It's not just this veteran in this county that it's happening to, it's everywhere," Parish said.
Dahlberg, who uses a wheelchair due to the effects of diabetes, said he applied for assistance through the StepForward program after he fell behind on mortgage payments after several surgeries and a divorce.
Parish said he had been conditionally approved through the program and was told his house would not be foreclosed upon while the program processed his application. Yet, Dahlberg received a letter from the program weeks later informing him that his application had been declined due to a clerical error, Parish said.
"Either something fell through the cracks, or someone didn't do their job," said Parish, who is acting as a representative for Dahlberg while he recovers from a bacterial infection at a Howell rehabilitation facility.
"It's a nightmare," said Dahlberg, who said his faith is helping him through his situation. "It's like I'm in a horror chamber."
More news story:
http://www.livingstondaily.com/article/20140711/NEWS01/307110012/Veteran-needs-help-to-get-home-back
GoFundme site:
http://www.gofundme.com/KoreanWarVeteran
Fundraising campaign launched to help veteran keep his home
by By Lizzy Alfs | lizzyalfs@mlive.com
Joshua Parish of the Livingston County Department of Veterans Affairs has a goal: to help a veteran keep his Pinckney home after it was sold at a sheriff auction in March.
Parish launched a crowdfunding campaign on June 25 and plans to host fundraisers to try to raise $132,000 in order for Ross Dahlberg to reclaim his home before a six-month redemption period expires on Sept. 26.
"The veteran is currently wheelchair bound and he suffers from several medical ailments that would make moving him to a new location very difficult," Parish said.
Parish said a series of unfortunate events led to Dahlberg's current situation: a Korean War-era veteran, Dahlberg was hospitalized for health issues and fell behind on his mortgage.
Owing about $4,000, Dahlberg applied for the Step Forward Michigan program, which allows residents who meet a minimum set of qualifications apply for up to $30,000 in past due property tax or mortgage payment relief.
Parish said Dahlberg was initially approved for the program, but his application was later denied due to a clerical error.
Dahlberg contacted Parish, who works as a veterans benefits counselor in Livingston County, and Parish drafted an emergency motion for a temporary restraining order in court to save Dahlberg's house from going to a sheriff's auction while Parish tried to obtain the $4,000 to pay the past due mortgage.
The motion was denied and Dahlberg's home sold to Day Glo LLC for $132,000 in March.
Dahlberg is living in his home until a six-month redemption period expires in September.
"The redemption period will expire, and if we cannot raise the funds to keep him in his home, the company that purchased his home is going to evict him or remove him from the home," Parish said.
"The vet is adamant about staying in the home. He's owned that home for 20-plus years. In his own words, 'I want to die there,'" Parish continued.
More:
http://www.mlive.com/business/ann-arbor/index.ssf/2014/07/fundraising_campaign_launched.html
I know the veterans office- this is legit.
here is the link to the gofundme donation site:
http://www.gofundme.com/koreanwarveteran
I cannot believe it- but yes, I just got this in my email.
I just got an email asking me for a donation to the G.O.P......and if I do, G.H.W. Bush will send me a pair of SOCKS.
That's right. SOCKS.
+++++++++++++++++++++++++++++
GOP.com
James,
I don't know what your guilty pleasures are in life, but one of mine is socks.
I'm a self-proclaimed sock man. The louder, the brighter, the crazier the pattern -- the better! It's usually the first thing people notice I'm wearing whenever I'm out in public and that's the way I like it.
So when Chairman Reince Priebus asked me to write to you on behalf of the Republican National Committee (RNC), I told him I'd be happy to do it. But on one condition: my letter to you had to involve socks.
I'm proud to say the RNC has commissioned a limited-edition pair of socks in my honor. Embroidered with the Republican elephant and my signature on them, they're sure to get you noticed.
You can get your own pair today or as a gift for your favorite Republican by
sending a special campaign contribution of $35 or more to the RNC now.
James, it's important you act now on this offer. Chairman Priebus assures me these will go fast since only a limited number were produced -- and the RNC needs your immediate support to lay the foundation for victory in the critical 2014 mid-term elections.
As a former RNC Chairman, I know that nothing is more vital to our Party's success than a strong and well-funded RNC.
And I understand the difficult challenges Reince is facing as he works to build and prepare our Party to elect Republican majorities at every level of government in November.
Republicans are up against an opposition that is willing to do, say and spend whatever it takes to expand their hold on power. The Democrats are desperate and determined to fully implement ObamaCare and force their agenda of higher taxes, more spending and less freedom on the American people.
Of course, the liberal special interest groups and the mainstream media will do their part to help the Democrats win back the U.S. House and retain control of the U.S. Senate. Nothing has changed in that respect since I left the White House.
But what has changed since I was in office is the way the RNC is preparing for the 2014 mid-term elections.
Our Party has made it a priority to have a permanent presence in EVERY state and EVERY community earlier than ever before in an off year election.
The RNC already has staff in nearly all 50 states. Their efforts to reach out and connect with new voters precinct-by-precinct, block-by-block is vital to growing our Party and setting the stage for nationwide Republican victories.
But our Party cannot succeed unless good friends and steadfast Republican supporters like you play an active role in helping the RNC provide the resources and tools our candidates need to run winning campaigns.
With your financial commitment today, I'm confident Republicans can strengthen our Majority in the U.S. House, reclaim control of the U.S. Senate, and elect more governors and state legislators this November.
So please take advantage of this special offer to get
your very own pair of limited-edition socks embroidered with the Republican elephant and my signature
by making your generous online gift of $35 or more to the RNC today.
James, thank you for your friendship over the years. I look forward to hearing from you soon.
Sincerely,
George H.W. Bush
P.S. James, I am deeply touched the RNC has chosen to make a limited-edition pair of socks with the Republican elephant in my honor. I hope you will get a pair for yourself or as a gift for a friend by sending a special campaign donation of $35 or more to the RNC today. Your contribution is vital to helping elect Republicans from the county courthouse to the corridors of Congress in the critical 2014 elections. Thank you.
+++++++++++++++++++++++++++++++++++++++++++++
Oh Brother!
BOISE — A 74-year-old Navy veteran says she wants her partner buried with her in the Idaho State Veterans Cemetery. Officials say the couple can't be buried together because same-sex marriages aren't recognized in Idaho.
Madelynn Taylor served six years in the Navy from 1958 to 1964. She says her whole family was in the military. "It's what we did. When we were 18, you picked a service and joined."
She met her late wife Jean Mixner years ago. They got married at a church retreat in Oregon in 1995, and formally in a California courthouse around six years ago. Mixner passed away in 2012, and last year, Taylor went to the Veterans Cemetery to apply to be buried there with her wife when she passes away. She took the required documents: Discharge documents and a marriage certificate.
"I thought they'd say okay because in any federal cemetery it is okay, in any national cemetery," Taylor said. "I could take the same documents and get buried in Arlington if I needed to, with no problems. But here they said it's a state veterans cemetery, not a national cemetery. So we have to go by the state laws. So, we gotta change the state laws."
more:
http://www.freep.com/article/20140424/NEWS07/304240116
stretches around the block at the County Clerk's office.
Amazing picture-
People waiting in line this morning for marriage licenses in Ann Arbor, following yesterday's ruling that threw out Miichigan's prohibition on same-sex marriage.
LOVE rules.