Profile Information
Member since: Wed Nov 23, 2005, 08:15 AM
Number of posts: 3,850

Journal Archives
Faryn Balyncd
More than 100 leukemia experts from around the world have signed an opinion piece objecting to the high prices of cancer drugs. The letter appeared in a prominent medical journal and was drafted by Dr. Hagop Kantarjian, the head of the leukemia department at MD Anderson Cancer Center.
....The initial decision to speak out was we were developing three drugs for chronic myeloid leukemia and all three got FDA approval in 2012. But, to our surprise, all three came with a price exceeding $100,000 a year. Now one would think this has been ongoing with us for the longest time, but the reality is cancer drug prices used to be on average under $5,000 a year before 2000. And now they've jumped to over $100,000. So there's a ten-fold increase in the price of cancer drugs over the past 10-15 years. And this has sneaked up on us gradually on us without anyone noticing, but we have come to a boiling point.
....They say it reflects the cost of development. And there's the myth that it costs about $1 billion to bring a new drug to the market. The reality is that the cost of bringing a new drug to the market is probably 10 percent of that value, or less than $100 million. Well then they say we let the free-market economy take care of settling the drug prices. In the case of patented drugs, it does not seem that market competition is settling the drug prices at reasonable values. For example, in chronic myeloid leukemia there are now five drugs that do the same thing. And yet all of them are priced at $90,000 to $130,000 per year.
If cancer research is paid 80 percent by taxpayers' money, and if most of the discoveries in cancer drugs are made in the United States, why is it that the U.S. patient pays almost twice the price of a cancer drug as they pay in Europe? . . . In lung cancer, in prostate cancer, in cancer of the bladder, in renal cancer, in melanoma. In all of these disciplines, the cancer drugs prices are coming routinely now at over $100,000 a year. I cannot find any reason for the run-up in the cancer drug prices except corporate profits.
http://app1.kuhf.org/articles/1369153808-Why-A-Houston-Leukemia-Doctor-Is-Calling-Out-Drug-Companies.html
A small but growing number of American corporations, operating in businesses as diverse as
private prisons, billboards and casinos
, are making an aggressive move to reduce — or even eliminate — their federal tax bills. . . . They are declaring that they are
not ordinary corporations at all
. Instead, they say, they are something else: special trusts that are typically exempt from paying federal taxes.
The trust structure has been around for years but, until recently, it was generally used only by funds holding real estate. Now, the likes of the
Corrections Corporation of America
, which owns and operates 44 prisons and detention centers across the nation, have
quietly received permission from the Internal Revenue Service to put on new corporate clothes
and, as a result, save many millions on taxes. . . . The Corrections Corporation, which is making the switch, expects to save $70 million in 2013. Penn National Gaming, which operates 22 casinos, including the M Resort Spa Casino in Las Vegas, recently won approval to change its tax designation, too.
Changing from a standard corporation to a real estate investment trust, or REIT — a designation signed into law by President Dwight D. Eisenhower — has suddenly become a hot corporate trend. One Wall Street analyst has characterized the label as a "golden ticket" for corporations. . . . . When they were created in 1960, they were meant to be
passive investment vehicles
, like mutual funds, that buy up a broad portfolio of real estate — whether shopping malls, warehouses, hospitals or even timberland — and derive almost all of their income from those holdings. One of the bedrock principles — and the reason for the tax exemption — was that the trusts do not do any business other than owning real estate. . . .
http://www.nytimes.com/2013/04/22/business/restyled-as-real-estate-trusts-varied-businesses-avoid-taxes.html?ref=todayspaper&_r=1&
So. . . While we're contemplating using "chained CPI" induced tax bracket creep to jack up the taxes on the middle class while it simultaneously steals their SS, we are granting prison & casino corporations the right to avoid paying taxes based on the fiction that they are simply a passive real estate investment vehicle.
What's next?
(Wired) -- Google is barring anyone deemed worthy of a pair of its $1,500 Google Glass computer eyewear from selling or even loaning out the highly coveted gadget.
The company's terms of service on the limited-edition wearable computer specifically states, "you may not resell, loan, transfer, or give your device to any other person. If you resell, loan, transfer, or give your device to any other person without Google's authorization, Google reserves the right to deactivate the device, and neither you nor the unauthorized person using the device will be entitled to any refund, product support, or product warranty."
Welcome to the New World, one in which companies are retaining control of their products even after consumers purchase them.....It was bound to happen. Strange as it may sound, you don't actually own much of the software you buy today. You essentially rent it under strict end-user agreements that have withstood judicial scrutiny. Google appears to be among the first to apply such draconian rules to consumer electronics....
http://www.cnn.com/2013/04/18/tech/innovation/google-glass-resales/index.html?hpt=hp_t5
Google can go to hell.
Interesting read.
Is there clearer example of what Mussolini termed "corporatism"?
http://www.thedailybeast.com/articles/2013/04/14/how-the-cia-helped-disney-conquer-florida.html?utm_medium=email&utm_source=newsletter&utm_campaign=cheatsheet_morning&cid=newsletter%3Bemail%3Bcheatsheet_morning&utm_term=Cheat%20Sheet
With advice from former CIA operatives and lawyers, Disney bought up the land for Florida's Disney World and orchestrated a unique legal situation—and set up an unconstitutional form of government. An excerpt from TD Allman's Finding Florida
: . . . . . Starting in the mid-1960s when Disney set out to establish the Disney World Theme Park, they were determined to get land at below market prices and Disney operatives engaged in a far-ranging conspiracy to make sure sellers had no idea who was buying their Central Florida property. By resorting to such tactics Disney acquired more than 40 square miles of land for less than $200 an acre, but how to maintain control once Disney's empire had been acquired? The solution turned out to be cartoon-simple, thanks to the CIA.
Disney's key contact was the consummate cloak-and-dagger operator, William "Wild Bill" Donovan. Sometimes called the "Father of the C.I.A," he was also the founding partner of Donovan, Leisure, Newton & Irvine, a New York law firm whose attorneys included future C.I.A. director William Casey. Donovan's attorneys provided fake identities for Disney agents; they also set up a secret communications center, and orchestrated a disinformation campaign. In order to maintain "control over the overall development," Disney and his advisers realized, "the company would have to find a way to limit the voting power of the private residents" even though, they acknowledged, their efforts "violated the Equal Protection Clause" of the U.S. Constitution. Here again the CIA was there to help. Disney's principal legal strategist for Florida was a senior clandestine operative named Paul Helliwell. Having helped launch the C.I.A. secret war in Indochina, Helliwell relocated to Miami in 1960 in order to coordinate dirty tricks against Castro. At a secret "seminar" Disney convened in May 1965 Helliwell came up with the approach that to this day allows the Disney organization to avoid taxation and environmental regulation as well as maintain immunity from the U.S. Constitution. It was the same strategy the C.I.A. pursued in the foreign countries. Set up a puppet government; then use that regime to do your bidding.
Though no one lived there, Helliwell advised Disney to establish at least two phantom "cities," then use these fake governments to control land use and make sure the public monies the theme park generated stayed in Disney's private hands. On paper Disney World's "cities" would be regular American home towns—except their only official residents would be the handful of hand-picked Disney loyalists who periodically "elected" the officials who, in turn, ceded complete control to Disney executives. . . . . . In early 1967, the Florida legislature created Hallowell's two "cities," both named for the artificial reservoirs Disney engineers created by obstructing the area's natural water flow. When you visit Disney's Magic Kingdom, you are visiting the City of Bay Lake, Florida. The other was the City of Lake Buena Vista. In both "cities,"
in violation of both the U.S. and Florida Constitutions the Disney-engineered legislation established a property qualification for holding elective office
, requiring that each candidate for office there "must be the owner, either directly or as a trustee, of real property situated in the City" in order "to be eligible to hold the office of councilman." . . . . . .
complete article at:
http://www.thedailybeast.com/articles/2013/04/14/how-the-cia-helped-disney-conquer-florida.html?utm_medium=email&utm_source=newsletter&utm_campaign=cheatsheet_morning&cid=newsletter%3Bemail%3Bcheatsheet_morning&utm_term=Cheat%20Sheet
http://money.cnn.com/2013/04/10/news/economy/chained-cpi-social-security/index.html?hpt=hp_t2
Senior citizens would see their Social Security checks shrink under President Obama's latest budget proposal....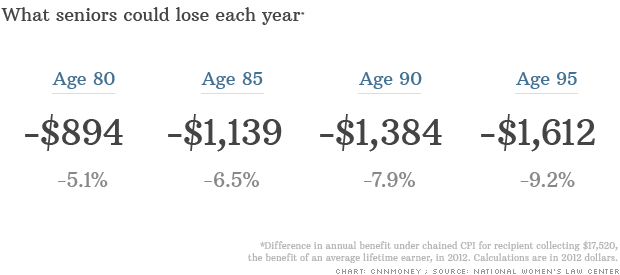 ...Someone who started collecting the average Social Security benefit for a retired worker in 1999 would receive $12,972 in 2012. But let's say the Social Security Administration had already been using chained CPI -- that person would get only $12,336 this year, according to the National Academy of Social Insurance. That's nearly 5% less.
The difference gets bigger over time. According to the National Women's Law Center, a retiree who was collecting $17,520 last year would see 6.5% less, or $1,139, by age 85, if chained CPI were adopted now. A decade after, their payments would be 9.2% smaller, or $1,612...
http://money.cnn.com/2013/04/10/news/economy/chained-cpi-social-security/index.html?hpt=hp_t2
...most fiscally responsible of all government programs in the history of our nation. It purchase of Treasury Bonds has allowed the general fund of the Treasury to be financed simultaneous with the slashing of income tax rates for corporations and the 1% to historically low, unsustainable levels.
But those that have been given a windfall (in the form of historically low income tax rates) don't want the Trust Fund to be used to fund the earned benefits of those whose payroll taxes made it all possible.
Social Security is the SOLUTION, not the problem.
And a few of those who, in the course of
funding their own earned benefits
, coincidentally FINANCED the deficits caused by cutting tax rates for the 1%: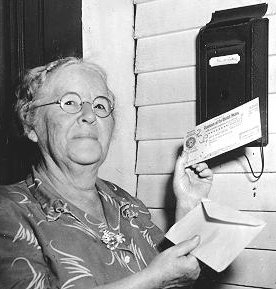 http://signon.org/sign/mr-president-please-do-1?source=mo&id=65506-15400088-o0C8v1x


Mr. President, Please do not cut Social Security!

By Robert Reich, former U.S. Secretary of Labor

To be delivered to: President Barack Obama

Petition Statement

Mr. President, the chained CPI is a cut to Social Security benefits that would hurt seniors--it's an idea not befitting a Democratic president. If you want to reform Social Security, make the wealthy pay their fair share by lifting the cap on income subject to Social Security taxes.
Petition Background

Social Security is not driving the deficit, therefore it should not be part of reforms aimed at cutting the deficit. The chained CPI, deceptively portrayed as a reasonable cost of living adjustment, is a cut to Social Security benefits that would hurt seniors.

There are several sensible reforms to Social Security that should be considered to help make it sustainable, including lifting the ceiling on income subject to Social Security from $113,700 to $200,000 or more, as well as instituting a 1% raise in the payroll tax rate, a rate that hasn't changed in over 20 years.

Both of these reforms would go a long way toward protecting the long-term health of Social Security, but neither should not be conflated with efforts to reduce the federal budget deficit.

President Obama needs to stand by his Democratic principles and fight to protect Social Security benefits.


There are currently 155,067 signatures
NEW goal - We need 175,000 signatures
"All that is necessary for the triumph of evil is that good men do nothing."
This is not the time for passivity.
Here's the email in my box today:
Dear MoveOn member,
We've just gotten some really bad news—and need your help to respond.
According to multiple reports, President Obama is planning to propose Social Security cuts of $112 billion over the next decade when he unveils his budget next week.1
Politically, this is a terrible idea. Social Security is such a popular and successful program that even Republicans didn't touch it in their budget.2
And as a policy matter it's even worse. Social Security doesn't add one dime to the debt, and according to the AARP, a typical 80-year-old woman will lose the equivalent of three months worth of food annually under this plan.3
There's still time for President Obama to reverse course and stop supporting these cuts, but that's unlikely to happen unless progressives push back in a big way. We're aiming to raise $200,000 to launch a rapid-response campaign to convince President Obama not to support cutting Social Security. Can you chip in $5?
Yes. I'll chip in 5 dollars to help convince President Obama not to support Social Security benefit cuts.
President Obama knows he can't move forward on his second-term agenda without strong support from the progressive base. So if MoveOn members are vocal in opposing this plan, we have a real chance to change his thinking.
And because House Republicans didn't propose cutting Social Security in their budget, it would likely take cuts off the table for the year if President Obama didn't propose them.
If we have to fight the president on this, we will. But it's going to be a battle. Here's what we have in mind:
We'll make a major public media announcement to draw attention to the fact that progressives are prepared to split with the president over Social Security cuts.
We'll help elevate a video ad campaign from Clinton economic adviser Robert Reich.
We'll run a massive online advertising blast in Washington, D.C., that'll get noticed by members of Congress and the administration itself.
We'll launch a campaign to flood the White House with phone calls.
We'll make sure that champions of Social Security in Congress know we have their backs by publicly thanking them and organizing thank-you events in their districts.
MoveOn members overwhelmingly oppose cutting Social Security benefits, but it's never easy to go up against a president we all worked so hard to elect. So please chip in today so we'll know we have the resources to go big:
Yes. I'll chip in 5 dollars to help convince President Obama not to support Social Security benefit cuts.
- -
https://civ.moveon.org/donatec4/obamacuts.html?id=65431-15400088-azVnslx&t=2
Thanks so much for your help.
–Anna, Manny, Angie, Matt, and the rest of the team
Sources:
1. "Obama Budget Said to Include Earlier Debt Reduction Offer," Bloomberg, April 4, 2014
http://www.moveon.org/r?r=288722&id=65431-15400088-azVnslx&t=4
2. "Paul Ryan's Budget, Simplified: Save the Rich, Spare the Old, Forget the Poor," The Atlantic, March 12, 2013
http://www.moveon.org/r?r=288723&id=65431-15400088-azVnslx&t=5
3. "AARP to Congress and the President: Don't Cut Social Security," AARP, December 18, 2012
http://www.moveon.org/r?r=285712&id=65431-15400088-azVnslx&t=6
Want to support our work? MoveOn Civic Action is entirely funded by our 7 million members—no corporate contributions, no big checks from CEOs. And our tiny staff ensures that small contributions go a long way. Chip in here.
The President has told us time and time again he WANTS us to hold his feet to the fire.
He NEEDS us to hold his feet to the fire, and he NEEDS US NOW.
Let's not forget
that it is not just progressives that would be slapped in the face by the the imposition of another scheme to re-rig the CPI. The fact that Americans across the board recognize book-cooking when they see it, and oppose has be clear for months:
"In order to strike a budget deal, would you accept Changing the way Social Security benefits are calculated so that benefits increase at a slower rate than they do now or is this something you would find unacceptable?"
The December Washington Post/ABC
poll
:
60% of all adults
oppose (60% to 34%)
57% of registered voters
oppose (57% to 36%)
68% of Democratic voters
oppose (68% to 26%)
54% of Republican voters
oppose (54% to 40%)
56% of Independents
oppose (56% to 36%)
65% of liberals
oppose (65% to 29%)
57% of moderates
oppose (57% to 38%
58% of conservatives
oppose (58% to 33%)
It would appear that Americans across the board can see with their own eyes the reality that returning Congressman
Alan Grayson
pointed out in his recent DU post: that the current CPI calculation methodology
ALREADY UNDERSTATES inflation
.
It would appear Americans are unwilling to be fooled again by those who believe they can dress up the slashing of earned benefits as "technical" accounting adjustments.
A few years after the Boskin Commission slashed SS benefits by
rigging CPI to understate inflation,
Greg Mankiw, chairman of George W. Bush's Council of Economic Advisers from 2001-2003, seeing no reason at the time to continue the charade, publicly admitted the truth everyone already knew:
"The debate about the CPI was really a political debate about how, and by how much, to cut real entitlements."
On the issue cutting Social Security by means of again cooking the CPI calculation books,
Americans across the board are in agreement, with the House Progressive Caucus
, with
the AFL-CIO
,
the AARP
,
MoveOn.org
,
Disabled American Veterans
.
This appears to be a defining moment.
The Republican strategy is clear:
Demand that DEMOCRATS initiates, pass, and OWN the issue of slashing Social Security.
Regardless of how much Republican leaders may want to cut Social Security, through chained CPI or otherwise, they are unwilling to be the party to propose and own the issue. Their recent plan
avoided "chained CPI"
like the plague. The Republican strateg is to manipulate Democrats into betraying their base.
Will a disgraced & defeated Republican Party
now succeed in manipulating Democrats to do such a thing?
Will we learn from the past?
In 1997, as the Boskin Commission's fraudulent rigging of CPI was on the verge of implementation, The Atlantic published an eerily prescient
"How to Re-Write Economic History"
which illustrates the profound attraction that cooking the books has for politicians:
"Given the questionable intellectual foundations of the Boskin Commission's findings, the commission's high standing in Washington requires explanation. Both Democrats and Republicans have been keen to see its recommendations adopted, because they provide a potentially uncontroversial way to achieve deficit reduction. Raising taxes is unpopular, and little discretionary government spending is left to be cut. Restating the CPI as a measure of cost-of-living inflation offers an easy way to lower Social Security payments through reduced COLAs and raise tax revenues through reduced exemptions. The hope is that the CPI can be presented as an apolitical and boring technical issue that voters won't notice.
"Revising the CPI would get the Republicans off the hook of deficit reduction, while simultaneously advancing the interests of business. This, however, would occur at the expense of working Americans and the elderly.
Revising the CPI would get the Democrats off the same hook, but at the cost of another shameful desertion of the constituencies they claim to represent.
"
- - - - - - - - - - - -
http://www.theatlantic.com/past/docs/issues/97apr/econhist.htm