Profile Information
Gender: Do not display
Current location: Wonderland
Member since: Wed May 4, 2005, 01:01 PM
Number of posts: 33,230

Journal Archives
undeterred
Published on May 14, 2013

76 countries still criminalize consensual same-sex relationships and lesbian, gay, bisexual and transgender people everywhere continue to suffer violent attacks and discriminatory treatment. In this simple, high-impact video from the UN human rights office, individuals from diverse backgrounds pose questions directly to the viewer designed to expose the nature of human rights violations suffered by LGBT people around the world. The video includes cameo appearances by UN Secretary-General and High Commissioner for Human Rights Navi Pillay.

The UN's message: LGBT rights are human rights.

Together we will build a world that is free and equal.



Courtesy of U.S. Air Force - U.S. Army Brig. Gen. Christopher K. Haas, commander of U.S. Special Operations Command Africa, returns the salute of Lieutenant Colonel Pepe Tongawa in Kisangani, Democratic Republic of Congo
By Craig Whitlock, Published: May 13
A Congolese army battalion that received its formative training from the U.S. military went on to commit mass rapes and other atrocities last year, a U.N. investigation has found. Members of the 391st Commando Battalion, a unit created in 2010 with extensive support from the U.S. government, joined with other Congolese soldiers to rape 97 women and 33 girls as they fled a rebel advance in eastern Congo in November, according to the United Nations.
U.S. Special Operations forces had spent eight months training the 750-member battalion in a bid to professionalize Congo's ragtag military, which has a long history of rights abuses, including raping and killing civilians. The training program, dubbed Operation Olympic Chase, was led by the State Department and the U.S. Africa Command, which oversees military operations on the continent. Two years later, members of the battalion joined other Congolese soldiers to rape and rob scores of civilians in Minova, a town in eastern Congo, according to an investigative report released last week by the U.N. Joint Human Rights Office. The attacks occurred as Congolese forces were chased out of Goma, a key provincial capital, by a rebel group known as M23.
On Monday, the State Department acknowledged that some U.S.-trained soldiers "may be implicated in these rapes," according to an e-mailed statement from a spokeswoman, Hilary Renner. "We condemn these crimes unequivocally and call for a full and credible investigation" by the Congolese government, she added. "You have enhanced your moral understanding of how a professional military operates effectively within a democratic society to provide security, to protect the civilian population and to contribute to greater stability," Samuel Laeuchli, the ranking U.S. diplomat in the Congo at the time, said in a speech at the 391st Battalion's graduation. Thierry Vircoulon, Central Africa project director for the International Crisis Group, said the U.S. government underestimated what it would take to reform the Congolese armed forces.
"The state of the army in itself is a disaster, so you train people and you send them back to a dysfunctional army," he said. "You are trained, but you still have a very low wage, no logistics, a very poor command system and no sense of belonging and cohesion because the Congolese army is still a patchwork of very different groups. Even if you're trained, at the end of the day, you're still an hungry and unpaid soldier."... The U.N. findings represent another setback in the U.S. military's efforts to train and equip troops in Third World countries, many of which have poor human rights records.
http://www.washingtonpost.com/world/national-security/us-trained-congolese-troops-committed-rapes-and-other-atrocities-un-says/2013/05/13/9781dd88-bbfe-11e2-a31d-a41b2414d001_story.html
By JIM YARDLEY
Published: May 5, 2013
SAVAR, Bangladesh — The rescuers discovered her by a faint, distant sound. They had spent four days crawling through the wreckage of Rana Plaza, tons of concrete and steel pressing down, saving hundreds of people. Now only the dead remained. Except for a lone woman, a garment worker. She was trapped behind a fallen pillar, in a suffocating crevice maybe two feet high. First, the rescuers could see only her fingertips pressing through a tiny opening. After hours spent chipping a small hole, they could see her face. Her name was Shaheena. She was 32. She begged to see her young son.
The story of Shaheena, involving a heroic if ultimately doomed rescue operation, offered the last bit of hope of finding anyone alive in what is now considered the deadliest accident in the history of the garment industry. For hours on April 28, as television reporters broadcast updates, rescuing Shaheena became a national priority. She would be trapped for more than 100 hours.
Her plight attracted so much attention because of the horror of the building collapse, with a death toll that by Sunday had exceeded 600; the drama of the long rescue effort; and the human desire to find a sliver of redemption in the tragedy. But the attention was also an anomaly: there are easily more than 2.5 million women working in the garment industry in Bangladesh whose lives usually attract scant notice, even though they are the workhorses of the national economy.
For women like Shaheena, the garment industry has been a source of empowerment as well as exploitation. Before, few rural women worked outside the fields in Bangladesh, a predominantly Muslim nation. Many, like Shaheena, are still not given a surname at birth. Now the industry has given many women a first step out of rural distress, with some becoming outspoken labor leaders or managers in their factories.
http://www.nytimes.com/2013/05/06/world/asia/struggle-in-bangladesh-to-save-collapse-survivor.html?smid=tw-share&_r=0
Deployment of intervention brigade is not peacekeeping but peace enforcement. If successful it will set a precedent
Julian Borger, diplomatic editor
guardian.co.uk, Sunday 5 May 2013 12.36 EDT
In establishing an intervention brigade in the Democratic Republic of the Congo, the United Nations has taken a leap into the unknown. UN peacekeeping operations have become embroiled in scraps before, but this is the first time such a force has been sent out to look for a fight. The brigade has the job of "neutralising" ultra-violent armed groups who are perpetuating the misery of the eastern DRC, with a clear mandate for initiating attacks against those militias rather than simply responding to attacks from them. It is not peacekeeping but peace enforcement.
The UN has the right and a duty to confront threats to global peace under chapter 7 of its charter, but in the past the deployment of combat troops has been subcontracted to willing nations, deputised by the UN like a wild west sheriff's posse. The most recent example of this was in April 2011 in Libya, where UN resolution 1973 authorised "all necessary measures" be taken to protect civilians, a mandate controversially interpreted by France, UK and the US to help bring about the fall of Muammar Gaddafi. When global and regional powers have not wanted to become embroiled in civil conflicts, the role has been left to the UN department of peacekeeping, which canvasses member states for troops, puts them in blue helmets and gives them narrowly drawn mandates and rules of engagement aimed at preserving the UN's credibility as a neutral arbiter and preventing the UN from becoming just another warring faction on the ground.
What could possibly go wrong? As events in Bosnia, Rwanda and Somalia proved, the half-hearted defensive missions were a recipe for humanitarian disasters. The peacekeeping forces Unprofor in Bosnia, Unamir in Rwanda and Unosom II in Somalia were all sent in with no peace to keep and no security council consensus on how they should to their job. The Bosnian Serb ethnic cleansers, the Hutu genocidaires and the Mogadishu warlords could smell the weakness of the UN position and simply overran the blue-helmeted forces, slaughtering hundreds of people who were supposed to be under the UN's protection. Those left defenceless blamed impotent UN soldiers, but the real problem lay with a feckless and divided security council.
The disgust at the genocides of the 1990s paved the way in 2005 for the UN's adoption of a new principle, the "responsibility to protect", which in theory turned the inviolability of state sovereignty on its head and argued that sovereignty was a responsibility rather than a right. When a state failed to protect its civilians, the international community had the right to intervene with coercive measures, including force if necessary. At the same time, UN peacekeeping missions have become more forward-leaning when it comes to defending themselves. In Ivory Coast in April 2011, the UN force Unoci fought back fiercely when attacked by forces loyal to the warlord Laurent Gbagbo, launching gunship assaults on Gbagbo's palace and his residence in tandem with French forces.
more at:
http://www.guardian.co.uk/world/2013/may/05/un-force-democratic-republic-congo
Crises in Syria and Democratic Republic of the Congo in 2012 help push total figure of people displaced worldwide to 28 million
Mark Tran
guardian.co.uk, Monday 29 April 2013 04.00 EDT
Wars in Syria and the Democratic Republic of the Congo (DRC) pushed the number of people internally displaced by armed conflict, violence and human rights violations to 28.8 million last year, the highest figure recorded by the Internal Displacement Monitoring Centre (IDMC) in Geneva. More than 6.5 million people were newly displaced within their own countries in 2012, almost twice as many as the year before, IDMC said in its annual report. Since these people have not crossed borders, they are not refugees and do not benefit from international protection.
The situation in Syria is particularly critical, as it is the world's largest and fastest evolving crisis in terms of new displacements. The number of Syrian internally displaced persons (IDPs) is now more than 3 million, of which 2.4 million were displaced last year. "The crisis is in its third year and the escalation has gone beyond a tipping point," said Clare Spurrell, an IDMC spokeswoman. "Humanitarians can't save Syria, it has to be the politicians … what you are seeing are people who are utterly exhausted. The internally displaced are completely reliant on others, but host communities are themselves suffering from a lack of food, and diseases are breaking out."
The UN high commissioner for refugees, António Guterres, has described the Syrian civil war as the worst humanitarian disaster since the end of the cold war, and more brutal and destructive than the conflicts in Iraq and Afghanistan.
Until the conflict in Syria is resolved, internal displacement will continue to accelerate, said the IDMC, pointing out that this phenomenon has been seen in other countries with drawn-out conflicts.
Colombia has the largest number of IDPs in the world, followed by Syria and the DRC, which has the third largest IDP population. The region with the largest number of IDPs last year was sub-Saharan Africa, where there were 10.4 million IDPs by the end of 2012, almost a third of the world's internally displaced population. About a million people fled their homes in DRC as a result of attacks from the rebel group M23. In November, 140,000 people fled the North Kivu capital of Goma in a single week as M23 forces entered the city. Conflict in Mali and increased violence in Nigeria from the radical Islamist group Boko Haram also caused large new displacements.
The report suggests that while a resolution to the conflict, particularly in Syria, is critical to dealing with an internal displacement crisis, so too is bridging the gap between emergency response and development. "Ninety percent of the countries monitored by IDMC have IDPs living in protracted displacement, often for decades, while second and third generations are born into displacement,'' said Kate Halff, director of IDMC. She added: ''Governments are responsible for finding long-term solutions for their displaced citizens. However, they can only be realised when the governments and the international community recognise that people forced from their homes require not only a humanitarian response at the height of a crisis, but sustained engagement until a lasting solution is achieved."
more at
http://www.guardian.co.uk/global-development/2013/apr/29/record-levels-internally-displaced-people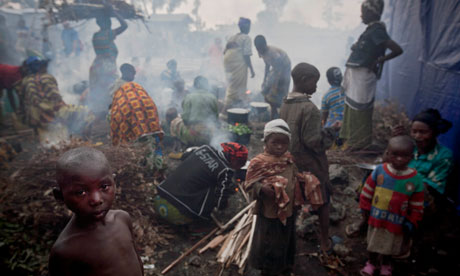 Families displaced by recent fighting between M23 rebels and Congolese government soldiers cook in the rain at Don Bosco Orphanage in Goma, Democratic Republic of the Congo, in November 2012. Photograph: Kate Holt/Oxfam
APRIL 15, 2013, 12:05 AM By QUENTIN HARDY
Some of our most advanced technology products have helped finance the deadliest conflicts of our time. Perhaps, if tech companies change some of their habits, that can change. An essential part of most cellphones is the mineral tantalite, which is frequently obtained from the Democratic Republic of Congo under murky circumstances. Tin, tungsten and gold also finance armed groups in Congo on their way to our laptops and tablets. Hewlett-Packard announced on Monday that it is publishing a list of 195 ore smelters, located around the world, that are identified with the minerals inside the company's products. Within about two years, the company says, it wants its parts suppliers, which buy from these smelters, to make sure its minerals were not obtained from conflict zones.
"We believe the upshot of this is, over time, to lower violence and repression," said Tony Prophet, who runs the global supply chain for H.P.'s personal systems group. "The smelters are the chokepoint. Once you locate them, you can start to pressure them to set a standard." While H.P. may be as much as four steps away from the smelters in the supply chain, Mr. Prophet said, as a major purchaser it can still compel good behavior.
In August, the Securities and Exchange Commission also adopted a rule requiring all publicly traded companies to disclose their use of certain conflict minerals beginning next year, although that rule is facing a court challenge. The issue illuminates a chaotic underside to the clean orderliness of high-tech products. Over the last 15 years, some nine nation's armies, and perhaps 15 or more armed groups, have fought in Congo. The body count for the region's wars is estimated to be over five million, making it the world's deadliest conflict since World War II.
This coincides with the rise in popularity of mobile devices, which has increased demands for minerals found in Congo. That, in turn, attracts warlords. Despite all the killing, supplies have been stable. The minerals, it turns out, are aggregated through a series of middlemen, much the way illicit drugs are gathered from small-scale growers.
http://bits.blogs.nytimes.com/2013/04/15/combating-techs-conflict-minerals-with-disclosure/
CAR is Central African Republic - its the poorest country in Africa - one of the poorest countries in the world. Hardly anyone has every heard of it and it rarely makes the news.
Its on the edge of the news now because there is an uprising going on and rebels are approaching the Capital city Bangui. Citizens are fleeing the country in fear for their lives. In previous conflicts women have been viciously raped, homes burned, and people have starved to death in the jungle.
I posted about it in LBN:
http://www.democraticunderground.com/1014350269
I was pleased to read this morning that the US does have Special Forces in CAR helping local forces try to track down the Lord's Resistance Army,
a rebel group which has killed thousands of civilians across four nations.
http://www.reuters.com/article/2012/12/30/car-rebels-idUSL5E8NU1M320121230
There is virtually no medical care in this country and many people will die as this rebellion takes place.
I started a petition to President Obama to increase humanitarian aid for the 5 million people of CAR.
Will you sign it? You need a White House account.
http://wh.gov/QJS7
Thank you.
Source:
The Washington Post
Updated: Friday, December 28, 6:21 PM
BANGUI, Central African Republic — Officials from Central African Republic's neighbors say they have agreed to dispatch a contingent of soldiers to intervene in the troubled country.
Representatives from the 10-nation Economic Community of Central African States meeting in Gabon, though, did not specify how many troops they could contribute.
President Francois Bozize had pleaded for international help Thursday as fears grew that the rebels would attack the capital of 600,000 next.
Former colonial power France already has said that its forces in the country are there to protect French interests and not Bozize's government.
Read more:
http://www.washingtonpost.com/world/europe/central-african-republic-calls-for-foreign-help-fighting-rebels-but-no-sign-of-major-help/2012/12/27/abbba37c-508f-11e2-835b-02f92c0daa43_story.html
---
The US and other embassies have already evacuated their diplomatic staff... this is going to be a bloodbath for the African people who cannot leave the country.
DEE J. HALL | Wisconsin State Journal | dhall@madison.com | 608-252-6132
In 2011, Melissa Sargent was among the most diehard demonstrators at the Capitol. For 50 days straight, Sargent, often accompanied by some or all of her four children, protested the policies of Gov. Scott Walker and the new Republican majority in the Legislature, whose moves to gut collective bargaining for public employees sparked mass demonstrations.
When officials locked the Capitol, Sargent said she and the kids, including the baby, Trystan, marched outside in the cold. And when the Capitol police ordered her three older boys — Devin, Bailey and Keanan — to take down their protest sign declaring "Solidarity," they refused, earning a ticket that was later dismissed.
Come January, the 43-year-old small-business owner will occupy the Capitol in a radically different way. Sargent is the newly elected representative to Madison's 48th Assembly District, whose redrawn boundaries include the city's East and North sides.
She will be joined by another protester-turned-lawmaker, Katrina Shankland, 25, who will represent the 71st Assembly District including Stevens Point and Plover. Shankland also credits the protests that rocked the Capitol with catapulting her into politics. She left her job with a renewable energy company to work "90-plus hours a week" as an organizer for the Democratic Party collecting recall signatures against Walker. Shankland testified in the middle of the night at the Assembly Democrats' 61-hour marathon hearing to oppose Walker's efforts to strip bargaining rights from most government employees. "I actually became a protester right out of the gate," Shankland said. "I was there every weekend. (And) when Act 10 came down (on March 9, 2011), I was in the Capitol."
Read more:
http://host.madison.com/news/local/govt-and-politics/from-protesting-to-legislating-two-who-marched-at-capitol-set/article_57b7883e-4fbf-11e2-a063-0019bb2963f4.html#ixzz2GFnPy0GM