Page: 1
Behind the Aegis
Behind the Aegis's Journal
Profile Information
Gender: Do not display
Member since: Sat Aug 7, 2004, 02:58 AM
Number of posts: 38,652

Journal Archives
ANKARA – Raising concerns of followers of both faiths, the sweeping victory of far-right parties in the European parliament elections has led to an unlikely unity between European Muslims and Jews against anti-immigration, xenophobic parties.
"We must learn to work together effectively on the both grass roots and leadership levels," Imam Ahmed Miktar, president of the Association of the Imams of France and a member of the Gathering of European Muslim and Jewish Leaders, told Reuters on Tuesday, May 27.
"Muslims and Jews Our communities can no longer afford the luxury of standing apart."
--snip--
After the vote, the Gathering of European Muslim and Jewish Leaders, an interfaith group affiliated with the American Foundation for Ethnic Understanding, vowed to "work closely together to fight Islamophobia, anti-Semitism and xenophobia and prevent the far right parties from realizing their goal of passing a common legislative agenda in the European Parliament severely restricting the rights of religious minorities," FFEU founder Rabbi Marc Schneier explained.
"Just as European Muslim and Jewish leaders joined forces in recent months in successfully combating an effort by the Parliamentary Assembly of the Council of Europe to outlaw circumcision and to protest Denmark's new law banning kosher and halal slaughtering, we will now stand together and speak with one voice against efforts by the extremist parties to implement their hateful agenda."
more:
http://www.onislam.net/english/news/europe/472977-far-right-rise-unites-eu-muslims-jews.html
In the cradle of democracy, next week's elections are not looking good — for Greeks, European unity or NATO..
In local elections held Sunday, 16% of Athenians voted for Ilias Kasidiaris, the neo-Nazi Golden Dawn's candidate for mayor of Athens. Kasidiaris, who sports swastika tattoos and once read from "The Protocols of the Elders of Zion" on the floor of Parliament, did even better in the neighborhood where Plato founded his Academy, winning 1 in 5 votes there, three times what the party won in 2012.
"The message of the citizens will be even more fierce in the elections," Kasidiaris said in an ominous "victory statement."
---snip---
While Golden Dawn, Hungary's Jobbik party and other far-right parties are running strong across Europe, they can't win a majority anywhere — yet. So it would be tempting to dismiss Golden Dawn's popularity as a protest against the painful cutbacks imposed as a condition of Greece's financial bailout. It would also be reassuring to view the party's feisty pushback against government prosecution as a legal oddity that will naturally correct itself.
But that would underestimate the malevolence of Golden Dawn. Like other neo-fascist parties, it can make hateful vitriol against Jews, gays, Roma, socialists, migrants and even Brussels bureaucrats seem acceptable, if only by dint of making it commonplace. But Golden Dawn puts muscle behind its menace. Its leaders deny organizing a terror campaign against migrants, but there are hundreds of reports that migrants as well as Greeks of color have been beaten, tortured, mutilated and killed. Prosecutions have been rare, convictions even rarer.
more:
http://www.latimes.com/opinion/opinion-la/la-ol-greece-elections-neo-nazi-golden-dawn-20140522-story.html
pro-government Turkish newspaper has been accused of publishing an anti-Semitic article with the lead headline "The boss's son-in-law is a Jew" in reference to the owner of the Soma mine in which 301 people were killed.
Yeni Akit, a controversial conservative paper that has been criticised for its hate speech and extremist agenda in the past, accused Soma Holding CEO Alp Gurkan of a sinister Jewish conspiracy involving Israel in Turkey's worst mine disaster.
"While the cartel media, which have Jewish partners, and the parallel media, which are in love with Jews, and the Western media guided by Jews are accusing the prime minister over the Soma disaster, it has been revealed that the son-in-law of Alp Gürkan, the owner of the mining company that is responsible for the disaster, is a Jew named 'Mario Asafrana,' and he changed his name to 'Mahir'," reads the article according to a translation by Today's Zaman.
Other columns related to the conspiracy read: "Did the 'Jewish son-in-law' play a role in the parallel media's attack on Erdoğan?" and "All info on Soma incident leads us to Israel".
more:
http://www.ibtimes.co.uk/soma-mine-disaster-pro-erdogan-newspaper-blames-jews-death-300-miners-1449474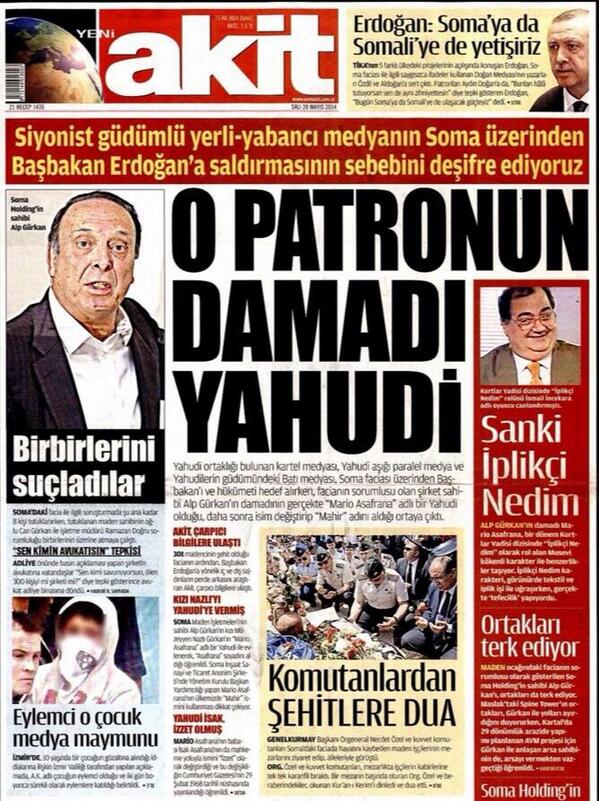 A chronicle of Nazi persecution of gay people, a study of Jews and obscenity, and a haunting artistic collaboration are among the wide-ranging winners of this year's Canadian Jewish Book Awards. After an announcement last week, the awards will be presented at a May 27 ceremony in Toronto.
With its other accolades for a Holocaust diary, a poetic history of Salonika's Jews, and a novel about Jewish immigrants in South Africa, this year's honor roll defies easy categorization. "It was an excellent year for Jewish books," said Natalie Kertes, director of literary programs at Toronto's Koffler Centre of the Arts, which runs the awards.
--snip--
What the prize-winners don't all share, however, is Jewishness. And Ken Setterington, author of "Branded by the Pink Triangle" (Second Story Press), said the award has even more meaning for him as a result.
"I was certainly surprised to receive the honor but, to be quite honest, delighted," Setterington told the Forward. "My book tells the story of the men who were persecuted in the Holocaust because of their sexuality, not their religion. My challenge was not to compare the numbers or the suffering of the men in comparison to the Jews, or any other persecuted group, but rather to make readers aware that homosexuals were persecuted. It is for that reason that I was thrilled to receive a Jewish prize."
more:
http://blogs.forward.com/the-arty-semite/198359/canadian-jewish-book-awards-present-diverse-honor/?
Branded by the Pink Triangle
Before the rise of the Nazi party, Germany, especially Berlin, was one of the most tolerant places for homosexuals in the world. Activists such as Thomas Mann and Albert Einstein campaigned openly for the rights of gay men and women and tried to repeal the law against homosexuality. But that all changed when the Nazis came to power; existence for gay people became fear-filled. Raids, arrests, prison sentences and expulsions became the daily reality. When the concentration camps were built, homosexuals were imprisoned along with Jews and any other groups the Nazis wanted to suppress.

The pink triangle sewn onto prison uniforms became the symbol of the persecution of homosexuals, a persecution that would continue for many years after the war. A mix of historical research, first-person accounts and individual stories brings this time to life for young readers. Stories of bravery in the face of inhuman cruelty, friendship found in the depths of despair in the camps and the perseverance of the human spirit will educate and inspire.
Full Title: World War II as you've NEVER seen it before! Light-hearted photos of nude British and Allied soldiers revealed in eye-opening new book
(NSFW? There are photos at the link...hineys only.)
From the horrors of the Blitz to kamikaze attacks in the Pacific, World War II inflicted terrible suffering on troops and civilians alike.
But as these photos reveal, soldiers fighting the war, whether in the Far East or Europe, did enjoy some more light-hearted moments.
Hidden away in the attics of former servicemen for more than 60 years, the pictures, which show soldiers from the UK, Australia and the USA among others, shed fresh light on the friendships fostered between the men who fought.
The photos, which appear in a new book, My Buddy: World War II Laid Bare, are drawn from an archive created by Los Angeles based photographer, Michael Stokes, which contains more than 500 images of off-duty World War II soldiers.
His extensive collection includes snapshots of soldiers and sailors from Australia, the UK, France, Italy, Poland, Russia, and the USA, cavorting on the sand in the South Pacific, shivering in the snow of Eastern Europe, posing solo in the barracks, and in great happy groups.
more: (remember, photos included!!!)
http://www.dailymail.co.uk/femail/article-2622554/World-War-II-youve-NEVER-seen-Light-hearted-photos-nude-British-Allied-soldiers-offer-surprising-snapshot-life-line.html
---
Definitely a different take on WWII. Personally, I think it also gives an insight into how nudity was viewed. I know "Life" published several similar photos throughout WWII.
This week, eighth grade students in Rialto were assigned an argumentative essay. In this assignment, they were asked to research, cite textual evidence and provide an argument – all things that are pretty standard for a junior high writing assignment.
The subject matter, however, was less than standard. The prompt given to the students was to "Write an argumentative essay, based upon cited textual evidence, in which you explain whether or not you believe this was an actual event in history or merely a political scheme created to influence public emotion and gain wealth…"
Incredibly, the "this" that is referred to in the prompt is the Holocaust.
That's right. Eighth graders in Rialto this week were assigned an essay asking them to argue whether or not the Holocaust happened or whether it was simply a "political scheme," created by Jews I assume, to "influence public emotion and gain wealth."
more:
http://www.neontommy.com/news/2014/05/reaction-time-keep-holocaust-denial-out-curriculum
Word that Rialto Unified School District had assigned middle school students an essay on whether the Holocaust occurred or was "merely a political scheme created to influence public emotion and gain" brought swift reaction Monday, even as the district reversed course and acknowledged the assignment was inappropriate.
Throughout the day Monday, the district fielded angry calls from parents, a death threat and a flurry of media inquiries over the assignment, which district officials initially defended as an effort to teach students to think critically. Ultimately, however, administrators acknowledged the assignment was in poor taste and promised it would not be given again.
"Our interim superintendent will be talking with our Educational Services Department to assure that any references to the Holocaust 'not occurring' will be stricken on any current or future Argumentative Research projects," district spokeswoman Syeda Jafri said in a prepared statement late Sunday.
The assignment was given to Rialto Unified's approximately 2,000 eighth-grade students in April, requiring them to cite sources for their point of view.
"When tragic events occur in history, there is often debate about their actual existence," the assignment reads. "For example, some people claim the Holocaust is not an actual historical event, but instead is a propaganda tool that was used for political and monetary gain. Based upon your research on this issue, write an argumentative essay, utilizing cited textual evidence, in which you explain whether or not you believe the Holocaust was an actual event in history, or merely a political scheme created to influence public emotion and gain. Remember to address counterclaims (rebuttals) to your stated claim. You are also required to use parenthetical (internal) citations and to provide a Works Cited page."
more:
http://www.sbsun.com/social-affairs/20140505/rialto-unified-changes-tune-on-holocaust-debate-essay-project
---
Is it
any
wonder why anti-Semitism refuses to die?
President Barack Obama issued Wednesday a Presidential proclamation announcing the month of May as the Jewish American Heritage Month (JAHM).
The President's proclamation:
A national month of recognition of the more than 350-year history of Jewish contributions to American culture, JAHM acknowledges the achievements of American Jews in fields ranging from sports and arts and entertainment to medicine, business, science, government, and military service.

For thousands of years, the Jewish people have sustained their identity and traditions, persevering in the face of persecution. Through generations of enslavement and years of wandering, through forced segregation and the horrors of the Holocaust, they have maintained their holy covenant and lived according to the Torah. Their pursuit of freedom brought multitudes to our shores, and today our country is the proud home to millions of Jewish Americans. This month, let us honor their tremendous contributions — as scientists and artists, as activists and entrepreneurs. And let all of us find inspiration in a story that speaks to the universal human experience, with all of its suffering and all of its salvation.

This history led many Jewish Americans to find common cause with the Civil Rights Movement. African Americans and Jewish Americans marched side-by-side in Selma and Montgomery. They boarded buses for Freedom Rides together, united in their support of liberty and human dignity. These causes remain just as urgent today. Jewish communities continue to confront anti-Semitism — both around the world and, as tragic events mere weeks ago in Kansas reminded us, here in the United States. Following in the footsteps of Jewish civil rights leaders, we must come together across all faiths, reject ignorance and intolerance, and root out hatred wherever it exists.

In celebrating Jewish American Heritage Month, we also renew our unbreakable bond with the nation of Israel. It is a bond that transcends politics, a partnership built on mutual interests and shared ideals. Our two countries are enriched by diversity and faith, fueled by innovation, and ruled not only by men and women, but also by laws. As we continue working in concert to build a safer, more prosperous, more tolerant world, may our friendship only deepen in the years to come.

NOW, THEREFORE, I, BARACK OBAMA, President of the United States of America, by virtue of the authority vested in me by the Constitution and the laws of the United States, do hereby proclaim May 2014 as Jewish American Heritage Month. I call upon all Americans to visit www.JewishHeritageMonth.gov to learn more about the heritage and contributions of Jewish Americans and to observe this month, the theme of which is healing the world, with appropriate programs, activities, and ceremonies.

IN WITNESS WHEREOF, I have hereunto set my hand this thirtieth day of April, in the year two thousand fourteen, and of the Independence of the United States of America the two hundred and thirty-eighth.

http://jpupdates.com/2014/04/30/president-obama-announces-may-jewish-american-heritage-month/