Profile Information
Gender: Male
Hometown: Maryland
Member since: Sun Aug 17, 2003, 11:39 PM
Number of posts: 49,216

Journal Archives
bigtree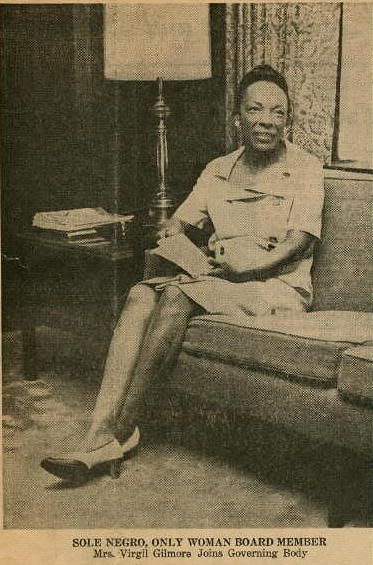 The theme of this year's Black History Month is black women in American culture and history. The volume of remarkable and celebrated subjects is vast and wide, but there is an endless resource of black women in American history whose accomplishments aren't as widely known and recognized.
I'm fortunate to have a long line of outstanding family members and friends of the family to recall with great pride in the recounting of their lives and the review of their accomplishments. In many ways, their stories are as heroic and inspiring as the ones we've heard of their more notable counterparts.
Their life struggles and triumphs provide valuable insights into how a people so oppressed and under siege from institutionalized and personalized racism and bigotry were, nonetheless, able to persevere and excel. Upon close examination of their lives we find a class of Americans who strove and struggled to stake a meaningful claim to their citizenship; not to merely prosper, but to make a determined and selfless contribution to the welfare and progress of their neighbors.
That's the beauty and the tragedy of the entire fight for equal rights, equal access, and for the acceptance among us which can't be legislated into being. It can make you cry to realize that the heart of what most black folks really wanted for themselves in the midst of the oppression they were subject to was to be an integral part of America; to stand, work, worship, fight, bleed, heal, build, repair, grow right alongside their non-black counterparts.
It can also floor you to see just how confident, capable, and determined many black folks were in that dark period in our history as they kept their heads well above the water; making leaps and bounds in their personal and professional lives, then, turning right around and giving it all back to their communities in the gift of their expertise and labor.
One outstanding black woman who is associated with my family deserves to have her story highlighted a bit in this period where we're striving to elevate and establish the history of blacks in America to an appropriate level of focus.
Elizabeth Harden Gilmore went to school with my mother, living and growing up in the same working-class black community of Charleston, West Virginia. Mrs, Gilmore had the distinction of being the first female black funeral director in the state. She was the owner and funeral director of Harden and Harden Funeral Home.
Before she was widely recognized as a civil rights leader, we used to visit her spooky, classical, revival style mansion in the center of Charleston (now a historical landmark) which had the funeral parlor in the basement. Mrs. Gilmore lived in that house from 1947 until her death.
Recognized today as a civil rights leader in her state and community, Mrs. Gilmore co-founded the local chapter of the Congress of Racial Equality (CORE) in 1958 (the first in West Virginia), leading CORE in a successful 1 1/2 year-long sit-in campaign at a local department store called The Diamond. She also served on the Kanawha Valley Council of Human Relations which advanced measures related to housing, transportation, access to other public accommodations.
Mrs. Gilmore also earned a place on the all-white Board of Regents after a successful fight to amend the 1961 state civil rights law. She was also a charter member and Executive Secretary of the Council of Racial Equality.
She was always warm, gracious, and unfailingly generous. Mrs. Gilmore had a gentle, light cadence. She had unusually long fingernails which she would use to gesture toward you as she spoke.
Mrs. Gilmore was well-traveled and would talk with my mother for hours about her experiences abroad and in the community while I fiddled with the expensive crystal she had brought back from Russia and squirmed in my seat.
I came upon a few old articles in my family scrapbooks featuring Mrs. Gilmore in the period of her ambitious work and efforts to serve and elevate her town and its residents. I've transcribed them for a remembrance, and for this year's celebration of black history. I hope you enjoy her enlightened and remarkable perspective on her life and work.
First, an article from 1960 highlighting Mrs. Gilmore's impressions of the struggle for civil rights, six years after the Supreme Court ruled on school segregation: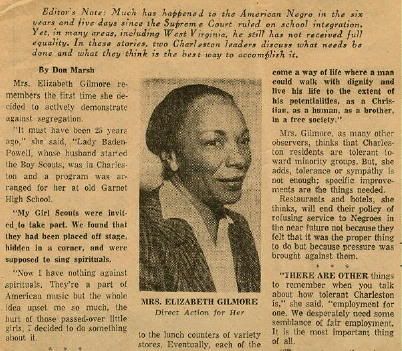 Negro Says Action The Way To Get Integration
Mrs. Gilmore remembers the first time she decided to actively demonstrate against segregation.
"It must have been 25 years ago," she said. "Lady Baden-Powell, whose husband started the Boy Scouts, was in Charleston and a program was arranged for her at old Garnet High School."
"My Girl Scouts were invited to take part. We found that they had been placed off stage, hidden in the corner, and were supposed to sing spirituals."
"Now I have nothing against spirituals. They're a part of American music, but the whole idea upset me so much, the hurt of those passed-over little girls, that I decided to do something about it."
"I implied that unless new arrangements were made, I would take my little brown-skinned girls and march out right in the middle of the program. Well, something was done about it. They sat on the stage and they held up their heads."
" I guess I've always been something of a protester. My daughter calls me 'Mrs. Ant'iony and Carrie Nation. But my grand mother taught us not to be ashamed because we were Negroes. She said to look people in the eye when we talked to them. She told us we were as good as anybody else, no better, but as good."
(Two years ago), Mrs. Gilmore's protest against racial segregation resulted in her helping to organize a Charleston chapter of the Congress of Racial Equality, the first and only CORE chapter in West Virginia (at the time of the article).
CORE, a national organization, is pledged to direct non-violent action against segregation. Such action has included sitting in restaurants and refusing to leave until receiving service (sit-ins), picket-lines, and boycotting.
Activity of the Charleston group, so far, has been limited to lunch counters of variety stores. Eventually, each of the targets changed from a segregated to an integrated policy.
There are 14 active members of CORE here, and about 400 associate ones. Active members pledge to take part in demonstrations when they are asked.
"I am convinced of the efficiency of direct action," Mrs. Gilmore said. "If our people had used it a generation or two ago, we wouldn't be witnessing the things today that shock and sadden people of all races."
"Many people feel as I do. That's why we're opposed to the idea that if we keep our places ans wait patiently these things will come to us. We've been waiting for almost a hundred years and whatever we've got, we've had to fight for. It wasn't given to us. That's why we believe in direct action."
"Segregation, making a person an inferior citizen, is a bad thing, an evil thing. I think the majority of white people would gladly see the end of it if it could be done in a way that would not involve them personally. I think the majority would welcome, if put to a popular vote, an ordinance that would say "we will have no more of this.'"
"I think people would welcome a way of life where man could walk with dignity and live his life to the extent of his potentialities, as a Christian, as a human, as a brother in a free society."
Mrs. Gilmore, as many other observers, thinks that Charleston residents are tolerant toward minority groups. But she adds, tolerance or sympathy is not enough; specific improvements are the things needed.
Restaurants and hotels, she thinks, will end their policy of refusing service to Negroes in the near future; not because they felt it was the proper thing to do, but because pressure was brought against them.
"There are other things when you talk about how tolerant Charleston is," she said, "employment for one. We desperately need some semblance of fair employment. It is the most important thing of all."
"The greater portion of our ills can be laid to the lack of employment opportunities. If we had good jobs, we could have better educations, decent homes, better medical care, all the things that money can buy to enhance a good life."
"If that were so, you wouldn't need to live six to eight to a room and pay $60 a month for a hovel. You could buy good decent clothes for your children; you could buy good books; you could have music in your home. How can you do that on $45 every two weeks? You can't do it! And yet, people criticize these people. They say we don't open our doors to Negroes because we're afraid that type of person will come in."
Mrs. Gilmore thinks that critics of CORE, those who do not believe in protest action, do not understand what it is to be a Negro."
" They can't realize the slights, the rebuffs, the humiliation," she said. "They don't see the tears in their children's eyes. They don't know the sadness, the frustration."
"And it's all so silly. I remember one day I heard one white girl ask another where she had gotten her beautiful tan, and the girl said she had spent two weeks in Florida. I couldn't help thinking that on her it was a beautiful tan; to me, it was a stigma."
"We want what everyone wants: a decent home, records perhaps, the chance to go to a museum or to a theater or to an art galley. We're no different in our hopes and aspirations than anyone else."
"Yet, we're not getting those things, most of us, because of a sociological condition rather than an intrinsic failing. It isn't fair, and our young people, particularly students, are struck by the unfairness it represents."
"My people came over the Appalachians from Virginia before the Civil War because they wanted to find a better place to live," she said.
She said the demonstrations which she helped plan and execute are, to her, the best way to dramatize both the inequality that Negroes face and the inequities of segregation.
"This isn't a go-it-alone battle that we're in," she said. "People of good faith here and throughout the world sympathize with our aims."
"I've been fortunate enough to meet a few of them. I think the greatest thing to happen to Charleston was the Haseldens. (Rev. Haselden was the pastor of the Baptist Temple; his wife was a leader of the Kanawha County Council on Human Relations.)"
"Elizabeth Haselden, with her beauty, grace and dignity, brought to the women of Charleston a graphic story. Albert Schweitzer said, "Example is not the greatest thing; it is the only thing.'"
" She showed them that this battle for human rights was not a brawl of just a rabble's action but it was something that could be done without loss of the things that culture and education bring."
"These women in Charleston have taken their cues from Elizabeth Haselden. They can in good faith, without destroying any of the things that makes a lady, fight this battle and maintain these things -- not only maintain them, but enhance them to make this a better world."
Elizabeth Harden Gilmore, I daresay, provided many, many of the cues for the women of Charleston, and everywhere this great lady's influence was felt and experienced.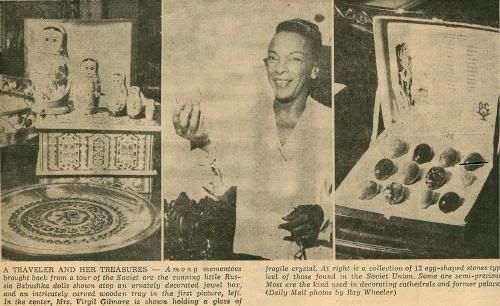 One more article featuring Mrs. Gilmore from 1969:
"I'm very honored and pleased," says Mrs. Virgil Gilmore of her appointment to the new state board of regents.
The sole Negro and only woman member on the board, which will supervise eight state colleges and two universities, was asked how she would feel as the lone female in an all-male group. "That doesn't bother me," she says. "I'm an old woman and I've been married twice. I'm not afraid of men or in awe of them."
She's used to the situation anyway, because she's also the sole woman member of the Charleston Area Chamber of Commerce. As a member of the chamber's education task force, she works with the tutorial program in the Board of education's 'Keep a Child in School' project.
A graduate of West Virginia State College and a licensed funeral director, Mrs. Gilmore has one daughter who is an aerodynamics programmer with General Electric in Cincinnati.
"That's the brains in my family," she says of her daughter. "She received a BS degree in chemistry and math from WV State. I always said nobody could accuse me of pulling her along, because in subjects like that, I could only pull her down."
To her new post as board member, Mrs, Gilmore will take the philosophy: "Our salvation lies in education." She believes most of our ills can be attributed to a lack of knowledge of ourselves, of how to live with others, of how to get the most out of our lives and all the beautiful things that exist . . . There is an adventure about living,: she adds. "It's all here. We're just so sophisticated, or hardened, I guess, that we fail to find the things that make life good."
That personal concept, she says, has paid off. Although she has only one daughter, Mrs. Gilmore says she has "lots of children," including the Girl Scouts, some she has had from the time they were ten years-old on through college.
"And I don't have a single child who can't walk freely and with dignity with kings and princesses," she explains. "They know how to support themselves, they know how to be gentle and kind and decent -- those are the only things you really need."
She says, "those Girl Scouts are more than just Scouts to me. They're my children. I taught them to eat and sleep and walk and talk and I can safely say that two-thirds of them are now business women and degreed women. I've got librarians and school teachers and beauticians -- all kinds of young'uns."
Her Scout were the first Negro girls to attend Camp Anne Bailey and she recalls the bitter struggle involved in actually getting them admitted and the sales they held to finance the trip. "You don't reach into the average Negro's pocket, at least not then, and pull out things like health cards and swimsuits," she explained.
Mrs, Gilmore was a pioneer of the civil rights movement in West Virginia. Of the progress in integration, she tells her youngsters that "the doors are open now. If you don't go through, it's nobody's fault but your own. I remind them we have the government on our side now. If you have a grievance, you don't have top fight it out on you own anymore."
Of her own involvement in the cause of the Negro, she says, "I'm a persistent cuss -- and a mother. My daughter would look up at me with her big brown eyes and ask to have a tall soda at Scott's Drug Store. I would tell her she couldn't and she would say, 'Well, why, mother, why can't I?" That's all it took to get me started.
Mrs. Gilmore refers to herself as a Negro, not black. "I'm old-fashioned," she explains, "My maternal grandmother was from England and my maternal grandfather was from Spain, so, I figure I'm just as much as anything as I am black."
"My great-grandmother came over the mountains to the Kanawha Valley four generations ago looking for a better life. She had six children and only the supplies her master had given her. I tell youngsters today that if one woman could face that alone, that's all the more reason today to seek successful lives for themselves."
President Barack Obama watches as a marshmallow is launched by a gun designed by Joey Hudy of Phoenix, Ariz., Tuesday, Feb. 7, 2012, in the State Dining Room of the White House in Washington during the White House Science Fair . . . On Tuesday, he revealed his inner science geek as he delightedly helped fire an eighth grader's marshmallow air cannon at the drapes of the White House's elegant State Dining Room.
(AP Photo/Susan Walsh)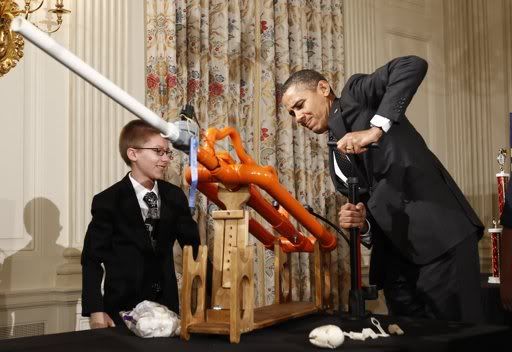 REUTERS/Kevin Lamarque
REUTERS/Kevin Lamarque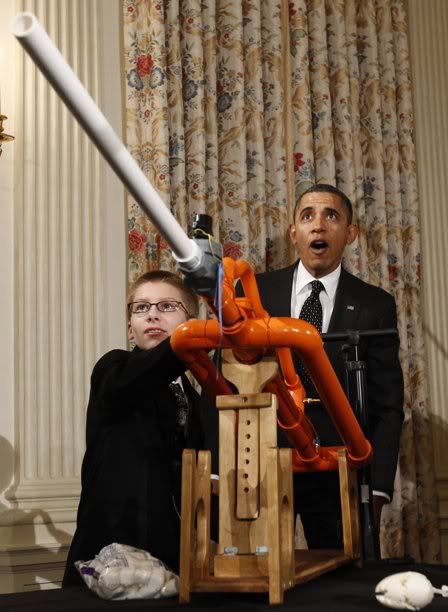 (AP Photo/Susan Walsh)
(AP Photo/Susan Walsh)
The announcement by Leon Panetta to reporters while on the way to the 2012 Munich Security Conference that the U.S. is looking to end combat operations in Afghanistan by the middle of next year may have come as a surprise to our NATO allies, also en route to the gathering, but no one looking at the failed military and political ambitions of both the Obama and the Bush administrations in the war-torn nation can reasonably have expected anything else.
As far back as November of last year,
senior officials
in the administration have signaled that the President was exploring a speedier transition of our troops' combat role to training Afghans to provide for their own defense of their dubious government. Tentative plans were said to have been made for President Obama to unveil his revised strategy before the annual NATO summit in May.
Even before the signals and the rest from the White House, there were key developments which made it clear that to continue, either the President would need to undergo another ambitious campaign to rally allies away from their almost certain plans to turn away from their part in the U.S. folly, or the administration and Pentagon would have to devise a way to overcome the mounting problems with logistics, getting supplies to the troops, and the apparent outer limits of the President's belief in what the military forces can accomplish on the offensive against a scattered and determined insurgency.
As if to underscore the folly of their escalated military offensive, U.S. troops have all but withdrawn from Kandahar, the Pentagon's self-proclaimed center of their terror war in Afghanistan, in a posture of retreat which began last October. Under the qualifying language of 'transition' and 'handover', the administration hopes to determinately pull the rug out from under whatever goals and ambitions propelled the President to adopt Bush's dubious defense of the Karzai regime, double down on the occupation, and try to effect a knockout blow to the Taliban resistance.
There can be no more resounding admission of the failure of the NATO offensive against the Taliban than this speedier exit. Our closest ally in the mission, Britain, must have been thinking the same thing when they decided in December to begin planning an earlier exit for their own beleaguered forces.
It's not very likely the U.S.-led NATO will ever be able to emphasize their 'political' aims over the destructive and destabilizing impact on the communities of Afghanistan from the devastating, U.S.-led military offensive. Through the force of our weapons - outside the limits that our constitution proscribes for the use of our military defenses - we're representing a corrupt regime and imposing it on the Afghan population, especially in regions which were not engaged in elections that we claim gives the new government legitimacy.
Even our would-be puppet, Karzai, has bristled and balked at the prospect of more destructive NATO conquest in Afghanistan on his behalf. The once-willing accomplice has seen the political writing on the wall and appears to be looking to settle for the assumption of power wherever the Taliban would allow. His reported outburst at the beginning of the Kandahar campaign, threatening to 'join the Taliban', was a open-warning to the U.S. that he recognizes there is no 'political solution' that can be reasonably carved out of the devastating, withering military campaign.
The military is quietly hoping we don't notice that they didn't actually transform their Afghanistan misadventure from the leveling of homes, the taking of resistors lives, and the destruction of farmland and livestock into the nation-building success that they intended for the mission to highlight.
In fact, the UN has reported the civilian death toll in Afghanistan was at its deadliest last year with 3,021 said killed, despite the presence and activity of their would-be protectors. The planned drawdown is not born out of any political success or victory, but out of a certain realization that there will never be a defining end to the resistant violence there which will transform the country politically.
The only course left for a stalemated and faltering U.S. invasion force is to pull back to the capital from their offensive positions in the south of the country and stage a desperate, last-stand defense of their propped-up, yet insolent regime.
The premise behind President Obama's initial 'surge' of U.S. troops into Bush's Afghanistan quagmire was to 'push back' resisting Afghans enough to allow some sort of political reconciliation. That effort is predictably bogged down by the difficulty in getting the disparate tribes and factions to accept the central authority NATO has set up in Kabul. There's even more difficulty in getting their installed government to accommodate the interests and demands of the resisting rest of the war-split nation.
The U.S. military offensive against the Taliban was an abject failure in achieving the goals behind the offensive. What happened to the promised ability of the U.S.-led NATO forces to protect the residents of Afghanistan against Taliban blowback from their invasion? The ability to protect innocent civilians from NATO attacks, or insulate them from the negative consequences and effects of the NATO military advance? The ability of NATO to provide and deliver the services and amenities of the central government to the displaced residents? Nonexistent.
An
October
Pentagon report to Congress also indicated that Afghan civilians are dying in record numbers. "Civilian casualties -- most caused by the Taliban -- reached an all-time high this summer with approximately 450 civilians killed in July," it said. "Attacks using homemade bombs, or IEDs, also reached an all-time high this past summer, with about 750 IED detonations recorded in July."
Predictably, resisting Afghans have avoided the areas where U.S. troops have masses and have scattered their violence around the capital and elsewhere, killing former Afghan president Burhanuddin Rabbani just last September.
Soon, our military will have the bulk of our forces hunkered down around Kabul, building dirt fortresses with guard towers to surround our unpopular junta, just to cling to the appearance of progress; just to 'stay the course' in the months before the elections as President Obama postures as 'strong' and capable on defense.
President Obama and his republican Pentagon holdovers led our nation to this retreat. They're prepared to tolerate the continued deaths of our our soldiers as our troops eventually hunker down there; tolerate the thousands drastically wounded; waiting for some declared 'victory' to materialize out of our their desperate defense of their own lives against the Afghans that the President and the Pentagon claim we're liberating.
We've been in Afghanistan longer than our country fought WWII. No matter to our leaders, though. 'Freedom's' cause for occupation supporters is nothing more than a repression of one group or another within the sovereign nation we invaded into accepting our military forces' false authority over them; and cynical manipulation and control of the Afghan government Karzai lords over by the intimidation of our military occupation.
Our nation's possessive militarism in Afghanistan and elsewhere has divided our nation from within, and, from without against our restive allies. The escalated occupation has ignored whatever Afghans might regard as freedom in our insistence that their country be used as a barrier against the terror forces we've aggravated and enhanced in Pakistan. Yet, the soldiers the President insisted on continuing to commit to his retreat to Kabul are mostly fighting and dying because they're not wanted there by the majority of the Afghan people. Our soldiers are fighting to control the Afghans, and they are busy fighting to get the U.S. to release that control.
All the while, most of the original threatening figures in our terror war have been killed -- their violent spawns made witness to the worst of al-Qaeda's warnings about U.S. imperialism, are more than satisfied to have the bulk of our nation's military forces bogged down and fighting for their lives in Kabul.
"Time is running out before the international community transfers control to Kabul by the end of 2014, and many key objectives are unlikely to be achieved by then," the October report warned.
"Our bottom line in Afghanistan is 'in together, out together'." Panetta told reporters this week. "As an alliance, we are fully committed to the Lisbon framework and transitioning to Afghan control by 2014 . . . We hope Afghan forces will be ready to take the combat lead in all of Afghanistan sometime in 2013. . . .
Ready or not, its becoming increasingly clear that President Obama can't leave Afghanistan fast enough to outrun the mission's abject failure.
IN so many ways, I was a direct beneficiary of the civil rights movement. In 1968, I was living in D.C. and witness to the upheaval that the shooting of Martin Luther King produced in our middle-class neighborhood. D.C. was a smoldering mess of brick right after Dr. King was killed. It was chaos for everyone. Blacks there seemed to suffer the most from the violence. It was a fearful time for a young kid like me, although black myself. Knives, not guns, were the weapons of choice. Really tough times. Lots of robbery. Mostly blacks were the victims as well as the perpetrators.

I remember in that same period, a kid strutting down our street singing 'I'm black and I'm proud' at the top of his lungs. I was pretty young and naive, and I imagined he was saying, 'I'm black and I'm brown'. I thought to myself, Yeah, that's me. Black and brown.

My parents certainly knew the importance of civil rights, as their own livelihood and their own expectations of comity and acceptance were challenged by my African-American mother's pale skin - which was often mistaken for that of a Caucasian individual - and her marriage to my dark-skinned father. Their own work experience was advantaged by the new civil rights initiatives which were opening the workplace for blacks and providing opportunities which often were in the very civil rights field that they were counting on to lift them out of the oppression that their earlier lives had endured during segregation, Jim Crow, and the like.

Mom worked in the personnel division at Raritan Arsenal overseeing and managing a fresh population of light-skinned blacks who had managed to find higher employment in the clerical field.

Dad had taken on civil service positions ever since his stint in the Army in New Guinea where he was given a field promotion with the expectation that he would keep his all-black unit in line and still be accommodating of the expectations of the segregating majority. He went on to achieve a position in the federal government in the newly created Equal Opportunity Commission which was to facilitate the influx of the new generation of blacks into the federal workplace who were advantaged by the Civil Rights Act that had just passed. He moved up the ladder and retired some 30 years later in the position of Deputy Director of Civil Rights in his division of HEW.

Our progress was a progression in which the negative forces we were pushing back to allow us room and opportunity to grow and prosper fell steadily away as our generation grew and staked our claim to our newly-protected citizenship. In many ways, the struggle was glaring, but, to those who observed our progression out of the era of Jim Crow and other resistance and indifference, it was all opportunity with the worst behind us. Slights and other aggravating remnants of the earlier racism began to fall out of public fashion (at least up north, in the region which was our nation's capital).

My father moved us to the suburbs very shortly after the riots and looting and I was propelled into a world which was green, open, and almost pristine in comparison to the broken glass and the suffering facade of our once-quiet and serene community.

The folks who I met had the same sunny, polite manner that masked any resentment or discomfort they may have felt in the presence of this brown person in the middle of the sea of light skin. It was a culture shock for me. It was likely one, as well, for the kids and adults who mostly welcomed me into their community. I say 'mostly welcomed' because most of the folks were unfailingly polite. There was no visible tinge of overt racism in their embrace of me that summer when we arrived. There was also no visible expression of the upheaval that had characterized my former community - and many parts of the nation, as well.

I remember getting lost riding my new bike around the neighborhood in the first week in my new home. I had never been lost and I was in some sort of strange wilderness, in this pristine community and I had no recognizable bearing. After an hour or so of an exhausting effort to weave my way out of the maze of freshly-blacktopped streets, I broke down and just went up to the first house I had the nerve to approach and rang the bell. An older white lady came out and was just as sweet as she could be. She put aside what she was doing, loaded up my bike in the trunk of her car, and drove me directly to my house. Now, I didn't know exactly where I lived; I didn't even know the house number or the street address . . .but, somehow, this rescuing angel did. Turned out, her daughter, (Mrs. S) lived directly across from my new home. She knew exactly where this recent aberration to her community belonged.

That incident characterized the majority of my life as a black kid in an overwhelmingly white community. It represented the best of humanity; but, it also represented its hidden face, as well. We had gotten this property by the skin of my parent's wallets. Turns out that our welcome into this community wasn't preceded by a carpet of rose-petals from the residents.

Mrs. Green next door, before she died, told my mother that most of the neighborhood had been, literally, in the middle of the street, up in arms over the prospect of a black family moving in. The alleged ringleader of it all, according to Mrs, Green, had been, none other than our neighbor directly across the street; the daughter of this exceedingly kind lady who had scooped up this young transplant and deposited me at the door of my new home.

Go figure. My father came to regard these folks across the street as his best friends in the neighborhood over the years we lived there; yet, they had actually instigated against our arrival in the past. Who knew where their true affinity for their black neighbors lay?
Did it matter? We'll never know, I suppose.

Does it impact my own thinking and attitude toward that community, as I look back? Absolutely. You see, life growing up in that atmosphere of outward tolerance, was much different from what most folks would regard as acceptability and acceptance.

I remember Bill Clinton once correcting someone who suggested that we need to 'tolerate' our differences. We should 'celebrate' them instead, he had said. I was certainly tolerated in this community, but I had a difficult time gaining acceptance. I participated in most of the activities of the others, but I never really seemed to have the same social experience as the rest of my peers and friends. There were actually quite a number of parents of these kids who would not allow me to come into their homes; and the suburbs was all about the indoors. I got edged out of many of the events which should have been the hallmark of my youth. I didn't really get a grip on the camaraderie others seemed to revel in. It was a period of transformation of views. It was a period of misunderstanding of the, mostly contrived, differences between us. Folks were wary and cliquish. Things like finding a cub scout troop whose mentors would welcome you into their home for meetings. Things like being invited to parties or finding room in a group for the special trips they took to ski or to the beach. This was hard for a kid.

Thing is, though, most of the racism and discrimination was well undercover. Reasons and justifications needn't be openly discussed to deny a kid access to those elements of society that folks wanted to restrict for themselves. You just turn your back. Or, you just decide, as a group, to exclude. That characterized most of the problems I had as a result of the color of my skin. No open hollering racial epithets at me when I walked down the street, like the folks in Cumberland, Md. did when I visited there in 1979. No outright discrimination like I experienced as an adult looking for work and in the actual workplace. Just indifference and exclusion. Coded racism, undercover.

I did have one small period where I was under direct and open assault for the color of my skin. In my overwhelmingly white-populated junior high school, there was a fellow and a few of his friends who thought it would be funny to follow me around the hallways calling me 'Jigaboo' and 'King Coon'. The open use of obviously derogatory insults like the N-word would have been out of the question in that community at that time.

For folks not familiar with these epithets, they are terms used at the worst periods in our nation's history to belittle blacks. I knew of them, because my father had used those terms, 'coon' and 'jigaboo', in a derogatory manner, to cynically describe someone he knew.

This taunting from my classmates continued for weeks, with other students emboldened to jump in with their own taunts. I'd keep my head down and hurry to class. One day, I had had enough and I saw the ringleader standing beside the gym. I didn't wait for the taunts. I just opened-up and hit him square on the jaw. I fell and cracked my elbow in the process which swelled like a balloon.

Upshot of it all, the fellow was surprised beyond his belief that I would strike back in such an arbitrary manner; as were all of his friends standing around. I wasn't a large or menacing kid, but I'd made enough of an impact by striking back in that fashion that I never had so much of a hint of taunting or confrontation based on my race from anyone there again. In fact, the fellow I had hit came to me in private, shook my hand and apologized. He said he really didn't know what he was doing or why. I never forgot that.

Much of the racism we experience in this 'modern' age -- so far from the overt and institutionalized expressions of our nation's racist and discriminatory past -- isn't overt or obvious; especially to those who haven't been at the receiving end of it all. That reality requires a special kind of vigilance among us which isn't readily understood or identified with by folks who don't see the perniciousness in small, seemingly benign and marginal slights and insults which once were so openly accepted and encouraged against our black population.

In many ways, I see the need to move past the reflexive defensiveness which often deepens the controversies or draws unwanted attention to something which is, perhaps, better left unremarked on. There has been remarkable progress past the old civil rights battles for acceptance and acceptability among our peers which is a product of an enlightened generation determined to put all of that behind us.

Yet, I can't countenance having our discourse go all the way back to the place where folks were comfortable and secure that their slurs and their stereotypical insults wouldn't be met with forceful condemnation by society as a whole, and met by individuals determined to elevate our interactions above these opportunistic appeals to those things we sometimes use to divide or alienate.

There seems to be a revival of that racism and bigotry which is being encouraged by the cynical politics practiced by the present batch of republican candidates. That attitude is certainly trickling down to folks in our communities who are encouraged by these pols to identify their own opposition to this presidency with these racist and bigoted appeals which have root in our nation's tragic past.

In many ways, President Obama has refrained from directly confronting the rhetoric; choosing instead to direct the conversations to something more substantive than those things folks use to divide and conquer. That's likely the most productive course, but, it involves biting back those things which we feel we need to defend against (if only to define ourselves outside of the insults and stereotypes offered in these sly attacks on our humanity).

I'm not convinced, though, that enough folks out here are truly familiar with all of the nonsense which has been resurrected from the past in a cute attempt to replicate the divisive attitudes and expressions which characterized a more confrontational age. It's going to take some education from those of us whose life experiences aren't readily available in a google search; rendering our experiences mostly invisible and mostly unbelievable to a new generation. I hope for understanding. I fear, though, we'll be fighting many of the old battles out in the open again. That may well be for the best, in the long run.

In the time being, though, the sly appeals to the racism and toleration of the resurgence of some of the divisive rhetoric and attitudes of the past is a disturbing and disheartening trend which will require vigilance and a determined response.

WILL the republican candidates' appeals to racism spark a resurgence of discriminatory acts? Or, is it a case where their over-the-top rhetoric is generating enough of a resistance among Americans that folks who emulate them are being marginalized and outcast?
I tend to believe it's the former, that these republican candidates' appeals to racism and their attacks on the ethnicity of folks in America is emboldening like-minded individuals to identify their own bias with an apparently legitimized and accepted discriminatory dialog coming from these political leaders.
Although there has certainly been a swift and prominent response to such attacks -- with the speed of our media and the presence of so many enlightened individuals committed to confronting each and every instance they can manage -- there is still a dynamic where these bigoted appeals to racism from the candidates persist as long as these public figures are able to maintain their public positions and platforms.
Certainly, Mr. Gingrich's statements about President Obama being a 'food stamp president' and suggesting poor blacks take restroom jobs to teach them the importance of work -- as well as the comments from Mr. Santorum that he doesn't "want to make black people's lives better by giving them somebody else's money" -- are enough for their fellow candidate, Mr. Romney to condemn. Romney, however, was content to echo their attacks with his own dog-whistle about the President wanting an 'entitlement' society.
We're not going to see any significant retreat by these republicans from their cynical appeals to their voters' bigotry, because that would, apparently cost them much of the support they've cultivated with those racist appeals, so far.
In fact, the camps of Romney and Gingrich are doubling down on their divisive appeal this week by turning to bigoted surrogates to toot on their dog-whistles for them. Romney chose the well-known bigot, Jon Voight, to stump with him on the campaign trail this week.
Voight, who once called President Obama a 'false prophet', wasted no time at all in proclaiming from Romney's prepared platform that "President Obama decided to follow his father's footsteps and take us to socialism." A lively joke session followed his racist appeal.
Gingrich welcomed the bigoted tongue of Sarah Palin this week as she denounced the candidate's critics as, "nothing short of Stalin-esque."
These republican candidates are stepping up their cultivation of these divisive influences and the types of supporters their bigoted and racist appeals attract in order to win votes and to win an election. That sends a powerful signal to their constituency that theirs is an acceptable standard of discourse which, presumably, should be emulated to effect the defeat of our Democratic president.
That attitude and acceptability resonates among the prejudiced faster than it can be washed away by critics and defenders of more respectful dialogue. It will take years to tamp down the hateful legacy of this election season's divisive appeals. It will take decades to wash it away if any one of these republican candidates manage to achieve the presidency.
President Barack Obama holds two-month-old Emme Bernstein, of Scottsdale, after arriving on Air Force One at Phoenix-Mesa Gateway Airport in Mesa, Ariz. on Wednesday, Jan. 25, 2012. (AP Photo/The Arizona Republic, Michael Schennum)
As Obama stepped off the plane, Nikki Bernstein of Scottsdale handed him her baby, Emmy, 2 ˝ months old, and he held her.
"I got weak in the knees to be honest,'' Bernstein said when asked how she felt to have the president hold her baby. "It's very overwhelming and exciting to be that close to the president.'''
read:
http://www.azcentral.com/news/politics/articles/2012/01/25/20120125crowds-gather-president-obamas-arrival.html
(AP Photo/Haraz N. Ghanbari)
President Barack Obama, accompanied by first lady Michelle Obama, during a phone call from the Capitol in Washington, Tuesday, Jan. 24, 2012, immediately after his State of the Union Address, informing John Buchanan that his daughter Jessica was rescued by U.S. Special Operations Forces in Somalia. (AP Photo/Pete Souza, White House)
Secret hostage rescue played out as Obama spoke
WASHINGTON — The secret was still intact when President Barack Obama, entering the House chamber Tuesday evening to deliver his State of the Union speech, pointed at his Pentagon chief and said, "Good job tonight."
Unknown to a global television audience watching the annual Capitol Hill ritual, a bold U.S. raid was still playing out half a world away with an elite Navy SEAL team's rescue of two hostages in Somalia, one of them an American. It was the same unit that killed al-Qaida leader Osama bin Laden, two U.S. officials said Wednesday.
Publicly, Obama did not tip his hand during his speech, though microphones picked up his congratulation to Defense Secretary Leon Panetta as he entered the House chamber. Obama pointed his index finger to Panetta and said, "Good job tonight. Good job." Panetta smiled broadly.
Obama had learned shortly before that American aid worker Jessica Buchanan and Poul Hagen Thisted, a Dane, were safely in U.S. military hands. Immediately after the speech, Obama telephoned Buchanan's father from the Capitol to tell him that she was safe and "on her way home," according to the White House.
A Pentagon spokesman, Navy Capt. John Kirby, said that although the two hostages were safe by the time Obama gestured to Panetta, the secretive rescue mission had
not yet been completed
.
read:
http://www.pasadenastarnews.com/news/ci_19817976
President Barack Obama embraces retiring Rep. Gabrielle Giffords, D-Ariz., as members of Congress applaud before his State of the Union address.
(AP/Saul Loeb)

. . . but Romney making $20 million-plus a year off of 'investment' income is just obscene. I just feel sick when I think about it and reflect on just how hard I work for next to nothing.

I wonder if the workers at the companies Romney's touting as his 'creations' are anywhere as prosperous as he is off of their labor? Of course not. It's disgusting. His taxpayer-enabled excess is an example of the worst of America.