Thu Nov 8, 2012, 10:07 AM
powergirl (2,387 posts)
Orly Taitz Weighs Her Options After Obama Re-Election - She may be done!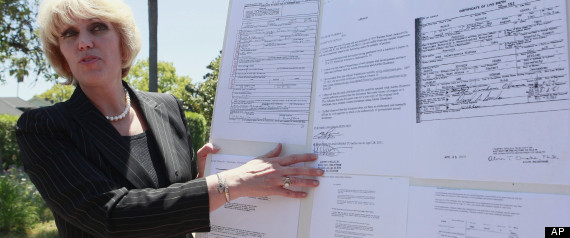 Crazy Orly can't even get the GOP to pay for her nonsense - which surprises me. Adios crazy person!
"Orly Taitz writes on her blog that she is contacting the various plaintiffs in her cases to see if they want to proceed, or withdraw. She concludes:
"I will see in the near future, if there will be support from the GOP or major donors. Without the support I might need to withdraw my cases and seek dismissal without prejudice. Iíve done more than most people to seek justice and uphold the system of justice in this country. I will decide in the near future if I will proceed with the remaining challenges. I appreciate the support and encouragement from all of you. My supporters gave me the strength to go on while I was viciously attacked, however without support from the GOP and major donors and without one single honest judge willing to hear the case on the merits, I do not know if I can continue much longer.
"It cost Taitz $4,000 just for one frivolous motion to compel a non-party in California, paid in sanctions to Occidental College for one opposition legal brief and one appearance in court. Multiply that by 6 cases, over 30 defendants, multiple court appearances and thousands of pages in legal briefs. The result is staggering.
"Orly can play Lady Liberty, but in the end for her itís all about the money."
http://www.obamaconspiracy.org/2012/11/orly-weighs-options/
For even more fun - check out Orly's website and some of the comments to her proclamation:
http://www.orlytaitzesq.com/?p=361962
"GOP is run by the same handlers as the dem party. GOP elite received the same marching orders not to challenge Obamaís forged IDs because they will be seen as racist. As a result they gave up a legitimate case which would have removed Obama from the ballot and they lost the election as well.

"ObamaforgeryGate took 4 years of my life,thousands of dollars and a lot of health. We could not find one single judge with honesty and integrity to rule on the merits of the case. I believe 150 cases were filed by many attorneys and pro se-plaintiffs around the country. Not one judge allowed for a jury to hear the case, not one judge was willing to compel production of the original identification papers for Obama in light of all the evidence of forgery in the alleged copies.

"As I stated previously this country became a regime, not any better than the former Soviet Union. In the Soviet Union not one judge would dare to conduct a trial dealing with fraud and forgery committed by the communist leader or in conjunction with the IDs of the communist leader."
She sounds like Natasha from Rocky and Bullwinkle
Look at the link for some of the comments - pretty funny
9 replies, 1855 views
Replies to this discussion thread
| | | | |
| --- | --- | --- | --- |
| 9 replies | Author | Time | Post |
| Orly Taitz Weighs Her Options After Obama Re-Election - She may be done! (Original post) | powergirl | Nov 2012 | OP |
| | Angry Dragon | Nov 2012 | #1 |
| | BlueStreak | Nov 2012 | #5 |
| | jberryhill | Nov 2012 | #2 |
| | yellowcanine | Nov 2012 | #3 |
| | PoliticAverse | Nov 2012 | #4 |
| | iloveObama12 | Nov 2012 | #6 |
| | BlueStreak | Nov 2012 | #7 |
| | Firebirds01 | Nov 2012 | #8 |
| | Happyhippychick | Nov 2012 | #9 |
---
Response to powergirl (Original post)
Thu Nov 8, 2012, 10:11 AM
Angry Dragon (25,783 posts)
1. I am sure Donald will bankroll her
they share the same brain
---
Response to Angry Dragon (Reply #1)
Thu Nov 8, 2012, 10:16 AM
BlueStreak (7,786 posts)
5. Not likely. That guy is a fraud.
If we could audit him, I'm certain you would find he is underwater. He is a con man, flipping properties and living off other people's money.
---
Response to powergirl (Original post)
Thu Nov 8, 2012, 10:13 AM
jberryhill (41,659 posts)
2. She's facing sanctions again in a case in Mississippi
...and she thinks she can walk away from that case.

Stay tuned.
---
Response to powergirl (Original post)
Thu Nov 8, 2012, 10:14 AM
yellowcanine (28,317 posts)
3. Well dang, maybe we should donate just to encourage her to stay the course.
And get those suits dismissed WITH prejudice.
---
Response to powergirl (Original post)
Thu Nov 8, 2012, 10:14 AM
PoliticAverse (14,116 posts)
4. She's done when people no longer care to post articles about her... n/t
---
Response to powergirl (Original post)
Thu Nov 8, 2012, 10:19 AM
iloveObama12 (265 posts)
6. Trump/Taitz 2016
The Birther Party
---
Response to powergirl (Original post)
Thu Nov 8, 2012, 10:25 AM
BlueStreak (7,786 posts)
7. Why would anobody want to support her now?
The only real chance any of that had was to get a few states to disqualify Obama from being on the ballot. But the only states where that might have happened would have been ultra-red states in the first place.

We need serious election reform in this country. The Federal government cannot tell states how to run their local elections, but the Federal government most certainly can dictate the terms of elections for president, Senators, and Congressmen. We need national standards for voter registration, candidate qualification, voting machines, tabulation, and conduct in the polling place.

We'll never get that while the Boehner is Speaker of the House. We can hold the Senate in 2014. We have to take over the house. The districting works against us, but we really just have to get about 35-40 out of 240 GOP seats in order to have a reasonable working majority.

I don't recall a single time in the entire campaign where Obama said "It is not enough to elect me. I need you to give me a House of Representatives that will do their job and hale move America forward." or anything remotely like that. Obama's campaign was all about Obama. We need a campaign for the PARTY.
---
---
Response to powergirl (Original post)
Thu Nov 8, 2012, 10:42 AM
Happyhippychick (6,317 posts)
9. Maybe she can coattail onto RimJobs begathon