Mon Jun 18, 2012, 08:18 AM
xchrom (97,788 posts)
Rock of ages: Australia's oldest artwork found
http://www.guardian.co.uk/world/2012/jun/18/rock-australia-art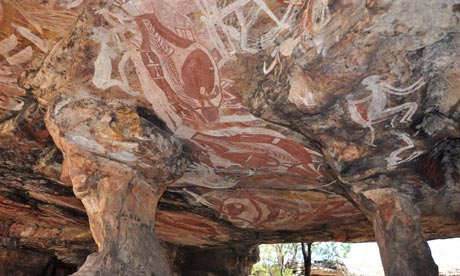 The rock art was discovered in a cave called Nawarla Gabarnmang. Photograph: Bryce Barker/AFP/Getty Images
An archaeologist says he has found the oldest piece of rock art in Australia and one of the oldest in the world: an Aboriginal work created 28,000 years ago in an outback cave.
The dating of one of the thousands of images in the Northern Territory rock shelter, known as Nawarla Gabarnmang, will be published in the next edition of the Journal of Archaeological Science.
The archaeologist Bryce Barker, from the University of Southern Queensland, said he found the rock in June last year but had only recently had it dated at the radiocarbon laboratory of New Zealand's University of Waikato.
He said the rock art had been made using charcoal, so radiocarbon dating could be used to determine its age; most rock art is made with mineral paint, so its age cannot accurately be measured.
La Lioness said I'm Princess Spice. So there.
4 replies, 2297 views
Replies to this discussion thread
| | | | |
| --- | --- | --- | --- |
| 4 replies | Author | Time | Post |
| Rock of ages: Australia's oldest artwork found (Original post) | xchrom | Jun 2012 | OP |
| | A Simple Game | Jun 2012 | #1 |
| | Esra Star | Jun 2012 | #2 |
| | A Simple Game | Jun 2012 | #3 |
| | Judi Lynn | Jun 2012 | #4 |
---
Response to xchrom (Original post)
Mon Jun 18, 2012, 04:11 PM
A Simple Game (5,361 posts)
1. How did this survive this long and not be discovered before now? It's only
20 feet from the outside which must be the reason the charcoal is white.

Some one educate me please.
---
Response to A Simple Game (Reply #1)
Mon Jun 18, 2012, 06:32 PM
Esra Star (2,076 posts)
2. I think that the aboriginal custodians of these artworks
try to keep them secret, probably so they aren't desecrated.
Every once in a while one is uncovered and extra security issues occur.
Another thing is that the ancient artworks are constantly renovated over the centuries.
The original artwork is probably quite a few layers down.
Cheers
---
Response to Esra Star (Reply #2)
Mon Jun 18, 2012, 09:42 PM
A Simple Game (5,361 posts)
3. Makes sense, thanks. n/t
---
Response to xchrom (Original post)
Tue Jun 19, 2012, 02:07 AM
Judi Lynn (81,350 posts)
4. NZ academics behind old rock art find
NZ academics behind old rock art find
17:08 Tue Jun 19 2012
by
AAP
One of the world's oldest known examples of rock art has been uncovered in a remote part of Australia's Northern Territory.
University of Southern Queensland's Professor Bryce Barker, an expatriate New Zealander, was part of a team of Australian and French archaeologists to make the find last year.
But he says carbon dating at Waikato University only recently established the art was at least 28,000 years old.
The site where the artwork was found, in remote Arnhem Land, has signs of human occupation dating back 45,000 years, he says.
A 35,000-year-old stone axe was also found at the site, a technology not used elsewhere in the world until much later.
More:
http://news.msn.co.nz/nationalnews/8486159/nz-academics-behind-old-rock-art-find