Sat Feb 25, 2012, 10:52 PM
Judi Lynn (81,380 posts)
Accident Damages Mirror on Telescope Slated for Dark Energy Camera
Accident Damages Mirror on Telescope Slated for Dark Energy Camera
by Nancy Atkinson on February 25, 2012
An accident at the Blanco 4m telescope at Chile's Cerro Tololo Inter-American Observatory has severely damaged a secondary mirror. The telescope is currently shut down for installation of the highly anticipated Dark Energy Survey Camera, and on February 20, 2012, the telescope's f/8 secondary mirror was dropped during testing, resulting in fractures in the glass in the center of the mirror. Officials at the telescope said they are analyzing the extent of the damage to the mirror, and whether it extends beyond the visible cracks on the surface. They are also reviewing how the accident might affect the installation of the "DECam."
Two staff members were injured during the incident, but are expected to fully recover. According to a post on the CTIO website, the f/8 had been removed for the installation of the DECam, and the f/8 was on the dome floor to test the focus mechanism. "The mirror and its back end assembly were being transferred to a handling cart to enable the tests. Unfortunately, the mirror was improperly installed on the cart and when the mirror was being rotated on the cart, the entire cart/mirror assembly toppled over injuring two of our technical staff," said the report.
The mirror itself impacted the dome floor, causing the fractures, pictured above.
At this time, officials say it is not clear if the mirror is repairable or not and are reviewing what needs to be done to stabilize the cracks in the mirror. The accident is being investigated and initially, officials said they didn't expect the incident delay the installation and commissioning of Dark Energy Camera as the f/8 is not required for the installation or operation of the Dark Energy Camera system. However, a later update said the DECam installation schedule was being modified to allow for the absence of the f/8 mirror.
More:
http://www.universetoday.com/93792/accident-damages-mirror-on-telescope-slated-for-dark-energy-camera/
4 replies, 772 views
Replies to this discussion thread
| | | | |
| --- | --- | --- | --- |
| 4 replies | Author | Time | Post |
| Accident Damages Mirror on Telescope Slated for Dark Energy Camera (Original post) | Judi Lynn | Feb 2012 | OP |
| | Warpy | Feb 2012 | #1 |
| | denbot | Feb 2012 | #2 |
| | Ichingcarpenter | Feb 2012 | #3 |
| | HopeHoops | Feb 2012 | #4 |
---
Response to Judi Lynn (Original post)
Sat Feb 25, 2012, 11:38 PM
Warpy (73,315 posts)
1. At least they don't have to spend millions trying to fix it in orbit
No matter how narrow the tolerances or how big a pain in the neck it is to replace, it's relatively easy to do so.

When orbiting telescopes get nailed by micrometeorites or space junk, they're pretty much irreparable until and unless we get another shuttle program up and running.
Capitalism is the extraordinary belief that the nastiest of men for the nastiest of motives will somehow work for the benefit of all. - John Maynard Keynes
---
Response to Judi Lynn (Original post)
Sun Feb 26, 2012, 02:50 AM
denbot (3,843 posts)
2. I made a little 6" f-9 mirror. During the figuring stage my tool slipped and hit my mirror edge on.
Last edited Sun Feb 26, 2012, 02:50 AM - Edit history (1)
Not only did it put a little nick, and 1/4 long scratch in the mirror, a foucault test showed that the area around the damage was raised, kind of like an impact rebound. I would not be surprised if the seconday mirror has been deformed.

I ended up working the mirror back to sphere roughly a dozen times before I had a decent parabola, and as a bonus I removed the blemishes, and smoothed out the "rebound" area.
---
Response to Judi Lynn (Original post)
Sun Feb 26, 2012, 03:19 AM
Ichingcarpenter (29,456 posts)
3. 7 billions years of bad luck
Fortunately, there are also a number of rituals which are said to counteract the very bad hair day created when you break a mirror. Since the pieces of the mirror can still reflect the corrupted soul, the entire mirror should be ground into dust. No reflection, no problem. It is also suggested that after you break a mirror, you should invest in a shovel and bury the pieces under a tree during a full moon. African slaves working in America believed the bad luck could be washed away by placing the pieces in a river flowing in a southerly direction.

If you should happen to break a mirror accidentally, seven years of bad luck may not be your first concern. Wrap tape around the mirror's frame to hold the smaller fragments in place. Avoid touching the broken shards of glass without proper protection for your hands and feet. Whenever you break a mirror in a public space, you need to report the damage to an authority figure as soon as possible to prevent others from becoming injured.


See... Santorium Science does have answers.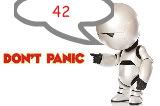 ---
Response to Judi Lynn (Original post)
Sun Feb 26, 2012, 11:20 AM
HopeHoops (47,675 posts)
4. They could just put it back and claim they discovered a new galaxie.
Seriously, though, that looks like a nasty crack. I'm not sure how you COULD repair that short of replacement.


The sands of time were eroded by the river of constant change - Genesis