Mon Feb 25, 2013, 04:26 PM
DainBramaged (39,133 posts)
A year ago we fostered a young kitteh for a friend who encountered hard times
A SWEETIE. This is Sidney.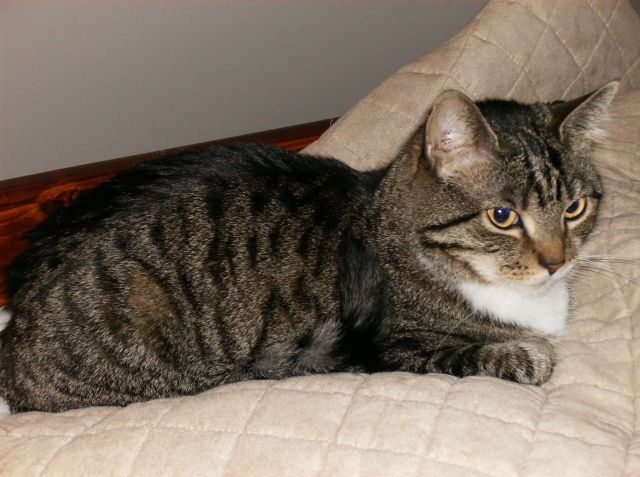 But she needed to be an only kitteh. Smart, curious, arguing with the big males all the time but dog friendly. Two weeks ago my beloved ex called me to ask if we knew anyone who had a cat for a Mom and her developmentally challenged child. Like most of us, they didn't have a pot to piss in. We sent Sid's picture to them and they fell in love. Her doctors felt a pet would be good for her. And so did we.
We spent Sunday morning buying big bags of cat food and litter, hooded cat pan, toys, dishes, the works for them. By the way, kitteh is up to date on all of her shots and is fixed. Yesterday afternoon we brought Sid up to meet her new Moms at my beautiful daughter's house. When they finally arrived we made it known the 'kitteh in the box' was hers.
Upon opening the carrier door, Sid immediately began to 'make bread' and snuggle the hand of the little girl. We knew they were a perfect fit.
Iris (the little girl) who doesn't speak, just makes noises mostly, turned to her Mom and said "thank".
You have never seen a room of adults break into tears of joy like that before.
We all done good.
Good luck Sidney and Iris, live long and love each other forever.

If we spent as much on AIDS research as we do on guns in the USA, the disease would be conquered. "We stop being something to be proud of when we love our guns more than we love our children." I walk the land unarmed. And unharmed.
5 replies, 662 views
Replies to this discussion thread
| | | | |
| --- | --- | --- | --- |
| 5 replies | Author | Time | Post |
| A year ago we fostered a young kitteh for a friend who encountered hard times (Original post) | DainBramaged | Feb 2013 | OP |
| | CaliforniaPeggy | Feb 2013 | #1 |
| | get the red out | Feb 2013 | #2 |
| | TygrBright | Feb 2013 | #3 |
| | Voice for Peace | Feb 2013 | #4 |
| | tblue37 | Feb 2013 | #5 |
---
Response to DainBramaged (Original post)
Mon Feb 25, 2013, 04:35 PM
CaliforniaPeggy (106,945 posts)
1. That is a beautiful and wonderful story!
I hope the little girl continues to grow because of the kitten...


I expect to pass through this world but once; any good thing therefore that I can do, or any kindness that I can show to any fellow creatures, let me do it now; let me not defer or neglect it, for I shall not pass this way again. Stephan Grellet
---
Response to DainBramaged (Original post)
Mon Feb 25, 2013, 04:50 PM
get the red out (7,839 posts)
2. What an angel
That story is BEAUTIFUL!
I am not "a good" liberal.
---
Response to DainBramaged (Original post)
Mon Feb 25, 2013, 04:52 PM
TygrBright (12,944 posts)
3. Oh, thank you so MUCH for sharing this story today...
May Iris & Sidney have much fun together for a very long time.

happily,
Bright
---
Response to DainBramaged (Original post)
Mon Feb 25, 2013, 05:47 PM
Voice for Peace (9,706 posts)
4. so much love in your words and your post, "thank"
A kitteh is such a gift & every creature knows the
language of love & safety.
"It is not the world that needs peace, it is people." Prem Rawat
---
Response to DainBramaged (Original post)
Mon Feb 25, 2013, 06:43 PM
tblue37 (12,437 posts)
5. Sidney is a lovely lady--and obviously an angel, too! nt