Sat Nov 24, 2012, 01:27 AM
erinlough (1,864 posts)
Some years ago I posted a photo of my new Mastiff grand dog, Argos
Well he is getting grey! The giant breeds have such short lives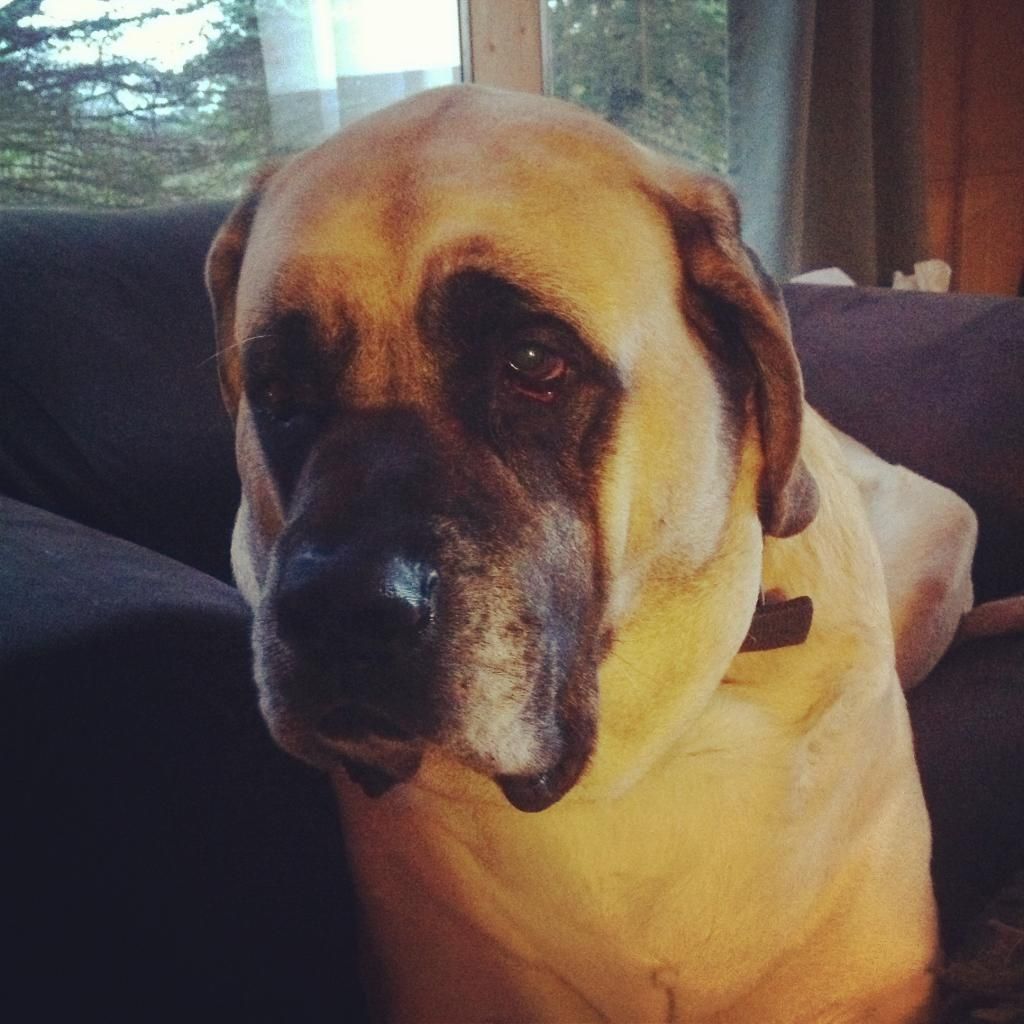 7 replies, 1619 views
Replies to this discussion thread
| | | | |
| --- | --- | --- | --- |
| 7 replies | Author | Time | Post |
| Some years ago I posted a photo of my new Mastiff grand dog, Argos (Original post) | erinlough | Nov 2012 | OP |
| | TorchTheWitch | Nov 2012 | #1 |
| | Curmudgeoness | Nov 2012 | #2 |
| | Chemisse | Nov 2012 | #3 |
| | Safetykitten | Nov 2012 | #4 |
| | erinlough | Nov 2012 | #5 |
| | livetohike | Nov 2012 | #6 |
| | get the red out | Nov 2012 | #7 |
---
Response to erinlough (Original post)
Sat Nov 24, 2012, 02:34 AM
TorchTheWitch (8,443 posts)
1. All dogs with black masks lighten as they age
It really isn't much to do with their being old. My first Akita's mask started lightening around the age of 2. It started on the muzzle around the nose area, drifted down from his forehead and toward the muzzle from his cheeks until when he finally WAS old there was really not much of a black mask left. My next door neighbor's Bull Mastiff is getting rather ancient, and I can hardly remember anymore what he looked like with a mask at all since his faded out nearly completely several years ago.

It does really suck that large breed dogs have a shorter life span... actually, it sucks that all dogs have a short life span compared us.

Hopefully, your big beastie lives a long wonderful healthy and happy life! He sure looks great... handsome, healthy and contented (and hogging the sofa! LOL!).



---
Response to erinlough (Original post)
Sat Nov 24, 2012, 03:13 PM
Curmudgeoness (12,227 posts)
2. That is one big and beautiful dog!
I hope that you have many years ahead with him. A little white around the muzzle is nothing to worry about as long as he is still healthy and happy----which he appears to be. Long life, Argos!

The difference between stupidity and genius is that genius has its limits. - Albert Einstein
---
Response to erinlough (Original post)
Sat Nov 24, 2012, 06:28 PM
Chemisse (18,593 posts)
3. He is so beautiful!
My girl has gray on her muzzle too, and has for quite some time. I don't remember when it started.

She is 9.5 years old now, which is a ripe old age for a Mastiff. She is clearly close to the end of her life.

I hope yours has many good years ahead.
---
---
Response to erinlough (Original post)
Sun Nov 25, 2012, 11:29 PM
erinlough (1,864 posts)
5. Thank you all! Here is a bonus pic.
Coco, the little white dog, loves Argos, but he isn't too sure about her. So he ignores her completely, even if it is for two days!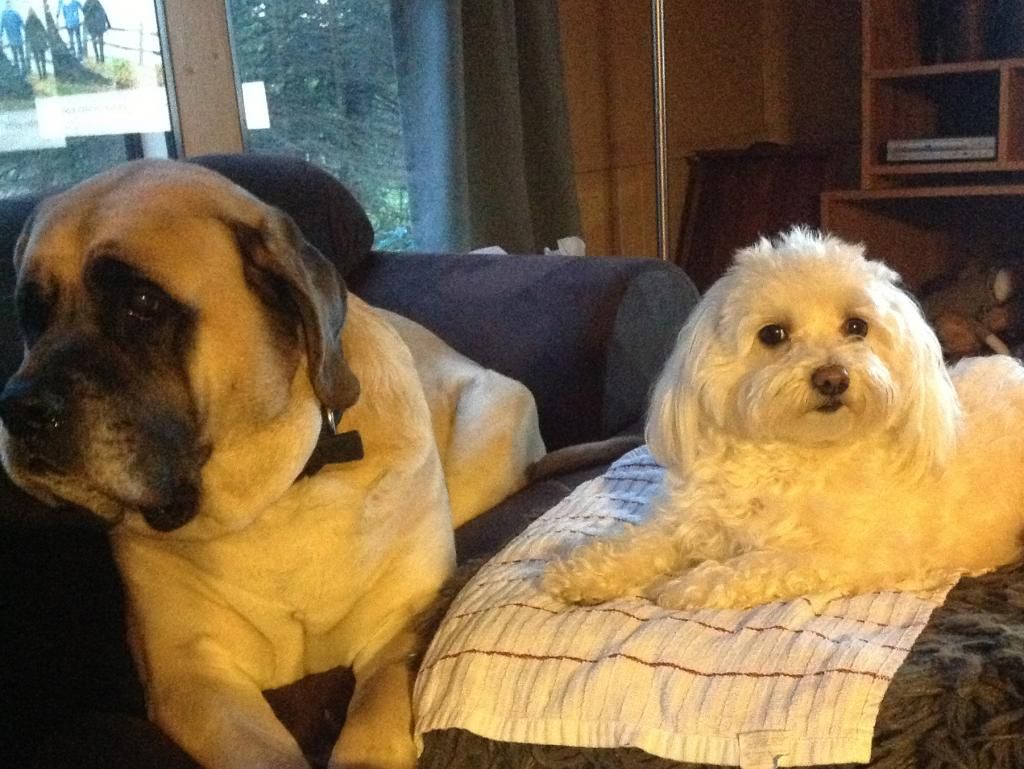 ---
Response to erinlough (Reply #5)
Mon Nov 26, 2012, 02:35 PM
livetohike (15,182 posts)
6. Awww so sweet
both of them
Argos looks great....I remember when you posted his puppy pics
.
"May your trails be crooked, winding, lonesome, dangerous, leading to the most amazing view. May your mountains rise into and above the clouds." Edward Abbey
---
Response to erinlough (Original post)
Wed Nov 28, 2012, 03:04 PM
get the red out (7,893 posts)
7. Such a noble dog!
Mastiffs are cool dogs! Every one I've ever encountered was just super-sweet.
I am not "a good" liberal.