Tue Jul 10, 2012, 08:25 PM
AsahinaKimi (18,092 posts)
Video about being gay in Japan released
American high school teacher in Japan makes video to connect to gay youth
10 July 2012 | By Anna Leach
Being Gay in Japan video
An American high school English teacher in Japan has made a YouTube video called Being Gay in Japan in which he interviews his friend about exactly that.
In the video, Mikine Dezaki asks an anonymous gay Japanese friend about life in Japan as a gay man.
The anonymous interviewee says there is a big community of gay men in Japan, but most marry straight women. The wives usually donít know their husbands are gay.
He says that he has not come out at work because heís afraid of being made fun of, and that he could be pushed out of his job. When he was at junior high school he felt like he was the only gay person and thought about suicide.
more...
http://www.gaystarnews.com/article/video-about-being-gay-japan-released100712
3 replies, 1434 views
Replies to this discussion thread
| | | | |
| --- | --- | --- | --- |
| 3 replies | Author | Time | Post |
| Video about being gay in Japan released (Original post) | AsahinaKimi | Jul 2012 | OP |
| | stevenleser | Jul 2012 | #1 |
| | xfundy | Jul 2012 | #2 |
| | AsahinaKimi | Jul 2012 | #3 |
---
Response to AsahinaKimi (Original post)
Tue Jul 10, 2012, 09:02 PM
stevenleser (13,277 posts)
1. K&R Will watch probably this weekend.
Just from what you posted here I am sort of shocked. I thought Japan was more progressive than that.
---
Response to AsahinaKimi (Original post)
Tue Jul 10, 2012, 10:38 PM
xfundy (2,594 posts)
2. Wow, I had no idea they were so ... conservative there.
Does Buddhism address gay rights in Japan? Or is it just more of the old ways of thinking, insisting on conformity, etc?

I think you once said you live in San Francisco, my former home. I miss it every single day. But for you, it must be so freeing! So different, so unlike anywhere else on the planet. I could never afford to live there now, but maybe after a big enough shaker scares off enough nerds, rents will decrease.
---
Response to xfundy (Reply #2)
Wed Jul 11, 2012, 08:04 AM
AsahinaKimi (18,092 posts)
3. in regards to Buddhism
Last edited Wed Jul 11, 2012, 08:05 AM USA/ET - Edit history (1)
There are no taboos with Sexual Orientation that I know of. Its just that Japan is very conservative. My sensei, (teacher) was from Osaka, and he fled Japan because of being gay. I also have a very close friend who now lives in the UK. She was also from Japan, and her parents and friends were not accepting in regards to how she lived her life.
Japan has a long way to go in the Gay Issues, as this video explains. This seems strange to me, because in the manga world (comic books) there is the idea of "yaoi" or boys love, which is very popular among females.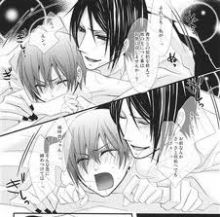 For men its "Yuri" girls love, which apparently is not as popular as "yaoi" among men.
Yes, I love San Francisco.. The diversity here makes it a lovely place to live, however it is very expensive to live here, but I would never want to go anywhere else.