Fri Dec 14, 2012, 09:44 AM
xchrom (97,827 posts)
Newly discovered slow loris species already threatened
http://www.guardian.co.uk/environment/2012/dec/14/newly-discovered-slow-loris-species-borneo?intcmp=122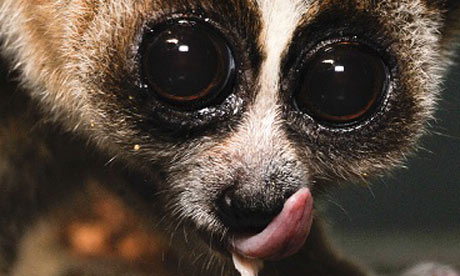 The newly identified species of slow loris, Nycticebus kayan. Photograph: Duke Lemur Center / David Haring / Ch'ien C Lee
A new species of primate, a "big-eyed" and venomous slow loris, has been identified in Borneo by researchers.
But the new loris is already under threat from the Asian pet trade in part because its "teddy-bear face" make it attractive for illegal poaching, the team of UK and US scientists said.
Analysing the facial markings of slow loris in the Indonesia island, the researchers concluded that the nocturnal Nycticebus kayan is new to science, and two others that were previously considered sub-species should be recognised as unique species in their own right.
The lemur-like slow loris is found across south-east Asia, and is notable for having a toxic bite – a rarity among primates. But the species are listed as vulnerable or endangered by the gold-standard IUCN Red List of threatened wildlife.
La Lioness said I'm Princess Spice. So there.
3 replies, 533 views
Replies to this discussion thread
| | | | |
| --- | --- | --- | --- |
| 3 replies | Author | Time | Post |
| Newly discovered slow loris species already threatened (Original post) | xchrom | Dec 2012 | OP |
| | Baitball Blogger | Dec 2012 | #1 |
| | wandy | Dec 2012 | #2 |
| | Eugene | Dec 2012 | #3 |
---
Response to xchrom (Original post)
Fri Dec 14, 2012, 10:41 AM
Baitball Blogger (14,170 posts)
1. Of course. Discovery, destruction of habitat.
Isn't that the process?
For more insight into what passes for normal in Seminole County, FL, check out www.keystoneworksite.com
---
Response to xchrom (Original post)
Fri Dec 14, 2012, 11:25 AM
wandy (2,406 posts)
2. Let's see if I understand this......
This critter has a venomous bite and is endangered because it's "teddy-bear face" makes it an attractive pet.
OK. Sure. Anything you say.
Just make sure to update the Hitchhikers Guide to the Galaxy about this little fellow.
I don't care what it means or who decorates the scenes. The problem is more with my sense of pride. Because it keeps me thinking "me" Instead of what it is to be. I 'm not a passenger, I am the ride. Chris Smither
---
Response to xchrom (Original post)
Fri Dec 14, 2012, 06:42 PM
Eugene (17,366 posts)
3. A venomnous pet?