Wed May 2, 2012, 04:28 PM
kristopher (21,244 posts)
France Greenpeace Activist Paraglides, Throws Smoke Flare Onto Nuclear Plant
France Greenpeace Activist Paraglides, Throws Smoke Flare Onto Nuclear Plant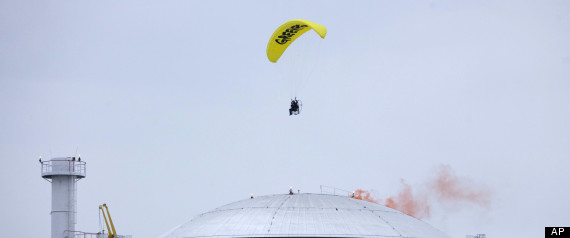 * Greenpeace enters nuclear site, drops smoke flare
* Intrusion just days before presidential runoff
* France's high use of nuclear is issue in campaign
* Man entered Civaux plant's security zone (Adds separate intrusion, details)
PARIS, May 2 (Reuters) - A Greenpeace activist dropped a smoke flare as he flew over a French nuclear reactor on a paraglider on Wednesday, seeking to draw attention to what green activists call gaps in nuclear security four days before a presidential election runoff.
The plant's owner, EDF, confirmed an engine-powered paraglider had landed within its Bugey nuclear site in southeastern France...
http://www.huffingtonpost.com/2012/05/02/french-greenpeace-activist-paraglides_n_1471384.html
4 replies, 670 views
Replies to this discussion thread
| | | | |
| --- | --- | --- | --- |
| 4 replies | Author | Time | Post |
| France Greenpeace Activist Paraglides, Throws Smoke Flare Onto Nuclear Plant (Original post) | kristopher | May 2012 | OP |
| | GliderGuider | May 2012 | #1 |
| | RobertEarl | May 2012 | #2 |
| | Systematic Chaos | May 2012 | #3 |
| | NNadir | May 2012 | #4 |
---
Response to kristopher (Original post)
Wed May 2, 2012, 08:35 PM
GliderGuider (15,149 posts)
1. That's wonderful!
Last edited Wed May 2, 2012, 08:38 PM USA/ET - Edit history (1)
It reminds me of the Sea Shepherds harassing the whalers... Maybe a bit more stuntly and less effective, but with similar intentions (publicity and international embarrassment).

Thanks!
---
Response to kristopher (Original post)
Wed May 2, 2012, 10:23 PM
RobertEarl (2,873 posts)
2. It really is that easy
Lets see, they have tons of spent fuel sitting there? The same type of spent fuel that is believed to have blown up at Fukushima.

Who says nuke plants are safe?
More like we are just lucky.
What a gamble a few nukleheads are making us all endure.
Fuku proved that it is just a matter of time.... bombs.

From May 1, 2012 edition of the Corbett Report at 3:20 in:

"There are still too many bad actors in search of these dangerous materials, and these dangerous materials are still vulnerable in too many places. It would not take much — just a handful or so of these materials — to kill hundreds of thousands of innocent people. And that's not an exaggeration; that's the reality that we face." -Pres. Obama, Mar. 27, 2012
---
Response to kristopher (Original post)
Wed May 2, 2012, 10:50 PM
Systematic Chaos (8,076 posts)
3. And then he herp-a-derped until even his derps had herpes.
Sorry, what mindless stunt were we discussing again?
Maybe next time he can paraglide down the smokestack of a coal plant and fondle the scrubber in lieu of the smoke flare.
---
Response to kristopher (Original post)
Thu May 3, 2012, 12:36 AM
NNadir (18,820 posts)
4. Like the rest of the functional idiots in Greenpeace, he should have earned a Darwin award.
Note that the fucker was burning dangerous fossil fuels to pull off his stunt, and like the rest of the functional idiots in the anti-nuke stupid squad, releasing smoke.

Actually the shit heads at Greenpeace were big time cheerleaders for the dumping of more than 30 billion tons of dangerous fossil fuel waste into the atmosphere last year.

Heck of a job! You must all be very proud. Within two years, with help from stupid pranksters flying their bourgeois asses around to pull off circus stunts, the concentration of dangerous fossil fuel waste will reach 400 ppm in the atmosphere.