Thu Mar 22, 2012, 11:02 AM
kristopher (23,024 posts)
Tennessee bill protects teachers who challenge evolution and climate change
Tennessee bill protects teachers who challenge evolution and climate change
State legislature gives legal protection to teachers who do not believe in the science and want to debate alternate explanations
Suzanne Goldenberg, US environment correspondent
guardian.co.uk, Wednesday 21 March 2012 13.41 EDT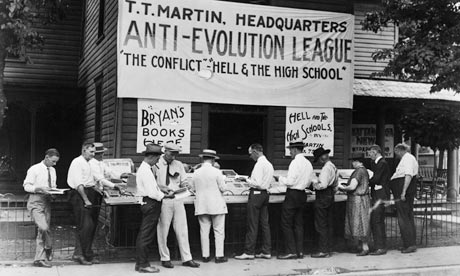 An anti-evolution league holds a book sale at the opening of the Scopes 'monkey' trial in 1925, when a Tennessee public school teacher was convicted and fined for teaching evolution. Photograph: Corbis
The state legislature of Tennessee has given legal cover to public school teachers to challenge the science of evolution and climate change, in a move that looks set to deepen a debate about politicisation of the classroom.
The bill passed in the Tennessee Senate this week provides legal protection to teachers who personally do not believe in evolution or the human causes of climate change, and instead want to teach the "scientific strengths and weaknesses of existing scientific theories".
It comes at a time when science associations are increasingly concerned by moves to inject religious or ideological beliefs into science teaching ahead of the release next month of a new set of education standards which give a central place to climate change.
The new standards, based on recommendations from the National Research Council, are not mandatory for all states. But they have already provoked a backlash from states, such as Utah, which have officially ruled climate change is not settled science. An unauthorised release of documents from the rightwing Heartland Institute last month revealed an ambitious plan in 2012 to discredit existing teaching on climate change.
The Tennessee measure, which passed by...
http://www.guardian.co.uk/environment/2012/mar/21/tennessee-bill-teachers-evolution-climate-change
2 replies, 436 views
Replies to this discussion thread
| | | | |
| --- | --- | --- | --- |
| 2 replies | Author | Time | Post |
| Tennessee bill protects teachers who challenge evolution and climate change (Original post) | kristopher | Mar 2012 | OP |
| | Viking12 | Mar 2012 | #1 |
| | OKIsItJustMe | Mar 2012 | #2 |
---
Response to kristopher (Original post)
Thu Mar 22, 2012, 11:14 AM
Viking12 (5,946 posts)
1. It's sad that news about the USA's anti-intellectualism only gets reported overseas
Once in a while you get shown the light In the strangest of places if you look at it right.
---
Response to Viking12 (Reply #1)
Thu Mar 22, 2012, 11:50 AM
OKIsItJustMe (14,173 posts)
2. Now, now, itís not quite that bad
ďA foolish consistency is the hobgoblin of little minds, adored by little statesmen and philosophers and divines.Ē ó Ralph Waldo Emerson