Tue Dec 11, 2012, 05:26 PM
Tansy_Gold (14,924 posts)
STOCK MARKET WATCH -- Wednesday, 12 December 2012
STOCK MARKET WATCH, Wednesday, 12 December 2012
SMW for 11 December 2012
AT THE CLOSING BELL ON 11 December 2012

Dow Jones 13,248.44 +78.56 (0.60%)
S&P 500 1,427.84 +9.29 (0.65%)
Nasdaq 3,022.30 +35.34 (1.18%)


10 Year 1.65% +0.01 (0.61%)
30 Year 2.84% +0.01 (0.35%)



---
Market Conditions During Trading Hours
Euro, Yen, Loonie, Silver and Gold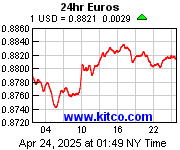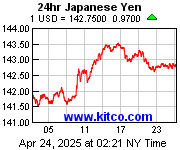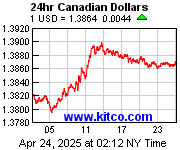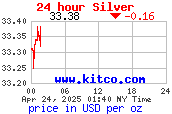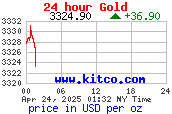 ---







Partial List of Financial Sector Officials Convicted since 1/20/09
2/2/12 David Higgs and Salmaan Siddiqui, Credit Suisse, plead guilty to conspiracy involving valuation of MBS
3/6/12 Allen Stanford, former Caribbean billionaire and general schmuck, convicted on 13 of 14 counts in $2.2B Ponzi scheme, faces 20+ years in prison
6/4/12 Matthew Kluger, lawyer, sentenced to 12 years in prison, along with co-conspirator stock trader Garrett Bauer (9 years) and co-conspirator Kenneth Robinson (not yet sentenced) for 17 year insider trading scheme.
6/14/12 Allen Stanford sentenced to 110 years without parole.
6/15/12 Rajat Gupta, former Goldman Sachs director, found guilty of insider trading. Could face a decade in prison when sentenced later this year.
6/22/12 Timothy S. Durham, 49, former CEO of Fair Financial Company, convicted of one count conspiracy to commit wire and securities fraud, 10 counts of wire fraud, and one count of securities fraud.
6/22/12 James F. Cochran, 56, former chairman of the board of Fair, convicted of one count of conspiracy to commit wire and securities fraud, one count of securities fraud, and six counts of wire fraud.
6/22/12 Rick D. Snow, 48, former CFO of Fair, convicted of one count of conspiracy to commit wire and securities fraud, one count of securities fraud, and three counts of wire fraud.
7/13/12 Russell Wassendorf Sr., CEO of collapsed brokerage firm Peregrine Financial Group Inc. arrested and charged with lying to regulators after admitting to authorities he embezzled "millions of dollars" and forged bank statements for "nearly twenty years."
8/22/12 Doug Whitman, Whitman Capital LLC hedge fund founder, convicted of insider trading following a trial in which he spent more than two days on the stand telling jurors he was innocent
10/26/12 UPDATE: Former Goldman Sachs director Rajat Gupta sentenced to two years in federal prison. He will, of course, appeal. . .
11/20/12 Hedge fund manager Matthew Martoma charged with insider trading at SAC Capital Advisors, and prosecutors are looking at Martoma's boss, Steven Cohen, for possible involvement.
---
---
This thread contains opinions and observations. Individuals may post their experiences, inferences and opinions on this thread. However, it should not be construed as advice. It is unethical (and probably illegal) for financial recommendations to be given here.
52 replies, 4703 views
Replies to this discussion thread
| | | | |
| --- | --- | --- | --- |
| 52 replies | Author | Time | Post |
| STOCK MARKET WATCH -- Wednesday, 12 December 2012 (Original post) | Tansy_Gold | Dec 2012 | OP |
| | Demeter | Dec 2012 | #1 |
| | Fuddnik | Dec 2012 | #2 |
| | Demeter | Dec 2012 | #3 |
| | Demeter | Dec 2012 | #4 |
| | Demeter | Dec 2012 | #5 |
| | Demeter | Dec 2012 | #6 |
| | Demeter | Dec 2012 | #7 |
| | Demeter | Dec 2012 | #8 |
| | Demeter | Dec 2012 | #9 |
| | Demeter | Dec 2012 | #10 |
| | Demeter | Dec 2012 | #11 |
| | Demeter | Dec 2012 | #12 |
| | spotbird | Dec 2012 | #13 |
| | Demeter | Dec 2012 | #28 |
| | Fuddnik | Dec 2012 | #49 |
| | DemReadingDU | Dec 2012 | #50 |
| | xchrom | Dec 2012 | #14 |
| | xchrom | Dec 2012 | #27 |
| | AnneD | Dec 2012 | #52 |
| | xchrom | Dec 2012 | #15 |
| | xchrom | Dec 2012 | #16 |
| | Demeter | Dec 2012 | #29 |
| | xchrom | Dec 2012 | #17 |
| | Demeter | Dec 2012 | #30 |
| | Tansy_Gold | Dec 2012 | #38 |
| | xchrom | Dec 2012 | #18 |
| | xchrom | Dec 2012 | #19 |
| | xchrom | Dec 2012 | #20 |
| | xchrom | Dec 2012 | #21 |
| | xchrom | Dec 2012 | #22 |
| | xchrom | Dec 2012 | #23 |
| | xchrom | Dec 2012 | #24 |
| | xchrom | Dec 2012 | #25 |
| | xchrom | Dec 2012 | #26 |
| | Demeter | Dec 2012 | #31 |
| | Demeter | Dec 2012 | #32 |
| | Demeter | Dec 2012 | #33 |
| | xchrom | Dec 2012 | #34 |
| | Tansy_Gold | Dec 2012 | #41 |
| | xchrom | Dec 2012 | #43 |
| | Tansy_Gold | Dec 2012 | #47 |
| | xchrom | Dec 2012 | #35 |
| | xchrom | Dec 2012 | #36 |
| | xchrom | Dec 2012 | #37 |
| | xchrom | Dec 2012 | #39 |
| | Tansy_Gold | Dec 2012 | #42 |
| | xchrom | Dec 2012 | #44 |
| | xchrom | Dec 2012 | #40 |
| | Roland99 | Dec 2012 | #45 |
| | xchrom | Dec 2012 | #46 |
| | DemReadingDU | Dec 2012 | #48 |
| | Demeter | Dec 2012 | #51 |
---
Response to Tansy_Gold (Original post)
Tue Dec 11, 2012, 05:37 PM
Demeter (80,135 posts)
1. Correlation Does Not Mean Causation (cartoon)
Planned obsolescence has a lot to do with it.
---
Response to Demeter (Reply #1)
Tue Dec 11, 2012, 07:06 PM
Fuddnik (6,452 posts)
2. He heard it on Faux Nooz, so it must be true.
---
Response to Tansy_Gold (Original post)
Tue Dec 11, 2012, 08:05 PM
Demeter (80,135 posts)
3. Survived another committee meeting
I've been in two layers all day, and wool socks, both indoors and out. I've been much warmer. But not overheated.

That's disturbing.

Coq au vin and red wine for dinner...it was the only way to get through the meeting....
---
Response to Tansy_Gold (Original post)
Tue Dec 11, 2012, 08:34 PM
Demeter (80,135 posts)
4. Delusions of Wisdom by Paul Krugman
http://krugman.blogs.nytimes.com/2012/12/11/delusions-of-wisdom/
Both Jonathan Chait and Charles Pierce have a field day with a Politico piece titled, without a hint of irony,
Crafting a boom economy
. In said piece they talk to various Very Serious People, and divine the insider consensus on What Must Be Done — which mainly seems to involve, naturally, cutting Social Security and Medicare while reducing corporate tax rates.
What I find remarkable about this piece is that after everything that has happened these past five years or so, Jim VandeHei and Mike Allen still take it for granted that these people actually know what they're talking about; the whole premise of the article is that the insiders really do have the key, not just to good policy, but to achieving a dramatic rise in the growth rate.
Now, they don't tell us everyone they talked to; but I think we can safely assume that, with few exceptions, the insiders in question:
- Believed that financial deregulation was a great idea, because bankers had really learned to manage risk
- Did not believe that there was a housing bubble
- Insisted that budget deficits, even in a depressed economy, would send interest rates soaring any day now
- Insisted that austerity measures would promote recovery, not hurt it, because of the confidence fairy
And on and on.
There are some remarkable economic assertions in here. That great economist Jeb Bush — yes, Jeb Bush — is quoted as declaring that ending structural deficits would boost the growth rate hugely; this would come as news to any economist I know. And, um, aren't our structural deficits largely the result of his brother's policies?
Or take the blithe assertion that trade liberalization and tax reform would do wonders for growth. Again, the answers from people who have actually tried to address these issues seriously and put numbers to them are no and no.
The whole theme of the Politico piece is that
great things would happen if only the insiders could override all this messy democracy stuff
.
But the real lesson is that those insiders are not only self-dealing, but profoundly ignorant and wrong-headed.
It's too bad that so many journalists still can't see that.
---
Response to Tansy_Gold (Original post)
Tue Dec 11, 2012, 08:42 PM
Demeter (80,135 posts)
5. A Change in Carrots, Without a Stick By GRETCHEN MORGENSON
http://www.nytimes.com/2012/11/18/business/at-simon-property-a-change-in-carrots-without-a-stick.html?ref=gretchenmorgenson
SHAREHOLDERS get little say on executive pay. Yes, they can get angry. But they can rarely get even.
One big investor, the Louisiana Municipal Police Employees' Retirement System, wants to change that. Its target is the Simon Property Group of Indianapolis. Last year, that company granted its chief executive, David Simon, a stock award worth $120 million. The folks down in Baton Rouge aren't very happy about that. The Louisiana pension fund argues that Mr. Simon's award should have been put to a shareholder vote, and it has sued Simon Property's board. The suit raises questions not only about Simon Property but also about the New York Stock Exchange, where Simon's shares are traded.
The Big Board has rules that are supposed to protect shareholders from questionable pay practices.
Now, many companies give their executives what are known as incentive awards, which are supposed to provide some, you know, incentive. This type of pay is usually tied to some measure of the company's performance. Hit the targets, and you get paid. Miss them, and you don't. But at Simon Property, an owner and operator of shopping malls, the only requirement to receive this bounty was that Mr. Simon show up for work...The legal fracas began in early 2011, when Simon's board was devising a new employment agreement for Mr. Simon. A particularly generous aspect of the contract was a one-million-share "retention award" under a stock incentive plan created by the company and approved by its shareholders in 1998. At the time, the grant was worth $120 million. Since then, Simon Property's share price has risen, so the award is now worth $146 million. Mr. Simon's award was to be paid in three installments, beginning on the sixth anniversary of the grant. But, unlike previous grants under the 1998 plan, the terms did not require Simon Property's performance to meet any benchmarks. The Louisiana fund argues that the switch is so significant that it should have been put to a shareholder vote before the award was made.
Simon Property advised shareholders of the award, but only in July 2011, after the fact. In a securities filing, the company said its board had determined that the deal was in the company's best interests. The goal was to give Mr. Simon an incentive "to remain with the company for the full eight years of his employment agreement," the filing said. The million-share grant rocketed Mr. Simon to the No. 2 spot among the highest-paid chief executives in the 2011 compensation derby. So it is perhaps not surprising that some Simon Property shareholders became angry. At the company's annual meeting last May, some 73 percent of shareholders voting on the company's pay practices opposed them.
But it was too late to stop the award, and, besides, the vote was not binding.
The Louisiana fund's lawsuit was filed a few months later.
Hugh Burns, a spokesman for Simon Property, called the suit meritless...To be sure, companies do not typically ask for shareholder approval on employment contracts. Still, Simon Property's 1998 incentive plan states that the board can amend it without shareholder approval only if such a vote is not required "by law, regulation or listing requirement." This language gave lawyers for the Louisiana retirement system an opening.
They argued that granting Mr. Simon one million shares of stock free of any performance measures represented a material change to the 1998 plan. And New York Stock Exchange rules require that shareholders vote on pay plans that undergo material changes.
What kinds of plan changes does the N.Y.S.E. consider material? Its Web site provides guidance. A change that would significantly dilute existing shareholders' stakes is one example; another is a shift that results in an "expansion of the types of awards available under the plan."
THE SUSPENSE CONTINUES AT LINK...
DISCLOSURE: I WAS AT THE LOCAL MALL, WHICH EVIDENTLY WAS RECENTLY PURCHASED BY THIS MANAGEMENT COMPANY. OTHER THAN STICKING HIS NAME ALL OVER THE PLACE, AND AGAIN REDUCING THE VARIETY OF OFFERINGS INSIDE, IT LOOKED THE SAME...
---
Response to Tansy_Gold (Original post)
Tue Dec 11, 2012, 08:44 PM
Demeter (80,135 posts)
6. Shadow Banking Grows to $67 Trillion Industry, Regulators Say
http://www.bloomberg.com/news/2012-11-18/shadow-banking-grows-to-67-trillion-industry-regulators-say.html
The shadow banking industry has grown to about $67 trillion, $6 trillion bigger than previously thought, leading global regulators to seek more oversight of financial transactions that fall outside traditional oversight.
The size of the shadow banking system, which includes the activities of money market funds, monoline insurers and off- balance sheet investment vehicles, "can create systemic risks" and "amplify market reactions when market liquidity is scarce," the Financial Stability Board said in a report, which utilized more data than last year's probe into the sector.
"Appropriate monitoring and regulatory frameworks for the shadow banking system needs to be in place to mitigate the build-up of risks," the FSB said in the report published on its website.
While watchdogs have reined in excessive risk-taking by banks in the wake of the collapse of Lehman Brothers Holdings Inc. in 2008, they are concerned that lenders might use shadow banking to evade the clampdown. Michel Barnier, the European Union's financial services chief, is planning to target money market funds in a first wave of rules for shadow banks next year...MORE
SO, WHAT ELSE IS NEW?
---
Response to Tansy_Gold (Original post)
Tue Dec 11, 2012, 08:48 PM
Demeter (80,135 posts)
7. Bernanke Wants Looser Lending Standards In Bubble Reinflation Effort
http://news.firedoglake.com/2012/11/16/bernanke-wants-looser-lending-standards-in-bubble-reinflation-effort/
I don't know why I felt so insulted by Ben Bernanke's housing speech NOVEMBER 15, but it really stuck with me. Probably because he managed to give an entire speech on housing – one that at points implicitly blamed homeowners for their predicaments – without mentioning the word "fraud." Or saying "I'm sorry."...It was very much a forward-looking rather than backward-looking speech. But he describes the foreclosure crisis as the prime contributor to the Great Recession without bothering to mention that his agency had oversight responsibility over the mortgage market throughout the inflation of the housing bubble. The Greenspan Fed rejected consumer protection or regulation of any kind as a matter of ideology. And Bernanke wasn't about to let that fact be known to the Operation HOPE audience. In fact, his message was that originators aren't writing ENOUGH loans at this point:
Although the decline in the number of willing and qualified potential homebuyers explains some of the contraction in mortgage lending of the past few years, I believe that tight credit nevertheless remains an important factor as well. The Federal Reserve's Senior Loan Officer Opinion Survey on Bank Lending Practices indicates that lenders began tightening mortgage credit standards in 2007 and have not significantly eased standards since. Terms and standards have tightened most for borrowers with lower credit scores and with less money available for a down payment. For example, in April nearly 60 percent of lenders reported that they would be much less likely, relative to 2006, to originate a conforming home-purchase mortgage to a borrower with a 10 percent down payment and a credit score of 620–a traditional marker for those with weaker credit histories. As a result, the share of home-purchase borrowers with credit scores below 620 has fallen from about 17 percent of borrowers at the end of 2006 to about 5 percent more recently. Lenders also appear to have pulled back on offering these borrowers loans insured by the Federal Housing Administration (FHA).

So Bernanke here is scolding mortgage brokers for employing tight credit standards. He even cites the lack of use of FHA loans. This came on the same day that an audit showed the FHA hitting $16.3 billion in losses, which will lead to the agency seeking taxpayer funds for the first time in history. And Bernanke's complaint is that lenders won't write ENOUGH FHA loans!
Bernanke actually blamed onerous regulations for the tightening of credit, including putback risk from the GSEs if the loan went sour. Apparently it's inappropriate for Fannie Mae and Freddie Mac to check to see if the loans they buy were originated properly. And I love this sentence:
Certainly, some tightening of credit standards was an appropriate response to the lax lending conditions that prevailed in the years leading up to the peak in house prices.
And who created those lax conditions?
It wouldn't be the Federal Reserve, now would it? Maybe the people who missed a $8 trillion housing bubble should shut their mouths about the relative tightness of lending standards. Actually, you'd think they'd recognize that themselves. I don't think there's anyone in the country less credible on this topic than a Federal Reserve Board member from 2002-2006.
I really don't need to go any further on this speech, it's the same propaganda that we've commonly heard – embracing the foreclosure fraud settlement (the one where banks are paying for much of their penalty with other people's money), the virtue of selling off foreclosed properties to institutional investors, etc. Really him going on about credit standards was all I needed to hear.
---
Response to Tansy_Gold (Original post)
Tue Dec 11, 2012, 08:51 PM
Demeter (80,135 posts)
8. OccupySandy feeds FEMA workers: Government incompetence at its peak
http://rt.com/usa/news/fema-workers-occupy-sandy-720/
What happens when federally-hired emergency workers can't handle a federal emergency? FEMA staffers found out the answer firsthand this week when Occupy activists had to lend a hand.
In the aftermath of Hurricane Sandy and an intense nor'easter that impacted the East Coast in recent weeks, the Federal Emergency Management Agency (FEMA) sent employees to the greater New York City area to aid the millions of residents ravaged by Mother Nature. As RT reported earlier, however, FEMA put their efforts on hold when rough weather became a nuisance for the government workers dispatched to the scene.
"It's just annoying when many people here need help, and they just didn't do what they're supposed to do," a Queens resident told DNAinfo.com. "It's emergency, and they should be open by now."
Residents of the region were once again out of luck over the weekend, but activists aligned with the Occupy Wall Street movement — specifically those assisting with relief efforts under the umbrella of Occupy Sandy — came to the rescue. It wasn't the citizens of Staten Island or New Jersey that were lining up for aid, either — it was federal FEMA workers.
...Quoting the RT report confirming FEMA's suspension of services earlier in the week citing poor weather, the Tumblr page notes, "FEMA has since re-opened in NYC, presumably because the sun had come out and the birds started singing."
---
Response to Tansy_Gold (Original post)
Tue Dec 11, 2012, 08:53 PM
Demeter (80,135 posts)
9. World's Wealthiest Lose $26 Billion as Fiscal Cliff Nears NOVEMBER 16
http://www.bloomberg.com/news/2012-11-16/world-s-wealthiest-lose-26-billion-as-fiscal-cliff-nears.html
The 100 wealthiest people on the planet lost $26.1 billion from their collective net worth this week as global markets fell amid concern about the U.S.'s so- called fiscal cliff and Europe's debt crisis.
Microsoft Corp. (MSFT) co-founder Bill Gates, 57, lost $1.8 billion as shares of the world's largest software maker retreated 8 percent during the week. The Redmond, Washington- based company replaced its Windows division chief Steven Sinofsky on Wednesday, less than a month after the release of Windows 8. Gates, the world's second-richest man, is worth $60.4 billion, according to the Bloomberg Billionaires Index.
"Investors got buried under global headlines," Jack Ablin, chief investment officer at BMO Harris Private Bank in Chicago, which oversees about $60 billion of assets, said in a phone interview. "Anything with an international growth bias got hammered."
The Standard & Poor's 500 Index (SPY) has dropped 4.8 percent since U.S. President Barack Obama was re-elected on Nov. 6th. He met with congressional leaders Friday to discuss the fiscal cliff, a collection of $607 billion in tax increases and spending cuts scheduled to take effect next year. House Speaker John Boehner said the budget talks were constructive and he would accept an increase in government revenue if coupled with spending cuts....
WELL, A LITTLE FAIRY DUST, AND THAT STICKY PROBLEM GOES AWAY
---
Response to Tansy_Gold (Original post)
Tue Dec 11, 2012, 08:56 PM
Demeter (80,135 posts)
10. Regulators say EU to delay Basel bank capital rules
http://news.yahoo.com/regulators-eu-delay-basel-bank-capital-rules-125804438--finance.html
The European Union is set to delay introduction of new capital rules for banks by up to a year, the Bank of Italy said on Tuesday, which regulators fear could undermine one of the most important reforms of the financial crisis.
Many officials in Brussels had been expecting a delay following the recent U.S. decision to abandon the January 2013 target and in light of difficulties between EU countries and the bloc's parliament in finalizing the rules.
"We are going towards a postponement of Basel III to the end of 2013, January 2014 at the latest," Bank of Italy Director General Fabrizio Saccomanni told a meeting of business leaders in Rome.
The delay deals a further blow to the global Basel III accord, which was struck by central bankers and regulators meeting in Basel, Switzerland, in a bid to make banks less risky. The accord requires banks to set aside more capital to cover losses such as unpaid loans and had been due to start from January 1, 2013...
---
Response to Tansy_Gold (Original post)
Tue Dec 11, 2012, 09:01 PM
Demeter (80,135 posts)
11. Michigan Governor Signs Laws Limiting Unions IT'S A COUP!
http://www.nytimes.com/2012/12/12/us/protesters-rally-over-michigan-union-limits-plan.html
The Michigan Legislature approved sweeping legislation on Tuesday that vastly reduces the power of organized labor in a state that has been a symbol of union dominance and served as an incubator for union activity over decades of modern American labor history. The two bills, approved by the House of Representatives over the shouts of thousands of angry union protesters who gathered on the lawn outside the Capitol building, and signed hours later by Gov. Rick Synder, will among other things, bar both public and private sector workers from being required to pay fees as a condition of their employment. The Senate passed the legislation last week...
From a distance, there would seem no more unlikely a success for such legislation than Michigan, where labor, hoping to demonstrate strength after a series of setbacks, asked voters last month to enshrine collective bargaining into the State Constitution. But that ballot measure failed badly, and suddenly a reverse drive was under way that has brought the state to a moment startling in its symbolism. How the home of the United Automobile Workers finds itself on the cusp of becoming the 24th state to ban compulsory union fees — and only the second state to pass such legislation in a decade — is the latest chapter in a larger battle over the role of unions in the industrial heart of the nation...
As the debate over the bills intensified Tuesday, the authorities closed the Capitol after saying the building had reached its capacity of more than 2,000. That left thousands of noisy union members — many dressed in red — on the lawn outside, although the doors to the building were opened again later in the morning. Streets around the Capitol were also closed to traffic and clusters of state police, some equipped with riot gear, kept posts throughout the building and along nearby streets...
... As Republicans in the state House moved uncommonly swiftly to pass the measures, union demonstrators outside — the sound of their drumbeats becoming progressively louder inside the chamber — chanted, "Kill the bill! Kill the bill!" Once the first bill — related to public employees — was approved by a 58-to-51 vote, union supporters cried out from the gallery, "Recall! Recall! Recall!" Republicans hold a 64-to-46 majority in the state House, and aside from a few dissenters, the vote was generally along party lines. The second bill, covering private sector unions, was passed by the House about an hour and a half later by a 58-to-52 vote....
"This is being forced down people's throats," said Jon M. Switalski, a Democrat . "It's being done so in a very poor way — in lame duck with no committee meetings."

Joan Bauer, a Democrat, said she was saddened and sickened by what was happening. "I cannot believe this legislation was rammed through in one day."
---
Response to Tansy_Gold (Original post)
Tue Dec 11, 2012, 09:56 PM
Demeter (80,135 posts)
12. Sweet Dreams from a union member in a newly right-to-lose state