Tue Jul 30, 2013, 03:06 PM
Bosonic (1,905 posts)
Radio's Art Bell returning with Sirius XM show
NEW YORK (AP) — Art Bell, radio's master of the paranormal and outward edges of science, will return to the microphone on Sept. 16 with a new nighttime show on Sirius XM Radio.
Bell was one of radio's top syndicated voices in the 1990s before walking away from his nightly show in 2002 due to family issues. He worked occasionally after that but hasn't been on the air since Halloween 2010.
"I missed it terribly," said Bell, 68, whose weeknight show will air live from 10 p.m. to 1 a.m. ET. Sirius is building a studio at Bell's rural Nevada home where he will work.
A Sirius representative contacted Bell through social media a few months ago, leading to the formation of his show, "Art Bell's Dark Matter." He'll talk about things like UFOs, ghosts, near-death experiences and weird aspects of science. He'll do interviews and take calls from viewers.
http://bigstory.ap.org/article/radios-art-bell-returning-sirius-xm-show
3 replies, 337 views
Replies to this discussion thread
| | | | |
| --- | --- | --- | --- |
| 3 replies | Author | Time | Post |
| Radio's Art Bell returning with Sirius XM show (Original post) | Bosonic | Jul 2013 | OP |
| | flying rabbit | Jul 2013 | #1 |
| | 1awake | Jul 2013 | #2 |
| | Javaman | Jul 2013 | #3 |
---
Response to Bosonic (Original post)
Tue Jul 30, 2013, 10:36 PM
flying rabbit (1,911 posts)
1. KIcking for Art
While I am skeptical of a lot of his guests, having Art as your wingman in the midnight hour makes for an entertaining time.
Ph'nglui mglw'nafh Cthulhu R'lyeh wgah'nagl fhtagn
---
Response to flying rabbit (Reply #1)
Wed Jul 31, 2013, 12:12 AM
1awake (1,117 posts)
2. Agree completely. n/t
"no more illegal wire-tapping of American citizens. No more national security letters to spy on citizens who are not suspected of a crime. No more tracking citizens who do nothing more than protest a misguided war. No more ignoring the law when it is inconvenient. That is not who we are." - Sen. Obama
---
Response to Bosonic (Original post)
Wed Jul 31, 2013, 09:42 AM
Javaman (41,901 posts)
3. Good to hear...
I always found his show entertaining. After he left, Coast to Coast became virtually unlistenable.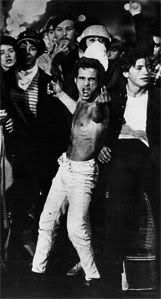 The Tea Party: The hopelessly stupid lead by the willfully corrupt.