Wed Jun 20, 2012, 10:52 AM
Javaman (41,853 posts)
Taco Bell hoax: Alaska town (pop. 6,000) left reeling
http://www.latimes.com/news/nation/nationnow/la-na-nn-taco-bell-alaska-20120614,0,688755.story
SEATTLE -- In what has been described as an evil hoax, the town of Bethel, Alaska, has learned it is not getting a Taco Bell. Not now. Not ever.
ďI repeat: Bethel is NOT getting a Taco Bell,Ē the local radio station, KYUK, broadcast this week in an attempt to dash the greased-up expectations ó not to mention dozens of phone calls ó sparked by the fake fliers posted around town promising gorditas in time for the 4thof July.
Bethel may be the largest town in bush Alaska, but it still barely tops 6,000 people; itís reachable only by boat or plane; and Subway is as close as itís ever managed to come to fast food.
It was some unique form of tundra humor at work, apparently, that led to the fliers posted on various local bulletin boards, promising an opening in time for Bethelís annual Independence Day parade and offering employment.
more at link...
________________________________
their arteries breathed a sign of relief.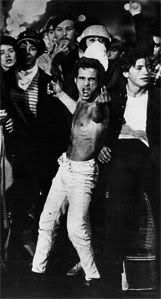 The Tea Party: The hopelessly stupid lead by the willfully corrupt.
7 replies, 1178 views
Replies to this discussion thread
| | | | |
| --- | --- | --- | --- |
| 7 replies | Author | Time | Post |
| Taco Bell hoax: Alaska town (pop. 6,000) left reeling (Original post) | Javaman | Jun 2012 | OP |
| | MADem | Jun 2012 | #1 |
| | FSogol | Jun 2012 | #3 |
| | Initech | Jun 2012 | #2 |
| | Curmudgeoness | Jun 2012 | #4 |
| | damaya | Jun 2012 | #5 |
| | SCantiGOP | Jun 2012 | #6 |
| | Odin2005 | Jul 2012 | #7 |
---
Response to Javaman (Original post)
Wed Jun 20, 2012, 01:16 PM
MADem (94,760 posts)
1. TACO BELL should look at this as an OPPORTUNITY....
They should figure out a way to gin up a portable TACO BELL, maybe one that is set up in the back of a tractor trailer rig; that could go from town to town, spending a month here, a month there, serving these underserved communities.

It would be a great publicity stunt, make for some fantastic commercials, and serve an underserved community. Other fast food joints should consider this as well. It's a winner in terms of PR, at a minimum.

Whoever pulled that hoax is an asshole. That's just mean to do to people who have little diversion in a small town setting.

---
Response to MADem (Reply #1)
Wed Jun 20, 2012, 03:21 PM
FSogol (18,103 posts)
3. Agreed. 30 jobs would be a big benefit to a small town. n/t
---
Response to Javaman (Original post)
Wed Jun 20, 2012, 02:02 PM
Initech (41,800 posts)
2. They're not missing anything.
That was a mean joke to play but Taco Bell is such shitty food that if you live near the border like I do there's far better Mexican food here than is available anywhere else. I realize not everyone has that option - but really - Taco Bell sucks.
---
Response to Initech (Reply #2)
Wed Jun 20, 2012, 06:24 PM
Curmudgeoness (12,139 posts)
4. I used to live in Texas and wouldn't go near a Taco Bell.
I don't anymore, and all that is available for fast food is Taco Bell----and I still won't go near one. I tried it once and that was the most anemic Mexican food I have ever had. I make my own when I want Mexican, or go to a local very good restaurant that came to town a few years ago.

The difference between stupidity and genius is that genius has its limits. - Albert Einstein
---
Response to Javaman (Original post)
Thu Jun 21, 2012, 10:23 PM
damaya (103 posts)
5. I grew up in a small town with a population less than 6,000.
Trust me, no fast food is not such a bad thing. There were almost no overweight kids in my school.

That said, I also went to a university with a Taco Bell express, so certainly expect yum brands to milk the opportunity with a mini taco bell.
---
Response to Javaman (Original post)
Fri Jun 29, 2012, 04:22 PM
SCantiGOP (2,761 posts)
6. I lived in a town of 4,000 in the late 70s
The first fast food joint that opened was welcomed like an auto assembly plant.
We cannot defend freedom abroad by abandoning it at home. --Edward R. Murrow
---
Response to Javaman (Original post)
Wed Jul 4, 2012, 01:57 PM
Odin2005 (48,255 posts)
7. Here in Minnesota even small towns have a Dairy Queen.
That's probably because DQ started in the upper midwest, tho.
Proudly Autistic Progressive