Sat Aug 4, 2012, 01:19 PM
doeriver (778 posts)
2007 Congressional Wikipedia Vandal wins TN State House GOP Primary
2012 TNGA 3rd House District Republican Primary Nominee and Wikipedia Vandal
Timothy Hill
Hill wins Tuesday's GOP primary for Tennessee House District 3 seat
http://www2.tricities.com/news/2012/aug/03/hill-wins-tuesdays-gop-primary-tennessee-house-dis-ar-2105065/
BRISTOL, Tenn. --
Blountville Republican Timothy Hill won Tuesday's GOP primary for the Tennessee House District 3 seat, defeating three candidates for the party's nomination.

Hill defeated runner-up Kevin Parsons by a near 2-to-1 margin and easily drubbed two other candidates, Karen Greene Morrell and Thomas White, to become the Republican nominee for the District 3 seat.

The district covers all of Johnson County and parts of Carter and Sullivan counties including Bristol, Blountville and Bluff City in Sullivan County.

Hill, 30, will now face Democratic candidate Leah Kirk in the Nov. 6 general election. Kirk was unopposed Thursday on the Democratic primary ballot.

Hill and Kirk will vie this fall to replace outgoing District 3 Rep. Scotty Campbell, who decided not to seek a second two-year term. Hill was defeated by Campbell in the 2010 District 3 Republican primary.

"It's a real honor, a real blessing," Hill said Thursday night from his victory party at a Blountville hotel. "I'm really proud of our team and the effort they put in, and I'm truly proud to be the Republican nominee."

Hill credited Thursday's victory, in part, to many of the lessons he learned from his tough 2010 primary defeat to Campbell.

"We just worked very hard to make sure as many people as possible were aware of conservative message," Hill said. "We had a real sense of urgency to make sure the message got out. And voters really started to gravitate to it."

Hill won by an overwhelming margin in his native Sullivan County, beating runner-up Morrell by a 3-to-1 margin (67 percent to 21 percent). But Hill also won Carter County by a similar 3-to-1 margin over Parsons, who finished second in that county.

The wide wins in Sullivan and Carter counties allowed Hill to withstand a fairly close second-place finish to Parsons in Johnson County, Parsons' home region, to claim the Republican nomination.

Hill was a former congressional staffer to Tennessee U.S. Rep. Dave Davis, R-1st District. His older brother, Matthew, is Tennessee's House District 7 representative. The elder Hill is a Republican from Jonesborough...
***
Entries on Wikipedia edited by Davis aide
Press secretary also admits deleting info on brother via federal computer
http://www.knoxnews.com/news/2007/aug/11/entries-on-wikipedia-edited-bydavis-aide/
By Tom Humphrey
Posted August 11, 2007 at midnight
U.S. Rep. David Davis' press secretary has acknowledged using a congressional office computer to delete unflattering information about his boss and his brother from biographies on an Internet encyclopedia.

The efforts of Timothy Hill have been deemed "blanking vandalism" by an editor for Wikipedia who detected the alterations to articles about Davis and state Rep. Matthew Hill, R-Jonesboro. The state Democratic Party also criticizes the changes.

Hill said in an interview that he made a mistake that would not be repeated. He said he was not familiar with Wikipedia and its procedures and was simply trying to perform his job.

"My job is to make sure statements about my boss are truthful and, sometimes, as positive as possible," he said. "That's what I do."

Hill said he regularly searches the Internet for references to Davis, a freshman Republican from Johnson City. When he came across the Wikipedia entry on the congressman, Hill said some of the information struck him as "inaccurate" and "trying to hurt my boss."

"I tried to take it out (information he considered inaccurate) and replace it with accurate stuff," he said.

His efforts were detected by a Wikipedia administrator who restored the text to its former version and later reported on the episode in an article for another Web site.

The changes to entries about Davis and Matthew Hill were made in June.

Part of the information Hill sought to delete involved political contributions to both his brother and Davis by former King Pharmaceuticals CEO John Gregory as well as other ties to the Gregory family...."


***

SEO Tips & Tactics From A Wikipedia Insider
Jul 17, 2007 at 11:35am ET by Durova
http://searchengineland.com/seo-tips-tactics-from-a-wikipedia-insider-11715

"...Other dubious activity from June 2007 includes blanking vandalism to the biographies of two Tennessee state politicians: Matthew Hill and David Davis. Someone who had access to a congressional office computer didn't want the public to read properly cited information about their ties to the pharmaceutical industry.

I uncovered this information in ten minutes and my sysop tools weren't necessary for any of the research. You can see for yourself:

Carolyn McCarthy
Matthew Hill (1)
Matthew Hill (2)
David Davis (1)
David Davis (2)
None of those inappropriate edits remained in Wikipedia's live version very long. Site volunteers reverted most of them one minute after implementation; the longest endured for nineteen minutes. What is notable for this discussion is how each action gets logged in site histories where it remains a public and voluntary disclosure. Anyone with an Internet connection can find the rest of that trail; it remains fresh as morning snow. A good follow-up exercise for SEO professionals would be to track the edits that led up to that IP address's April 2007 blocks for link spamming the congressional black caucus website.

As an administrator I am continually surprised by how often I see edits that serve little purpose except to place the editor at risk for adverse news coverage. Few of the people who have a professional interest in knowing how Wikipedia operates actually possess more than a superficial understanding of its workings. Copyleft licensure, for example, requires that each action contain an authorship notation and ensures the information remains freely reproducible. Activities at Wikipedia are transparent, yet many individuals who have a professional reputation to protect behave as if their actions were guarded by an opacity the site does not possess. Except for article deletions and occasional courtesy blankings, Wikipedia's archives remain public and accurate back to December 2001."
2 replies, 1248 views
Replies to this discussion thread
| | | | |
| --- | --- | --- | --- |
| 2 replies | Author | Time | Post |
| 2007 Congressional Wikipedia Vandal wins TN State House GOP Primary (Original post) | doeriver | Aug 2012 | OP |
| | tanyev | Aug 2012 | #1 |
| | doeriver | Aug 2012 | #2 |
---
Response to doeriver (Original post)
Sat Aug 4, 2012, 01:43 PM
tanyev (22,648 posts)
1. Looks like he would have fit right in with the Brooks Brothers riot squad.
Born a little too late, I guess.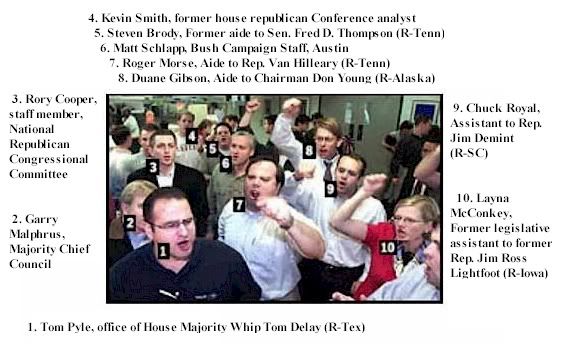 ---
Response to doeriver (Original post)
Sun Aug 5, 2012, 09:15 AM
doeriver (778 posts)
2. The 2012 TNGA House 3rd District Democratic candidate