Mon Dec 24, 2012, 08:10 AM
IDemo (12,875 posts)
Guitarists - question on reverse/upside-down left hand playing
I'm not sure what the technical term is, though I'm sure there is one. If you look at the video between about 2:40 and 3:00, Jon is using a reverse, top-down left hand to fret. Is this just a way of displaying one's total mastery of the instrument (quite obvious here), or is there a technical reason that it implements certain playing styles better than the standard position? He's far from alone in using this technique, I know.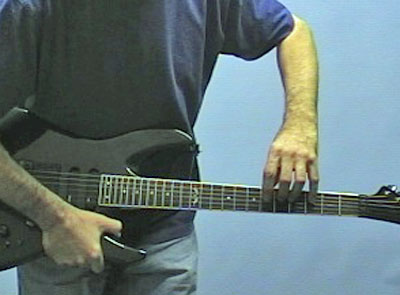 "You can always count on the Americans to do the right thing, once they've exhausted all other options." - Winston Churchill
2 replies, 627 views
Replies to this discussion thread
| | | | |
| --- | --- | --- | --- |
| 2 replies | Author | Time | Post |
| Guitarists - question on reverse/upside-down left hand playing (Original post) | IDemo | Dec 2012 | OP |
| | Scuba | Dec 2012 | #1 |
| | LeftOfSelf-Centered | Dec 2012 | #2 |
---
Response to IDemo (Original post)
Mon Dec 24, 2012, 09:55 AM
Scuba (32,706 posts)
1. I've seen my guitar teacher do stuff like that. I can't even do it in my dreams.
Straight, but
not narrow.
---
Response to IDemo (Original post)
Tue Dec 25, 2012, 02:40 PM
LeftOfSelf-Centered (653 posts)
2. It depends, I think...
I've seen people do it purely to show off, like playing with the guitar behind your head, turning the guitar around and playing left-handed or flicking your pick bouncing it off the guitar and catching it again (still don't know how that one works, my pick just flies off randomly). In that case it's just showing off that you can play the melody in an usual position and also backwards with respect to your normal fingering.
In your example though I think he plays with the left hand inverted for a reason; He is holding a chord on the low strings at the same time needing the high strings ring. If he held his hand in the normal position there is a chance that one of his fingers might touch the high strings it's reaching over and therefore mute the note. He may have decided to fret the chord like that so that there is no danger of interfering with the other strings.
I hope this made sense...
(All of the above is pure speculation on my part)
"In the beginning the Universe was created. This has made a lot of people very angry and been widely regarded as a bad move." - Douglas Adams