Thu Sep 6, 2012, 09:10 PM
Bolo Boffin (23,796 posts)
TCM Schedule for Saturday, September 8 -- The Essentials: Precocious Girls
6:00 AM
It's A Dog's Life (1955)
A bull terrier rises from rags to riches.
Dir: Herman Hoffman
Cast: Jeff Richards, Jarma Lewis, Edmund Gwenn.
C-87 mins, TV-G, Letterbox Format
7:30 AM
The Honeymoon Machine (1961)
Two sailors discover a way to beat the roulette tables in a Venice casino.
Dir: Richard Thorpe
Cast: Steve McQueen, Brigid Bazlen, Jim Hutton.
C-87 mins, TV-PG, CC, Letterbox Format
9:00 AM
Thunderbird 6 (1968)
Puppet aviators fight to save a beautiful woman from kidnappers.
Dir: David Lane
Cast: Sylvia Anderson, David Graham, Geoffrey Keen.
BW-89 mins, TV-G, Letterbox Format
10:45 AM
The Power of the Whistler (1945)
A young woman seeks an amnesiac's true identity in the clues in his pockets.
Dir: Lew Landers
Cast: Richard Dix, Janis Carter, Jeff Donnell.
BW-66 mins, TV-PG
12:00 PM
The Lost Tribe (1949)
Jungle Jim fights to protect an African village targeted for exploitation.
Dir: William Berke
Cast: Johnny Weissmuller, Myrna Dell, Elena Verdugo.
BW-72 mins, TV-PG
1:30 PM
To Be or Not to Be (1942)
A troupe of squabbling actors joins the Polish underground to dupe the Nazis.
Dir: Ernst Lubitsch
Cast: Carole Lombard, Jack Benny, Robert Stack.
BW-99 mins, TV-PG, CC
3:30 PM
Zorba The Greek (1964)
An amoral Greek peasant teaches a British student the meaning of life.
Dir: Michael Cacoyannis
Cast: Anthony Quinn, Alan Bates, Irene Papas.
BW-142 mins, TV-14, CC, Letterbox Format
6:00 PM
A Big Hand for the Little Lady (1966)
A pioneer woman replaces her ailing husband in a poker game after he loses most of their money.
Dir: Fielder Cook
Cast: Henry Fonda, Joanne Woodward, Jason Robards Jr..
C-95 mins, TV-G, Letterbox Format
TCM PRIMETIME -- WHAT'S ON TONIGHT
THE ESSENTIALS: PRECOCIOUS GIRLS

8:00 PM
The Goodbye Girl (1977)
A dancer discovers her runaway boyfriend has sublet her apartment to an aspiring actor.
Dir: Herbert Ross
Cast: Richard Dreyfuss, Marsha Mason, Quinn Cummings.
C-111 mins, TV-MA, CC, Letterbox Format
10:00 PM
The Bachelor and the Bobby-Soxer (1947)
A teenage girl's crush on a playboy spells trouble, particularly when he falls for her older sister.
Dir: Irving Reis
Cast: Cary Grant, Myrna Loy, Shirley Temple.
BW-95 mins, TV-G, CC
11:45 PM
Andy Hardy's Blonde Trouble (1944)
A college boy has to cope with a pair of beautiful twins.
Dir: George B. Seitz
Cast: Lewis Stone, Mickey Rooney, Fay Holden.
BW-107 mins, TV-G, CC
1:45 AM
Lost Angel (1943)
A girl raised to be a genius gets lost and discovers the simple pleasure of life.
Dir: Roy Rowland
Cast: Margaret O'Brien, James Craig, Marsha Hunt.
BW-91 mins, TV-G, CC
3:45 AM
Little Women (1949)
The four daughters of a New England family fight for happiness during and after the Civil War.
Dir: Mervyn LeRoy
Cast: June Allyson, Peter Lawford, Margaret O'Brien.
C-122 mins, TV-G, CC
2 replies, 501 views
Replies to this discussion thread
| | | | |
| --- | --- | --- | --- |
| 2 replies | Author | Time | Post |
| TCM Schedule for Saturday, September 8 -- The Essentials: Precocious Girls (Original post) | Bolo Boffin | Sep 2012 | OP |
| | CBHagman | Sep 2012 | #1 |
| | Matilda | Sep 2012 | #2 |
---
Response to Bolo Boffin (Original post)
Thu Sep 6, 2012, 09:55 PM
CBHagman (14,330 posts)
1. Back to back this evening, two entertaining, if very different, movies.
First up:
The Goodbye Girl
, where it's hate at first sight when a down-on-her-luck ex-dancer (Marsha Mason) meets a motor-mouthed actor (Richard Dreyfuss), while her daughter (Quinn Cummings) provides a running commentary.
Then there's
The Bachelor and the Bobby-Soxer
, with a trio of likeable stars and some surefire running gags.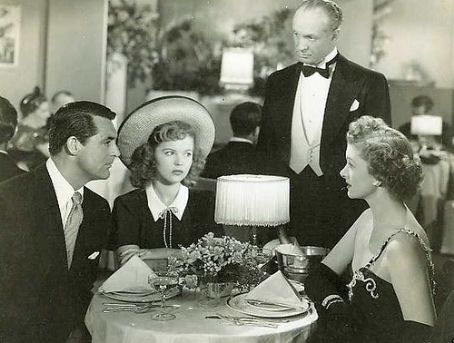 Enjoy.
Anyone who goes into a negotiation without knowing who's on the other side is going in blindfolded. It doesn't make any sense. You should study the person on the other side of the table. - Richard Holbrooke
---
Response to CBHagman (Reply #1)
Fri Sep 7, 2012, 04:59 AM
Matilda (5,728 posts)
2. And from the sublime to the ridiculous ...
Loy and Grant to ... Thunderbirds.

I used to love watching them. In my first place in London, our Saturday ritual, before going out, was to have our dinner
and watch Thunderbirds at 6.00, and Robin Hood at 6.30.

Very mature, we were. But it was fun.
Liberty without learning is always in peril. Learning without liberty is always in vain. (John F. Kennedy)