Mon May 13, 2013, 09:35 PM
LAGC (4,778 posts)
WOO-HOO! 4.0 GPA This Semester!
HELL YEAH!!!!!111!!!11!!
Just took my Intermediate Algebra Finals this afternoon, and totally aced it. Softball questions all the way through. I spent dozens of hours studying for it, memorizing formulas and practicing all sorts of application (word) problems, and there weren't even any of them (word problems) on the exam! Go figure. Multiple choice is so much easier than having to blindly supply the answer like on quizzes -- if you ever find yourself stuck just plug in each of the four possible answers and you can't go wrong. It's so easy, it's downright criminal! And the instructor even allowed graphing calculators on the Final, unlike with the first two exams of the semester, so with my brand new trusty TI-84 Plus C Silver Edition, double-checking everything was a breeze.
I made it 2/3 of the way through the semester without a graphing calculator at all, then found out we could have one for the 3rd exam and the Final, which certainly made things a whole hell of a lot easier. I spent quite a while just getting familiar with the calculator, so that when it came to problems like these:
...I didn't have to mess around with change of base formula or whatever, I can just go into the MATH menu, select the logBASE() function, and enter in the exact expression and VIOLA! I love this thing, its so much nicer than even the vaunted regular TI-84 Plus!
Submitted my final portfolio for my English 102 (Writing Composition 2) class last week, but since it just consisted of the 3 papers I wrote over the course of the semester (which I got all A's on), it shouldn't change my grade. My Computer Information Systems Applications class was a breeze, finished a few weeks ago, well ahead of time, just basic productivity software (Word/Excel/Powerpoint) proficiency, and a General Technology exam which a 3rd grader could ace. And in my Intro Communications class, I got 90/100 and 147/150 on each of my two speeches (informative/persuasive) respectively, so that more than made up for my lackluster performance on some of the textbook reading quizzes, only needed to get a 56% on the Final in order to still get an A, ended up getting 88% -- so that's over and done with as well.
Now comes the hard part: like a dumb-ass I signed up for a 9-credit load during the Summer Semester, which is like taking a whopping 18 credits (full-time is only 12-16 credits) in a regular 16-week semester, all crammed into 8 short weeks. So if that doesn't kill me, nothing will. But I'm going to literally have no dang free time throughout the entire months of June and July, so if I disappear for awhile don't think I forgot about y'all. I was actually surprised how much free time I had this semester taking just 13 credits, but that 3-credit CISA class doesn't even really count, it was so easy. So yeah, 9 condensed could be a real trick.
If all goes according to plan though, I'll be able to graduate here in a couple years with my Microbiology degree and hopefully not join the ranks of all those college grads who are gainfully unemployed right now. LOL. Sounds like folks are having better luck with the STEM (Science/Technology/Engineering/Math) degrees though, so hopefully I find something. Will be nice making $75K/year for a change though if it works out, best job I've had to date peaked at $17.76/hour (only $36K/year), so I won't know what to do with all that money. Even if being a scientist only paid minimum wage, I'd still pursue it though. Just because the work is so important.
At least I should be able to graduate without any appreciable student loan debt, thanks to that generous Pell Grant -- $2775/semester, that "socialist redistribution of wealth" in progress. But I hope to pay it back in spades...
"Science flies you to the moon. Religion flies you into buildings." -- Victor Stenger
11 replies, 567 views
Replies to this discussion thread
| | | | |
| --- | --- | --- | --- |
| 11 replies | Author | Time | Post |
| WOO-HOO! 4.0 GPA This Semester! (Original post) | LAGC | May 2013 | OP |
| | onehandle | May 2013 | #1 |
| | Sekhmets Daughter | May 2013 | #2 |
| | rurallib | May 2013 | #3 |
| | Tuesday Afternoon | May 2013 | #4 |
| | femmocrat | May 2013 | #5 |
| | Aristus | May 2013 | #6 |
| | Tobin S. | May 2013 | #7 |
| | In_The_Wind | May 2013 | #8 |
| | Bertha Venation | May 2013 | #9 |
| | gejohnston | May 2013 | #10 |
| | dr.strangelove | May 2013 | #11 |
---
Response to LAGC (Original post)
Mon May 13, 2013, 09:49 PM
onehandle (38,876 posts)
1. Good job. nt
TEA in 'Tea Party' isn't 'Taxed Enough Already,' it's Tolerant Enough Already, because a Black President was the Last Straw. --- 'When I see an adult on a bicycle, I do not despair for the future of the human race.' - H.G. Wells --- 'Stay hungry. Stay foolish.' - Steve Jobs ---
---
Response to LAGC (Original post)
Mon May 13, 2013, 09:49 PM
Sekhmets Daughter (7,438 posts)
2. Congratulations!
That 4.0 is impressive as hell!
"So, I love you because the entire universe conspired to help me find you." ― Paulo Coelho,
---
Response to LAGC (Original post)
Mon May 13, 2013, 10:01 PM
rurallib (33,236 posts)
3. that's got to feel good!
---
Response to LAGC (Original post)
Mon May 13, 2013, 10:01 PM
Tuesday Afternoon (48,963 posts)
4. congrats! but- dude!
your summer is gonna suck so hard. so.hard.
Mermaids Smoke Seaweed

---
Response to LAGC (Original post)
Mon May 13, 2013, 10:04 PM
femmocrat (15,578 posts)
5. Congratulations!
(even though all that math made my brain hurt LOL)
I always liked summer school better than the regular school year. Good luck!
"The greatness of a nation and its moral progress can be judged by the way its animals are treated." ~ Gandhi
---
Response to LAGC (Original post)
Mon May 13, 2013, 11:11 PM
Aristus (31,913 posts)
6. Well done, LAGC!
All that studying is the only explanation for how you've been here as long as I have, and still have fewer than 5,000 posts!...
Keep up the good work!...
UNLESS, someone like you cares a whole awful lot, nothing is going to get better. It's not.
---
Response to LAGC (Original post)
Tue May 14, 2013, 05:33 AM
Tobin S. (6,202 posts)
7. Congrats!
I'm back in school, too, studying business administration. I'm taking 9 semester hours this summer, as well, but I got all of my classes to go over the twelve week period instead of one of the two shorter summer periods. It's still an abbreviated semester, but not so much as what you're doing.

No grants for me, though. I have applied for scholarships so maybe that will pan out. I won't know until June.
Success is the best revenge.
---
Response to LAGC (Original post)
Tue May 14, 2013, 08:56 AM
In_The_Wind (52,196 posts)
8. Hell yeah!!!
Congratulations!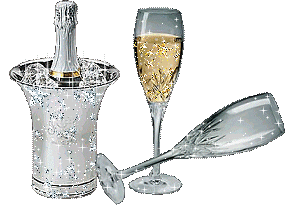 Never regret something that once made you smile.

---
Response to LAGC (Original post)
Tue May 14, 2013, 09:12 AM
Bertha Venation (21,061 posts)
9. Congratulations!
Good times and bum times, I've seen them all, and my dear, I'm still here
---
Response to LAGC (Original post)
Tue May 14, 2013, 11:56 AM
gejohnston (13,789 posts)
10. congrates
"Only after the last tree has been cut down. Only after the last river has been poisoned. Only after the last fish has been caught. Only then will you find that money cannot be eaten." Cree Prophecy
---
Response to LAGC (Original post)
Tue May 14, 2013, 12:33 PM
dr.strangelove (4,454 posts)
11. Just admit it, you killed your roommate for that 4.0
Just kidding. Congrats and well done. Best wishes to you.