Sun May 13, 2012, 08:41 AM
n2doc (29,384 posts)
Sundays Doonesbury: Checking on Newt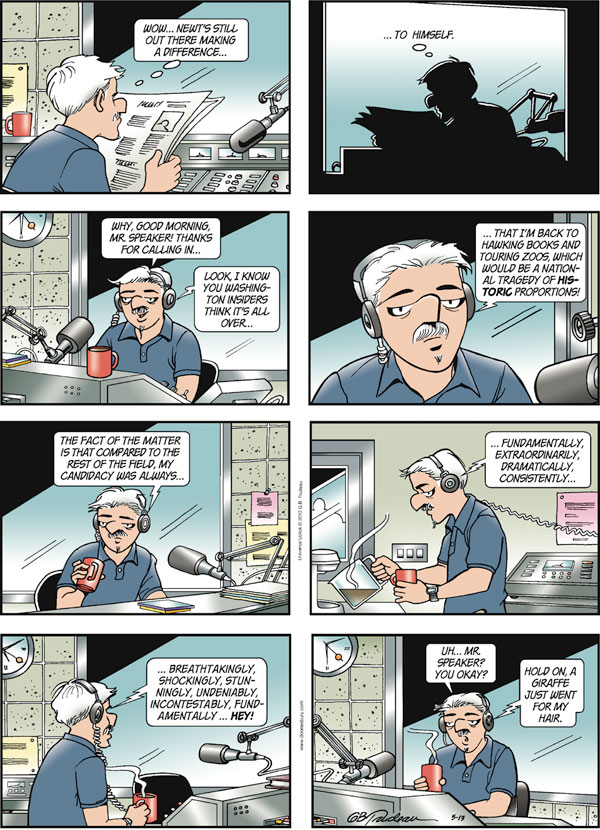 Censorship of Information is Un-American and Anti-progressive
3 replies, 928 views
Replies to this discussion thread
| | | | |
| --- | --- | --- | --- |
| 3 replies | Author | Time | Post |
| Sundays Doonesbury: Checking on Newt (Original post) | n2doc | May 2012 | OP |
| | geckosfeet | May 2012 | #1 |
| | ChazInAz | May 2012 | #2 |
| | Fuddnik | May 2012 | #3 |
---
Response to n2doc (Original post)
Sun May 13, 2012, 08:48 AM
geckosfeet (9,335 posts)
1. Giraffes are known to be able to chew and digest almost anything....
Last edited Sun May 13, 2012, 08:51 AM - Edit history (1)
on edit: Actually I am assuming that the giraffe can eat like a goat. With a neck like that though, you would thing it has to be somewhat selective about it's food choices.

Hmm. I wonder what the incidence of oesophageal cancer is in giraffe populations.
There are no answers. There are only choices.

The greatest dangers to liberty lurk in insidious encroachment by men of zeal, well-meaning but without understanding
JUSTICE LOUIS BRANDEIS (1928)
---
Response to n2doc (Original post)
Sun May 13, 2012, 02:49 PM
ChazInAz (455 posts)
2. Voice of experience, here.
Both my daughter and I have had giraffes "go for the hair" while touring Scottsdale's Out of Africa park in a double-decker bus. We had giraffe treats and were in range, after all. At first it was rather alarming, what with the yard-long purple tongue. At least it didn't have bad breath, being a herbivore. Once we got over the shock of having this enormous head in our laps, slurping up snacks, we fell in love with the beast's astonishingly beautiful eyes. You haven't lived till you've had a giraffe bat its long eyelashes flirtatiously at you!
---
Response to n2doc (Original post)
Sun May 13, 2012, 02:58 PM
Fuddnik (5,441 posts)
3. I had one eat a head of lettuce off of my wife's head at Tampa Busch Gardens.
I wonder how that got there.

Come to think of it. Noots head resembles a head of lettuce.
Thousands who are in opinion opposed to slavery and the war, who yet in effect do nothing to put an end to them. They hesitate and they regret, and sometimes they petition; but they do nothing in earnest with effect. They will wait, well disposed for others to remedy the evil, that they will no longer have it to regret. At most, they give only a cheap vote. Thoreau