Sat Feb 25, 2012, 07:45 AM
marmar (63,335 posts)
What Are We Really Eating? Reporter Goes Undercover to Reveal Real Story of Our Broken Food System
Last edited Sat Feb 25, 2012, 07:45 AM - Edit history (1)
AlterNet
/
By Kerry Trueman
What Are We Really Eating? Reporter Goes Undercover to Reveal the Real Story of Our Broken Food System
Tracie McMillan talks about her new book and how she went undercover as a farmhand and worker at Walmart and Applebee's.
February 23, 2012 |
Tracie McMillan's
The American Way of Eating: Undercover at Walmart, Applebee's, Farm Fields and the Dinner Table
takes us on a vivid and poignant tour of a place we don't really want to go: the mostly hidden, sometimes horrible world of the workers who form the backbone of our cheap, industrialized food chain. Sound grim? It is, at times, but McMillan's lively narrative and evident empathy for the people she encounters make her sojourn into the bowels of Big Food and Big Ag a pleasure to read.
.......(snip).......
KT: You found that farm work in California's Central Valley was extremely demanding, sometimes dangerous, and routinely underpaid. What do you think it would take to provide the people who pick our crops with better working conditions and paychecks that don't deliberately shortchange them?
TM
: I was typically working alongside undocumented immigrants. You always hear the stories about how undocumented immigrants work for very low wages and how they get treated. It's one thing to hear about it, it's another thing to see how terrified everybody is, how unwilling they are to say anything.
.......(snip).......
KT: What were your most miserable moments?
TM
: This belies my upwardly mobile aspirations (laughs). For me, what was the most emotionally miserable was working the night shift at Walmart. I didn't see any daylight for the most part. That's also really physical work, so I would move half a ton of sugar and a half ton of flour in a night, by myself. It's isolated work, you're in an aisle stocking by yourself, so there's no social aspect to it.
But what I found most draining about it was that most of my coworkers, many of whom were married and had families, had been there for seven, 10, 15 years. One coworker was earning $11 an hour after working there for seven years, and she talked about how if you worked at Walmart for 15 years that's actually really good because you get a lifetime discount card. .............(more)
The complete piece is at:
http://www.alternet.org/food/154280/what_are_we_really_eating_reporter_goes_undercover_to_reveal_the_real_story_of_our_broken_food_system/
"For to be free is not merely to cast off one's chains, but to live in a way that respects and enhances the freedom of others." -- Nelson Mandela
7 replies, 2191 views
Replies to this discussion thread
| | | | |
| --- | --- | --- | --- |
| 7 replies | Author | Time | Post |
| What Are We Really Eating? Reporter Goes Undercover to Reveal Real Story of Our Broken Food System (Original post) | marmar | Feb 2012 | OP |
| | Delarage | Feb 2012 | #1 |
| | gateley | Feb 2012 | #2 |
| | Former_DU_Member | Feb 2012 | #3 |
| | gateley | Feb 2012 | #5 |
| | JHB | Feb 2012 | #6 |
| | Javaman | Feb 2012 | #4 |
| | supernova | Feb 2012 | #7 |
---
Response to marmar (Original post)
Sat Feb 25, 2012, 12:13 PM
Delarage (719 posts)
1. That's why we need unions.
The analogy to factory work is exactly right; they used to be dangerous, horrible places to work until people formed unions and demanded safety and fair wages. It's also true what she says about trash-truck workers; that's not the most pleasant job around, but people seek those jobs b/c you can live on the pay. So "Americans' would work in the fields if they could be treated and paid fairly. It's a sin how they treat the undocumented workers who are, in many cases, fleeing abject poverty and crime to try to improve their lives and the lives of their families.
Meanwhile, Republicans demand to see the President's birth certificate
---
Response to marmar (Original post)
Sat Feb 25, 2012, 12:41 PM
gateley (62,039 posts)
2. Very interesting article -- an approach I hadn't seen before. Think
I'll get the book! Thanks so much for posting this!!
---
Response to gateley (Reply #2)
Sat Feb 25, 2012, 04:42 PM
Former_DU_Member (33 posts)
3. An article you may be interested in viewing, an oldie but
These statements have not been evaluated by the Food and Drug Administration. This product is not intended to diagnose, treat, cure or prevent any disease, however, should you have a deficiency of the protective nutrients in this product, you will become ill.
---
Response to Former_DU_Member (Reply #3)
Sat Feb 25, 2012, 09:49 PM
gateley (62,039 posts)
5. Thank you. Our country breaks my heart at times. nt
---
Response to gateley (Reply #2)
Sun Feb 26, 2012, 09:31 AM
JHB (18,880 posts)
6. That approach is over a century old...
Have you noticed how the same people who characterize our economic policies during the Cold War as "socialism" seem intent on dismantling the economic system that defeated Communism and sending us back to the economic system that spawned it?
---
Response to marmar (Original post)
Sat Feb 25, 2012, 05:01 PM
Javaman (41,872 posts)
4. K & R nt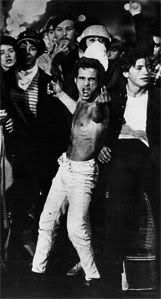 The Tea Party: The hopelessly stupid lead by the willfully corrupt.
---
Response to marmar (Original post)
Sun Feb 26, 2012, 10:11 AM
supernova (39,246 posts)
7. Bring back Home Economics!
What's so appalling about our industrialized food system is all that is listed
plus
the idea that we are teaching everyone not to even understand that food must be high quality for a variety of reasons: visual appeal, nutrition, taste and pleasure. And as far as produce goes, the general rule is: the more vivid the color, the fresher, the higher the nutritional content.
Very few people know how to cook
from scratch
anymore. How many people make their own cakes and pies from scratch? Home-made tomato sauce? Home-made bread? It's not that hard, but it does take knowledge and skill.
We need to start thinking about cooking as a basic life skill, not something that's optional. Incorporating that into public education to me seems like a smart idea. It can be a really great way to teach people other stuff. It's great for math, right? And for reading comprehension. Or learning to write recipes. It's an important survival skill.

I think one of the things you can support, no matter what your politics are, is that our schools should be teaching our kids how to be self-sufficient, how to take care of themselves and not to have to depend on large institutions. I would include in that not just government but also corporations.