Thu Apr 12, 2012, 01:48 PM
alp227 (23,181 posts)
Anti-gay adverts on London buses blocked by Boris Johnson
Source:
The Guardian
Boris Johnson, the Conservative mayor, has pulled an "offensive" Christian campaign advertising "gay conversion" which was due to appear on London's buses next week.
Revelations that adverts asserting the power of therapy to change the sexual orientation of gay people were due to be driven around the capital came as Johnson, who is seeking re-election in May, was due to appear at a mayoral hustings organised by the gay campaigning group Stonewall on Saturday.
The mayor immediately put the wheels in motion to halt the campaign after being alerted to the plans by the Guardian, and made clear that such advertising had no place in a tolerant city.
A clearly angered Johnson said: "London is one of the most tolerant cities in the world and intolerant of intolerance. It is clearly offensive to suggest that being gay is an illness that someone recovers from and I am not prepared to have that suggestion driven around London on our buses."
Read more:
http://www.guardian.co.uk/world/2012/apr/12/anti-gay-adverts-boris-johnson
---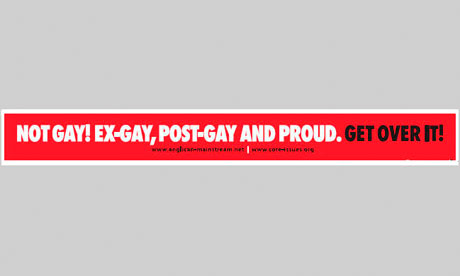 6 replies, 1952 views
Replies to this discussion thread
| | | | |
| --- | --- | --- | --- |
| 6 replies | Author | Time | Post |
| Anti-gay adverts on London buses blocked by Boris Johnson (Original post) | alp227 | Apr 2012 | OP |
| | qb | Apr 2012 | #1 |
| | alp227 | Apr 2012 | #2 |
| | Lydia Leftcoast | Apr 2012 | #3 |
| | AlbertCat | Apr 2012 | #4 |
| | starroute | Apr 2012 | #6 |
| | SamG | Apr 2012 | #5 |
---
Response to alp227 (Original post)
Thu Apr 12, 2012, 01:51 PM
qb (5,924 posts)
1. Excellent news! Too bad the US doesn't have conservatives like Boris Johnson.
---
Response to qb (Reply #1)
Thu Apr 12, 2012, 02:13 PM
alp227 (23,181 posts)
2. Remember the freakout 2 years ago over GOProud,
an organization of gay Republicans, attending the Conservative Political Action Committee? Shows how radical the Republican Party has become in this country. At least the conservative parties in Europe got the Enlightenment.

If Rick Santorum were running for office in a European country, most people would say "This guy is nuts," in response to the campaign on "limited government" and "faith and family". In the '80s and '90s until his death, Barry Goldwater, otherwise an icon of conservatism, openly voiced criticism of the Religious Right.

---
Response to qb (Reply #1)
Thu Apr 12, 2012, 02:16 PM
Lydia Leftcoast (47,137 posts)
3. British Conservatives can be insufferable pigs when it comes to economic issues
but I will say this for them: Most of the British Puritans emigrated to America (where we got stuck with them), so their Conservatives don't base their appeal on disapproval of other people's sex lives.
---
Response to Lydia Leftcoast (Reply #3)
Thu Apr 12, 2012, 02:41 PM
AlbertCat (10,896 posts)
4. Most of the British Puritans emigrated to America
Last edited Thu Apr 12, 2012, 02:44 PM - Edit history (3)
Besides, religious zealots have been killing each other over there for centuries... and the population is sick and tired of their crap.


Unfortunately, this is a lesson that apparently must be learned 1st hand. The killing of women's doctors so far has not done the trick in the US.
---
Response to AlbertCat (Reply #4)
Thu Apr 12, 2012, 03:32 PM
starroute (11,088 posts)
6. The British Puritans who came to America settled in New England
Which is now the most solidly same-sex-marriage-friendly part of the country.
The Puritans may have been narrow-minded about matters of religious doctrine -- though not as much as people think -- but they were never a bunch of sex-obsessed bigots like today's conservatives. They valued learning and education and within a couple of generations were were eagerly adopting the new ideals of the 18th century Enlightenment.
They were also solidly middle-class, without the social divide between wealthy landowners and indentured servants that took root in the South and persists down there in today's norms of exaggerated respect for civil and religious authority.
So don't blame the Puritans. They're the good guys in this story.
"Ain't nobody here but us chickens."
---
Response to alp227 (Original post)
Thu Apr 12, 2012, 03:13 PM
SamG (535 posts)
5. We need a Conservative in US Congress like the London Mayor!
Of course this would become a Supreme Court case in the USA about limitations of freedom of speech.

But it's time that Mayors and Governors and Senators and Presidents act to stop hate speech in the USA.