Tue Mar 27, 2012, 08:22 PM
mackattack (344 posts)
Florida's New Election Law Blunts Voter Drives
Source:
The NYT
Florida, which is expected to be a vital swing state once again in this year's presidential election, is enrolling fewer new voters than it did four years ago as prominent civic organizations have suspended registration drives because of what they describe as onerous restrictions imposed last year by Republican state officials.
The state's new elections law — which requires groups that register voters to turn in completed forms within 48 hours or risk fines, among other things — has led the state's League of Women Voters to halt its efforts this year. Rock the Vote, a national organization that encourages young people to vote, began an effort last week to register high school students around the nation — but not in Florida, over fears that teachers could face fines. And on college campuses, the once-ubiquitous folding tables piled high with voter registration forms are now a rarer sight.
Florida, which reminded the nation of the importance of every vote in the disputed presidential election in 2000 when it reported that George W. Bush had won by 537 votes, is now seeing a significant drop-off in new voter registrations. In the months since its new law took effect in July, 81,471 fewer Floridians have registered to vote than during the same period before the 2008 presidential election, according to an analysis of registration data by The New York Times. All told, there are 11.3 million voters registered in the state.
Read more:
http://www.nytimes.com/2012/03/28/us/restrictions-on-voter-registration-in-florida-have-groups-opting-out.html?_r=1#commentsContainer
---
If Republicans were simply trying to cut down on fraud, they'd automatically register everyone in Florida and give everyone their own state photo ID card. If everyone had an ID, it would seem reasonable to ask them to bring it with them when they vote.
The Republicans don't want people to vote; that's all you need to know about their idea of democracy.
8 replies, 1868 views
Replies to this discussion thread
| | | | |
| --- | --- | --- | --- |
| 8 replies | Author | Time | Post |
| Florida's New Election Law Blunts Voter Drives (Original post) | mackattack | Mar 2012 | OP |
| | RBInMaine | Mar 2012 | #1 |
| | dhill926 | Mar 2012 | #3 |
| | caseymoz | Mar 2012 | #5 |
| | goclark | Mar 2012 | #2 |
| | IDemo | Mar 2012 | #4 |
| | Iliyah | Mar 2012 | #6 |
| | Javaman | Mar 2012 | #7 |
| | mackattack | Mar 2012 | #8 |
---
Response to mackattack (Original post)
Tue Mar 27, 2012, 08:30 PM
RBInMaine (10,129 posts)
1. So once again the progressives are knuckling under instead of FIGHTING. Lame and WEAK !
---
Response to RBInMaine (Reply #1)
Tue Mar 27, 2012, 09:38 PM
dhill926 (1,981 posts)
3. I hear ya......
I just don't get this. This is crucial.....
---
Response to RBInMaine (Reply #1)
Tue Mar 27, 2012, 09:49 PM
caseymoz (5,724 posts)
5. How? Fight them at the polls?

They've made that into a joke.

On the State legislative floor? Can't do that without the votes.

By donating to campaigns and PACs? Companies and the wealthy have Progressives beat.

Call our wealthy, fundamentalist Christian, conservative legislator?

By marching? Sit ins? Get ready to be pepper-sprayed, tasered, beaten, and probably shot, jailed, sent to a private prison and enslaved.

Am I missing something here?

The last probably has the best chance, but only if it's sustained, and if it's sustained, you could expect it to go in Syria's direction, except probably slower depending on the government's degree of overreaction.

Other than these, suggest something else.


---
Response to mackattack (Original post)
Tue Mar 27, 2012, 09:19 PM
goclark (30,404 posts)
2. We have got to make this a #1 issue

That's why the Rethugs can say anything and act mean and evil.
They don't even try to get along with anyone ~ soooooooo

This is serious business!
Can't we all get along? ~ Rodney King
---
Response to mackattack (Original post)
Tue Mar 27, 2012, 09:41 PM
IDemo (12,875 posts)
4. And some believe the repubs intend to throw 2012
I don't think this type of Rovian bs is taking place across the country for no good reason.
"You can always count on the Americans to do the right thing, once they've exhausted all other options." - Winston Churchill
---
Response to mackattack (Original post)
Tue Mar 27, 2012, 10:56 PM
Iliyah (3,749 posts)
6. Women, and minorities
will be a big win for Dems!

I wouldn't be surprised that in the very near future the goppers will try to suppress the WOMEN votes.
He's a fool, he believes in the human race.
---
Response to mackattack (Original post)
Wed Mar 28, 2012, 09:42 AM
Javaman (41,849 posts)
7. Doesn't this law violate the constitution?
I'm not a lawyer or play one on tv, but this seems unconstitutional, no?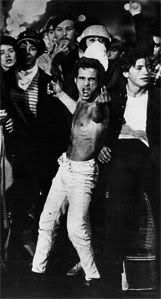 The Tea Party: The hopelessly stupid lead by the willfully corrupt.
---
Response to Javaman (Reply #7)
Wed Mar 28, 2012, 10:29 AM
mackattack (344 posts)
8. states can handle elections
as long as they allow people to vote. However this could be taken to court as a form of poll tax. Or, that it is designed to stop people of color from voting. You may have a 14th/15th amendment argument there.