Mon Nov 19, 2012, 06:44 PM
pampango (15,312 posts)
Authorities: Indy home explosion investigated as homicide
Source:
CBS
Authorities have launched a criminal homicide investigation into the house explosion that killed two people and damaged numerous homes in an Indianapolis neighborhood.
Indianapolis Homeland Security Director Gary Coons made the announcement Monday evening.
Marion County Prosecutor Terry Curry says search warrants are being executed and that official are looking for a white van that was seen in the neighborhood.
Investigators have not yet said what caused the explosion in the Richmond Hill, but city Public Safety Director Troy Riggs has said investigators believe natural gas was involved. The Longworth home was destroyed along with one owned by Monserrate Shirley.
Read more:
http://www.cbsnews.com/8301-201_162-57552100/authorities-indy-home-explosion-investigated-as-homicide/
We have learned that we cannot live alone, at peace; that our own well-being is dependent on the well-being of other nations far away. ... We have learned to be citizens of the world, members of the human community. ... We shall strive for perfection. ... We may make mistakes, but they must never be mistakes which result from faintness of heart or abandonment of moral principle.
9 replies, 2164 views
Replies to this discussion thread
| | | | |
| --- | --- | --- | --- |
| 9 replies | Author | Time | Post |
| Authorities: Indy home explosion investigated as homicide (Original post) | pampango | Nov 2012 | OP |
| | Mr. Mojo Risen | Nov 2012 | #1 |
| | Blue_Tires | Nov 2012 | #4 |
| | countryjake | Nov 2012 | #2 |
| | muriel_volestrangler | Nov 2012 | #3 |
| | Kaleva | Nov 2012 | #5 |
| | countryjake | Nov 2012 | #6 |
| | Kaleva | Nov 2012 | #8 |
| | Locrian | Nov 2012 | #7 |
| | Kaleva | Nov 2012 | #9 |
---
Response to pampango (Original post)
Mon Nov 19, 2012, 07:13 PM
Mr. Mojo Risen (96 posts)
1. Could be just a formality
But it's hard to imagine an explosion that big simply from a faulty furnace.
---
Response to Mr. Mojo Risen (Reply #1)
Tue Nov 20, 2012, 04:36 PM
Blue_Tires (34,511 posts)
4. Well, the NTSB has been looking into it
so their prelim investigation must have uncovered a few clues...
"The problem with internet quotes, especially political ones, is so many people assume them to be true without doing their own research and thinking for themselves instead of being so goddamned intellectually lazy." -George Washington
---
Response to pampango (Original post)
Tue Nov 20, 2012, 05:28 AM
countryjake (5,012 posts)
2. I was suspicious as soon as I saw that "For Sale" sign...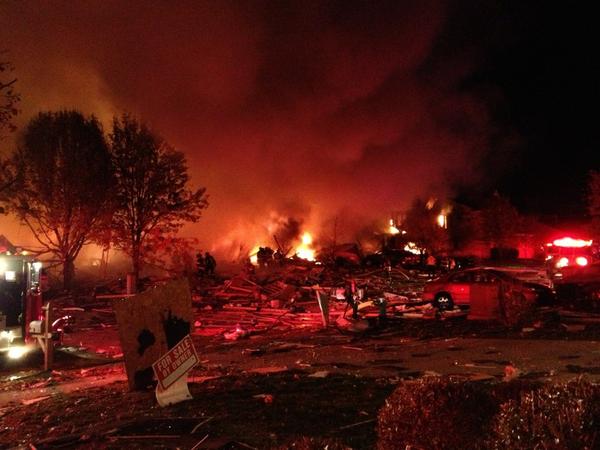 in the foreground of a pic at the site of the explosion, that the home had been "For Sale, by Owner". Then later reading several articles at the Indy Star site in which neighbors had said that the homeowner and her daughter had been staying elsewhere, while the whereabouts of a boyfriend were unknown. Hmmm...so they were out enjoying a casino, daughter safe at a friend's house, and even the cat was boarded?
And finally, one week ago, an article confirmed that Indiana real estate records showed Shirley's house had been for sale for a year until it was taken off the market in March.
If this turns out to be an insurance fraud scheme, with literally dozens of neighboring homes damaged or destroyed and an innocent young couple dying in that inferno, the co-owners of that house have a lot more to worry about than cashing in on their divorce settlement.
I hope those homicide investigators are checking to see if there were any storage units recently rented or sentimental valuables like personal items safely tucked away somewhere.
This is a very sad mystery and my sympathies go to the many who loved Jennifer and John Longworth. What a tragedy.
---
Response to pampango (Original post)
Tue Nov 20, 2012, 07:14 AM
muriel_volestrangler (68,882 posts)
3. Kick (nt)
---
Response to pampango (Original post)
Tue Nov 20, 2012, 11:01 PM
Kaleva (12,184 posts)
5. Now authorities suspect someone or some people filled the house with gas
---
Response to Kaleva (Reply #5)
Wed Nov 21, 2012, 01:08 AM
countryjake (5,012 posts)
6. ...and used remote detonation to spark the explosion.
Jeeze, this disaster is getting more malicious by the day.

I can't get over thinking about that boarded cat, now. Why stress their cat out by sticking it in a kennel to go away for a weekend? I know coincidences do often occur, but there just seem to be too many "hmmms" with this one.
---
Response to countryjake (Reply #6)
Wed Nov 21, 2012, 11:49 AM
Kaleva (12,184 posts)
8. Woman's boyfriend has a long criminal record
---
Response to pampango (Original post)
Wed Nov 21, 2012, 09:06 AM
Locrian (1,989 posts)
7. very strange
Very strange that they would board the cat.... but anything is speculation at this point. At least God may be off the hook though:


"Hopefully we will get the person or persons responsible for this and are working closely with the prosecutor," Riggs said. "It is troubling that this is a criminal act and not an act of God."
---
Response to pampango (Original post)
Sat Nov 24, 2012, 01:42 PM
Kaleva (12,184 posts)
9. Relative of man living at the home questioned by police
"Investigators have impounded a white van looking for evidence, and they've questioned two people in connection with the case.
One of them, Bob Leonard, is a relative of the man who lives in the house at the center of the explosion on Fieldfare Way."
"Shirley and her then-husband John bought the house. When the two split in 2011, Shirley got the house. No one knows when Mark Leonard moved in, but we do know that Leonard has been a resident of Indiana Department of Corrections and the Marion County Jail. He has a criminal history dating back to the 1980s."
http://www.wthr.com/story/20157406/two-questioned-in-south-side-explosion-investigation
Skinner-And then I get incredulous emails from people who are shocked, shocked that discussion of chicken -- chicken fercryinoutloud -- is not allowed. As if the discussion of chicken is something that is vitally important and that everyone is really interested in.