Thu Aug 9, 2012, 12:52 PM
UnrepentantLiberal (11,700 posts)
Syria rebels retreat under heavy Aleppo fire
Source:
Al Jazeera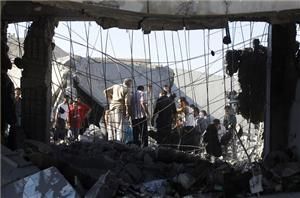 Free Syria Army commander says rebels withdrew from Saleheddin district to prepare counter-attack against military
August 9, 2012
The Syrian army has renewed its heavy shelling of rebel-held areas of Aleppo, the country's commercial capital, anti-government activists have said, forcing the armed opposition to withdraw from at least one neighbourhood.
Intense bombardment rocked the neighbourhoods of Saleheddin, Hanano, Saif al-Dawla, Shaar and Shakur on Thursday, anti-government groups have said.
The army attacks are part of the government's continuing air and ground assaults on Aleppo, which is being defended by armed members of the movement to overthrow Bashar al-Assad, the Syrian president.
The battle for the city has now raged for more than two weeks. The fighting in Aleppo has focused mainly on the neighbourhood of Salaheddin, where heavy clashes have taken place in recent days between the Free Syrian Army and government forces.
Read more:
http://m.aljazeera.com/story/20128973154112979
2 replies, 1049 views
Replies to this discussion thread
| | | | |
| --- | --- | --- | --- |
| 2 replies | Author | Time | Post |
| Syria rebels retreat under heavy Aleppo fire (Original post) | UnrepentantLiberal | Aug 2012 | OP |
| | David__77 | Aug 2012 | #1 |
| | maddezmom | Aug 2012 | #2 |
---
Response to UnrepentantLiberal (Original post)
Thu Aug 9, 2012, 10:43 PM
David__77 (15,696 posts)
1. "the government's... ASSAULTS on Aleppo, which is bring DEFENDED by...." LOLOLOL
Aleppo was at peace until it was attached by the insurgent guerrillas. Every block they occupy is otherwise a ghost town, as people flee to the police and army. The pro-insurgent propaganda organ has it precisely reversed in who they say is "attacking" and who is "defending."
---
Response to UnrepentantLiberal (Original post)
Fri Aug 10, 2012, 08:07 AM
maddezmom (133,429 posts)
2. U.K. offers more than $7 million in supplies to Syrian rebels
By David Stringer, Associated Press Updated 27m ago
LONDON – Britain's government offered $7.8 million to Syria's rebel forces Friday to pay for communications equipment and medical supplies in an effort to bolster ties to the country's opposition.
Foreign Secretary William Hague insisted that the U.K. would not supply any weapons, but confirmed the funds would pay for items including satellite phones, power generators and medical kits. He said diplomats would also intensify contacts with the political wing of the Free Syrian Army as concern grows over the country's possible fate if President Bashar Assad's regime is deposed.
Assad's crackdown on popular uprising that began in March 2011 has evolved into a full-blown civil war in Syria. Human rights activists estimate at least 19,000 people have died in the conflict.
Britain, which had previously been cautious over direct talks with Syria's rebels, fears the country could become a haven for al-Qaeda and other extremists if the international community fails to help them prepare for Assad's ouster, Hague said.
"This is not taking sides in a civil war," he wrote in an op-ed article for the Times of London published Friday. "The risk of total disorder and a power vacuum is so great that we must build relationships now with those who may govern Syria in the future."
more:
http://www.usatoday.com/news/world/story/2012-08-10/britain-aid-syrian-rebels/56928430/1
Be the heroine of your life, not the victim. - Nora Ephron