Mon Jul 30, 2012, 02:29 PM
Comrade Grumpy (5,842 posts)
As Syrian War Drags On, Jihadists Take a Bigger Role
Source:
New York Times
BEIRUT, Lebanon — As the uprising against President Bashar al-Assad's government grinds on with no resolution in sight, Syrians involved in the armed struggle say it is becoming more radicalized: homegrown Muslim jihadists, as well as small groups of fighters from Al Qaeda, are taking a more prominent role and demanding a say in running the resistance. The past few months have witnessed the emergence of larger, more organized and better armed Syrian militant organizations pushing an agenda based on jihad, the concept that they have a divine mandate to fight. Even less-zealous resistance groups are adopting a pronounced Islamic aura because it attracts more financing.
Idlib Province, the northern Syrian region where resistance fighters control the most territory, is the prime example. In one case there, after jihadists fighting under the black banner of the Prophet Muhammad staged significant attacks against Syrian government targets, the commander of one local rebel military council recently invited them to join. "They are everywhere in Idlib," said a lean and sunburned commander with the Free Syrian Army council in Saraqib, a strategic town on the main highway southwest from Aleppo. "They are becoming stronger, so we didn't want any hostility or tension in our area."
Tension came anyway. The groups demanded to raise the prophet's banner — solid black with "There is no god but God" written in flowing white Arabic calligraphy — during the weekly Friday demonstration. Saraqib prides itself in its newly democratic ways, electing a new town council roughly every two months, and residents put it to a vote — the answer was no. The jihadi fighters raised the flag anyway, until a formal compromise allowed for a 20-minute display.
In one sense, the changes on the ground have actually brought closer to reality the Syrian government's early, and easily dismissible, claim that the opposition was being driven by foreign-financed jihadists.
Read more:
http://www.nytimes.com/2012/07/30/world/middleeast/as-syrian-war-drags-on-jihad-gains-foothold.html?nl=todaysheadlines&emc=edit_th_20120730
---
I saw the black Al Qaeda flag being waved north of Aleppo in a CNN report today. CNN said nothing about that.
I saw CBS's Clarissa Roberts in rebel territory a couple of days ago. She was dressed in the full-on chador. She didn't mention her attire, or how it differed from what women wear in Damascus.
Boy, talk about your inconvenient truths...
11 replies, 2030 views
Replies to this discussion thread
| | | | |
| --- | --- | --- | --- |
| 11 replies | Author | Time | Post |
| As Syrian War Drags On, Jihadists Take a Bigger Role (Original post) | Comrade Grumpy | Jul 2012 | OP |
| | Comrade Grumpy | Jul 2012 | #1 |
| | David__77 | Jul 2012 | #2 |
| | may3rd | Jul 2012 | #3 |
| | Dokkie | Jul 2012 | #4 |
| | Igel | Jul 2012 | #5 |
| | PufPuf23 | Jul 2012 | #6 |
| | bemildred | Jul 2012 | #7 |
| | samsingh | Jul 2012 | #8 |
| | pampango | Jul 2012 | #9 |
| | riderinthestorm | Jul 2012 | #11 |
| | Comrade Grumpy | Jul 2012 | #10 |
---
Response to Comrade Grumpy (Original post)
Mon Jul 30, 2012, 03:54 PM
Comrade Grumpy (5,842 posts)
1. Hello? I see the Syrian government claims to have cleared Salaheddin.
And Al-Jazeera's live blog has tweets about how Aleppo residents are criticizing the FSA for getting their neighborhoods destroyed.
---
Response to Comrade Grumpy (Original post)
Mon Jul 30, 2012, 03:57 PM
David__77 (15,696 posts)
2. al Qaeda is very active in the anti-Assad opposition.
Their flags have been seen in many places, but, more importantly, they have increasing numbers in their ranks.

I do not understand why this reporter thinks the early Syrian government claims were "easily dismissible." They were credible from the start.
---
Response to Comrade Grumpy (Original post)
Mon Jul 30, 2012, 09:14 PM
may3rd (593 posts)
3. Al-Qaida turns tide for rebels in battle for eastern Syria. chickens come home to roost
....
They try to hide their presence. "Some people are worried about carrying the flags," said Abu Khuder. "They fear America will come and fight us. So we fight in secret. Why give Bashar and the west a pretext?" But their existence is common knowledge in Mohassen. Even passers-by joke with the men about car bombs and IEDs.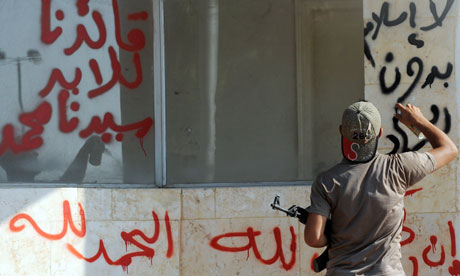 ...
"When we attacked the base with the FSA we tried everything and failed," said Abu Khuder. "Even with around 200 men attacking from multiple fronts they couldn't injure a single government soldier and instead wasted 1.5m Syrian pounds on firing ammunition at the walls."
Then a group of devout and disciplined Islamist fighters in the nearby village offered to help. They summoned an expert from Damascus and after two days of work handed Abu Khuder their token of friendship: a truck rigged with two tonnes of explosives.
....
"The Free Syrian Army has no rules and no military or religious order. Everything happens chaotically," he said. "Al-Qaida has a law that no one, not even the emir, can break.
"The FSA lacks the ability to plan and lacks military experience. That is what can bring. They have an organisation that all countries have acknowledged.
"In the beginning there were very few. Now, mashallah, there are immigrants joining us and bringing their experience," he told the gathered people. "Men from Yemen, Saudi, Iraq and Jordan. Yemenis are the best in their religion and discipline and the Iraqis are the worst in everything – even in religion."
.....
....the village of Shahail, 50 miles west of Mohassen, has become the de facto capital of al-Qaida in Deir el-Zour. More than 20 of its young men were killed in Iraq. In Shahail the al-Qaida fighters drive around in white SUVs with al-Qaida flags fluttering.
....
"
Are they good fighters?"
the question rhetorically thrown into the room. "Yes, they are, but they have a problem with executions.
They capture a soldier and they put a pistol to his head and shoot him. We have religious courts and
we have to try people before executing them.
This abundance of killing is what we fear. We fear they are trying to bring us back to the days of Iraq and we have seen what that achieved."
Osama had told me that his group was very cautious about not repeating the Iraq experience – "they admit they made a lot of mistakes in Iraq and they are keen to avoid it", he said – but others, including a young doctor working for the revolution, were not convinced.
The opposition needed to admit Al-Qaida were among them, and be on their guard.

"Who kidnapped the foreign engineers who worked in the nearby oilfield?" he asked. "They have better financing than the FSA and we have to admit they are here.

"They are stealing the revolution from us and they are working for the day that comes after."

http://www.guardian.co.uk/world/2012/jul/30/al-qaida-rebels-battle-syria
---
Response to may3rd (Reply #3)
Mon Jul 30, 2012, 09:29 PM
Dokkie (1,688 posts)
4. wow
I wonder what they told these rebel monsters to motivate then to attack Syria. Maybe they told em, Assad is hiding the spawn of all Jewish people and killing her would be the end to the Jewish people or maybe they would get a chance to exterminate all non Muslim and secular Arabs in the whole of Syria.
I would love to see the look on their faces when they realize they have been had
---
Response to Dokkie (Reply #4)
Tue Jul 31, 2012, 12:12 AM
Igel (19,054 posts)
5. It's always surprising.
I was at a meeting when a teacher said that the current crop of high school students are amazing. We old fuddy-duddy science teachers want them to memorize all kinds of stuff when they're masters and googling. Why know something when it's immediately knowable.

Iraq taught us some things. About the distinction between Sunni and Shi'ite Islam. About the Sufi overlay to both. About Salafism and its distribution in Iraq and neighboring countries and any ties with politics. About the relationship between Salafism and Wahhabism. About any relationship between Salafism and al-Qa'ida. It also pointed to the influence of clan and tribe in Arab society, even in a country allegedly as modern as Iraq. Part of the recidivism in Iraq was because Saddam openly pushed for Sunni Islam as a counterweight to Shi'ism, for tradition as a way to unify the tribes, and for tribal affiliation to trump national affiliation in Sunni areas as a way to keep everybody both proud and just a little off center.

Now that it's Syria, we fail to generalize and carry knowledge over to a new class.

Pertinent points. The border between Syria and Iraq is pointless. Syria was a large source of weapons in Iraq for a while. When the US pushed fighters up the river valleys, they went into Syria. A lot of refugees from the Sunni areas--relatives of the Salafist fighters--went to refugee camps near the border and elsewhere. The tribes don't care about borders: They've ignored borders for a thousand years. Now that there's fighting in Syria, those Salafi who wanted to be jihadis can make the same trip all over again.

AQ and Salafism aren't exactly the same. But if you try to find differences, you'll find that they're not very large at all. AQ is militancy built on a strain of Salafism; it's militancy's directed in a specific direction. In Iraq, they overlapped fairly well. Same in Syria. More Sunni versus Shi'ite, traditionalist versus a modernizing London-educated English-speaking quasi-foreigner. Assad tried to play the Jew card to say, "Look, it's us Arabs against the Jews." It got him nothing. Israel's not a pressing threat, and the internal divisions matter more. (Now, if you want to dispose of the civil war in about 30 minutes. just have the IDF invade SW Syria.)

We learned a little about the distribution of Salafism. al-Zarqawi is a case in point. He bore his town's name. It means "from Zarqa" (meaning 'blue', IIRC), which is a place in Jordan. A sort of Salafist hotbed. But Salafist doesn't need to mean "jihadi," so that's not obligatorily a bad thing. Places in Syria are the same--same sort of desert-y traditions now settled in towns. It's probably safe to assume that Salafism spreads up the rivers into Syria--as far as Aleppo, maybe, but we know that Aleppo's history in the mid-1800s was one of pogroms whenever Xians won a battle against the caliphate. But Salafism certainly extends up from Jordan to Dar'a. From history we know Hamah has been a hotbed of Salafism. It's hard to learn much about Salafism's distribution because of this "there's just a single Islam" drivel and because if you're going to note a distinction it'll be between Shi'ism (of whatever type, including the divergent Alawite) and Sunnism. However, we westerns think that everybody's obsessed with ethnicity so all the maps of Syria just show "Arab" versus "Kurdish" versus "Circassian" or "Turkoman"--obscured little imported ethnicities, thanks to the Turkish penchant for splitting up and resettling peoples.

Now you can ask some guiding questions: "What could possibly motivate AQ to be in Syria? To what extent will it consist of only foreign fighters? Might there be a local component as well? What might motivate locals to team up with AQ? In that kind of a context, what would AQ's goals be? What would an AQ flag mean?"
Une fois, par un minuit lugubre, tandis que je m'appesantissais, faible et fatigué,/ sur maint curieux et bizarre volume de savoir oublié - tandis que je dodelinais la / tête, somnolant presque: soudain se fit un heurt, comme de quelqu'un frappant / doucement, frappant à la porte de ma chambre - cela seul et rien de plus.
---
Response to Igel (Reply #5)
Tue Jul 31, 2012, 01:19 AM
PufPuf23 (3,707 posts)
6. Thank you for smart post. nt
Last edited Tue Jul 31, 2012, 01:22 AM - Edit history (1)
rec because of this post and we should be paying attention to Syria and the ME.


---
Response to Igel (Reply #5)
Tue Jul 31, 2012, 07:55 AM
bemildred (71,283 posts)
7. +1.
Not a pretty picture, probably very little government control in large regions of the country, lots of battle hardened jihadis from other conflicts, lots of outside players willing to "help" with logistics and whatnot; is this what they mean when they talk about war spreading to neighboring areas?
"Owning property is like driving, it's a privilege, not a right."
---
Response to Comrade Grumpy (Original post)
Tue Jul 31, 2012, 09:38 AM
samsingh (10,599 posts)
8. a jihidist gov will be worse for the world
---
Response to Comrade Grumpy (Original post)
Tue Jul 31, 2012, 10:49 AM
pampango (15,300 posts)
9. No AQ in Iraq until we invaded causing a civil war. No AQ in Syria until Assad caused a civil war.
The "Assad" strategy for dealing with massive protests is something all dictators should learn.
1: When massive peaceful protests occur, repress them as them as violently as you can get away with - snipers, tanks, artillery, arrests, torture, etc.
2. Sometimes repression works to quell the protests. (It's why dictators frequently stay in power so long or inherit their positions from their fathers like in Syria and North Korea.) If repression works, reward your military and security services and go back to being a dictator.
3. If #1 doesn't work right away and massive peaceful protests continue, keep up the repression. (You have to come up with a strategy to keep the international community at bay. If you already have a powerful international patron, you may be OK. If not you had better find one.) Start talking about the presence of "criminal gangs" or "terrorists" among the protestors. There may not be any yet, but it's good to get the talking point out there for future use.
4. If, after many months, your military and security forces continue to prove to be ineffective in suppressing dissent, don't worry. Do not stop the armed repression. (As a dictator, the military and security forces are all you have going for you. Peaceful negotiations are a trap. Your assets - the army and internal security forces - cannot help you there.) Eventually frustration will build up among factions of the protesters and some will become willing to resort to violence given the apparent futility of peaceful protest. (You will also lose some of your common soldiers to defection. Many of them will not understand that they signed up to protect you not the country.) Or outside groups (like AQ) will begin to take advantage of these frustrations.
5. At this point you can unleash your military and security forces to the full extent and hope you don't lose the civil war you have created. Keep in mind that civil wars are very messy affairs. Be sure to keep you international patron happy.
We have learned that we cannot live alone, at peace; that our own well-being is dependent on the well-being of other nations far away. ... We have learned to be citizens of the world, members of the human community. ... We shall strive for perfection. ... We may make mistakes, but they must never be mistakes which result from faintness of heart or abandonment of moral principle.
---
Response to pampango (Reply #9)
Tue Jul 31, 2012, 04:02 PM
riderinthestorm (14,039 posts)
11. Syria's "peaceful revolution" was never as benign or homegrown as you portray.
From the beginning Syria had powerful shadow elements (the US, Turkey, Iran, even Israel besides the obvious Russian influence) maneuvering "protesters", arms and disruption. That has only intensified over the many months.

Its far too simplistic to lay all the blame at Assad's feet. He has a point - Syria has become the nexus point of too many other regional influences and foreign actors are operating behind the scenes in this conflict.
"Religion is regarded by the common people as true, by the wise as false and by the rulers as useful". Attributed to Seneca the Younger, Roman Philosopher.
---
Response to Comrade Grumpy (Original post)
Tue Jul 31, 2012, 01:49 PM
Comrade Grumpy (5,842 posts)
10. "Al Qaeda Turns Tide for Rebels in Battle for Eastern Syria"
http://www.guardian.co.uk/world/2012/jul/30/al-qaida-rebels-battle-syria
As they stood outside the commandeered government building in the town of Mohassen, it was hard to distinguish Abu Khuder's men from any other brigade in the Syrian civil war, in their combat fatigues, T-shirts and beards.
But these were not average members of the Free Syrian Army. Abu Khuder and his men fight for al-Qaida. They call themselves the ghuraba'a, or "strangers", after a famous jihadi poem celebrating Osama bin Laden's time with his followers in the Afghan mountains, and they are one of a number of jihadi organisations establishing a foothold in the east of the country now that the conflict in Syria has stretched well into its second bloody year.
They try to hide their presence. "Some people are worried about carrying the flags," said Abu Khuder. "They fear America will come and fight us. So we fight in secret. Why give Bashar and the west a pretext?" But their existence is common knowledge in Mohassen. Even passers-by joke with the men about car bombs and IEDs.
According to Abu Khuder, his men are working closely with the military council that commands the Free Syrian Army brigades in the region. "We meet almost every day," he said. "We have clear instructions from our leadership that if the FSA need our help we should give it. We help them with IEDs and car bombs. Our main talent is in the bombing operations." Abu Khuder's men had a lot of experience in bomb-making from Iraq and elsewhere, he added.
<snip>
More at link.