Tue Jun 19, 2012, 04:06 AM
UnrepentantLiberal (11,700 posts)
My daughter's two dads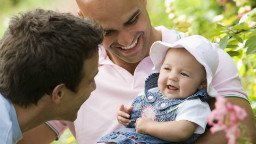 By Rose Arce
CNN
June 18, 2012
On Father's Day our daughter's papa was at the beach.
Not just any beach but that New York Mecca for wealthy, sun-tanned gay party boys called Fire Island. Luna, our daughter, was with her two mommies adoringly decorating a ceramic plate to celebrate their day. "I Love Papa and Daddy," she painted on their gift.
Rene and Dan were there for her first words and steps. They get to watch her blow out years of birthday candles and play cute for the camera when holiday photos come around. They get to revel in the unconditional love between father and child. But their fatherhood comes without months of diaper changing, years of sleep deprivation, shut down social lives and hours lost to temper tantrums. There are no piles upon piles of bills for clothes and sitters and school.
This daddy windfall came their way about eight years ago when my partner, Maria, and I decided to search for a male friend to make it possible for our two-gal family to make a baby. Rene was our first and only choice.
We had met him playing volleyball and devoted entire weekends on Fire Island to refining our skills in the sand and chugging a rainbow of chilly alcoholic drinks. We'd had a blast with this guy. We had wanted someone who is Latino, like us, fun and handsome and smart, loving and kind. We wanted a guy who loved children and understood the importance of having a father in your life but wasn't looking to play that role full-time.
More:
http://us.cnn.com/2012/06/18/living/gay-fathers-lesbian-mothers/index.html?c=&page=0
4 replies, 1062 views
Replies to this discussion thread
| | | | |
| --- | --- | --- | --- |
| 4 replies | Author | Time | Post |
| My daughter's two dads (Original post) | UnrepentantLiberal | Jun 2012 | OP |
| | RKP5637 | Jun 2012 | #1 |
| | Cerridwen | Jun 2012 | #2 |
| | Paula12 | Jun 2012 | #3 |
| | UnrepentantLiberal | Jun 2012 | #4 |
---
Response to UnrepentantLiberal (Original post)
Tue Jun 19, 2012, 05:17 AM
RKP5637 (27,057 posts)
1. K&R !!! n/t
I believe in fairness, equality and equal opportunity! And, live and let live!
---
Response to UnrepentantLiberal (Original post)
Tue Jun 19, 2012, 07:44 AM
Cerridwen (12,434 posts)
2. Kick and Recommend!
Last edited Wed Jun 20, 2012, 11:06 PM - Edit history (1)
What a great story!


There are two kinds of humor. One kind that makes us chuckle about our foibles and our shared humanity... The other kind holds people up to public contempt and ridicule... Satire is traditionally the weapon of the powerless against the powerful. I only aim at the powerful. When satire is aimed at the powerless, it is not only cruel -- it's vulgar. ~Molly Ivins
---
---
Response to UnrepentantLiberal (Original post)
Tue Jun 19, 2012, 10:52 AM
UnrepentantLiberal (11,700 posts)
4. Shamelessly bumping my own thread.