Tue May 8, 2012, 07:53 PM
WillyT (50,654 posts)
JPMorgan Chase Whistleblower: 'Essentially Suicide' To Stand Up To Bank - HuffPo
JPMorgan Chase Whistleblower: 'Essentially Suicide' To Stand Up To Bank
Loren Berlin - HuffPo
Posted: 05/07/2012 6:41 pm Updated: 05/08/2012 12:00 am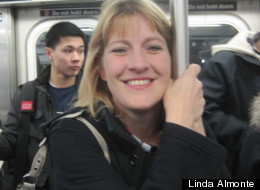 Linda Almonte has filed a whistleblower claim
after exposing what she calls fraud at JPMorgan Chase.
<snip>
When Linda Almonte alerted her boss at JPMorgan Chase about potential fraud in a major deal she was helping to close, she expected him to applaud her great catch.

Instead, he fired her.

"We went down fast," said Almonte, 41, about her family. She had been making $100,000 a year as a division vice president at Chase, enough to support her stay-at-home husband, their four kids, ages 12 to 22, and rent a three-bedroom house in San Antonio, Texas.

Her move at Chase amounted to "essentially suicide," Almonte told The Huffington Post. No bank in town would hire her after word spread that she had stood up to the banking giant, she said.
After more than a year of fruitless job hunting, Almonte and her family left town, landing at a hotel near Disney World, paying $300 a week for a two-bedroom with a kitchenette.
Almonte enrolled her children in a federal program for homeless kids so that they wouldn't have to switch schools if the family had to leave the hotel. Her father joined them to help out and they survived on her father's $2,700 monthly combined Social Security and disability payments.
Her fate is far from unusual. "Employees get fired all the time for blowing the whistle," said Dana Gold, a senior fellow at the Government Accountability Project, a nonprofit organization that advocates for whistleblowers. "We see it so much," Gold said. "It's a predictable phenomenon."

To help compensate for such risks, 2010's Dodd-Frank financial regulatory law offers incentives to sweeten the pot for some whistleblowers. While Gold and other employee advocates applaud the new provisions, neither Almonte nor any of the hundreds of other whistleblowers who have filed complaints under the new program have received a payout for their information. Instead these informants, who have risked their careers, wait to learn whether they will receive millions in government awards or nothing.
<snip>
More:
http://www.huffingtonpost.com/2012/05/07/linda-almonte-jpmorgan-chase-whistleblower_n_1478268.html?ref=business
Oh, and Linda ???

3 replies, 839 views
Replies to this discussion thread
| | | | |
| --- | --- | --- | --- |
| 3 replies | Author | Time | Post |
| JPMorgan Chase Whistleblower: 'Essentially Suicide' To Stand Up To Bank - HuffPo (Original post) | WillyT | May 2012 | OP |
| | marmar | May 2012 | #1 |
| | Ruby the Liberal | May 2012 | #2 |
| | WillyT | May 2012 | #3 |
---
Response to WillyT (Original post)
Tue May 8, 2012, 07:56 PM
marmar (63,450 posts)
1. There are always consequences when you tell on the Mob bosses.
nt


"For to be free is not merely to cast off one's chains, but to live in a way that respects and enhances the freedom of others." -- Nelson Mandela
---
Response to WillyT (Original post)
Tue May 8, 2012, 07:56 PM
Ruby the Liberal (24,308 posts)
2. Excellent move taking this to the press.
I hope her story gets larger national coverage.
---
Response to Ruby the Liberal (Reply #2)
Tue May 8, 2012, 10:00 PM
WillyT (50,654 posts)
3. Me Too !!!