Wed Apr 25, 2012, 12:27 PM
bigtree (50,901 posts)
Ready for the Fight: Rolling Stone Interview with Barack Obama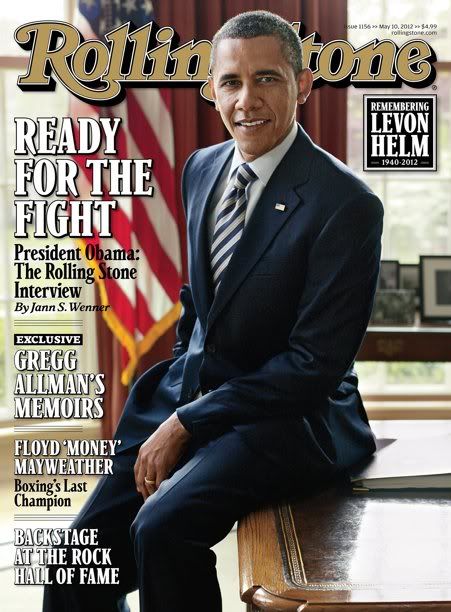 (Mark Seliger)
By Jann S. Wenner
April 25, 2012
WE arrived at the White House on Easter Monday, the South Lawn overrun by children and their parents enjoying the annual Easter Egg Roll. This was the fourth time in the past four years that we had sat down for an extensive interview with Barack Obama, but the tenor and timing were markedly different than the previous conversations. This time he was focused on the campaign, his thinking dominated by the upcoming battle for a second term.
The president was more somber than in our past interviews – and less inclined to depart from the handful of themes he had been concentrating on in recent weeks. He avoided discussing Mitt Romney, even when asked a direct question, and focused primarily on the very real constraints he operates under as president, from the intransigence of Congress to the dilemma of America's anti-drug laws. He also seemed intent on summing up the arguments he'll soon be taking out on the campaign trail, making clear that he plans to run on his remarkable record of accomplishments: extending health insurance to 32 million Americans, staving off a major economic collapse, rescuing the auto industry, reforming student loans, ending discrimination against gay soldiers, pulling U.S. troops out of Iraq, killing Osama bin Laden, and passing one of the largest middle-class tax cuts in history.
The hourlong discussion was the longest and most substantive interview the president has granted in over a year. When executive editor Eric Bates and I joined him in the Oval Office, he began by signaling his staff to push back his schedule. "Just call Secretary Clinton's office and tell her we're going to be about 10 minutes late," he said . . .
After the interview ended, we found Hillary sitting in a small chair, scrunched between the desk of Obama's secretary and the door to the Oval Office. The two former rivals now seem completely at ease with each other. Clinton joked about the popularity of the fake Tumblr site Texts From Hillary Clinton, and Obama began to air-thumb an imaginary text. "See, I'm hip," he said with a laugh.
read interview:
http://www.rollingstone.com/politics/news/ready-for-the-fight-rolling-stone-interview-with-barack-obama-20120425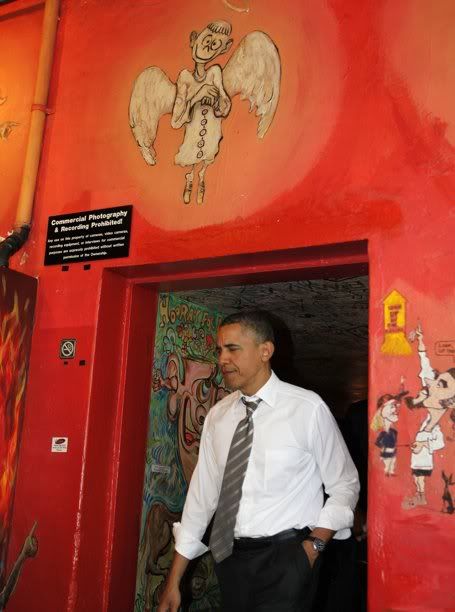 President Obama stops at The Sink restaurant before driving to the University of Colorado at Boulder in Colorado, April 24, 2012.
REUTERS/Larry Downing
2 replies, 677 views
Replies to this discussion thread
| | | | |
| --- | --- | --- | --- |
| 2 replies | Author | Time | Post |
| Ready for the Fight: Rolling Stone Interview with Barack Obama (Original post) | bigtree | Apr 2012 | OP |
| | ProSense | Apr 2012 | #1 |
| | bigtree | Apr 2012 | #2 |
---
Response to bigtree (Original post)
Wed Apr 25, 2012, 01:18 PM
ProSense (108,246 posts)
1. Thanks for posting. n/t
...the American story is one of perfectibility and striving for ever-greater fidelity to our ideals -- it is a journey from colony to republic, from slavery to freedom, from sexism to suffrage, from stark poverty to shared prosperity.
---
Response to ProSense (Reply #1)
Wed Apr 25, 2012, 02:28 PM
bigtree (50,901 posts)
2. my pleasure, ProSense