Sun Apr 22, 2012, 09:15 PM
annm4peace (5,689 posts)
MN's DFL Sen Amy Klobuchar ignores MN citizens imploring for peace and No War with Iran
Last edited Sun Apr 22, 2012, 09:20 PM - Edit history (1)
http://www.huffingtonpost.com/coleen-rowley/barbara-lee-was-right-amy_b_1441620.html
Barbara Lee turned out to be 100% right about the wrongful wars launched on Afghanistan and Iraq and she's certainly right to try and stop an even more catastrophic and illegal pre-emptive war on Iran!
In the last month, "No War on Iran "groups in Minnesota have personally visited the district offices of Congresspersons Betty McCollum, John Kline, Keith Ellison, Tim Walz and Chip Cravaack as well as Senator Franken's office. Groups have delivered the message (in the form of postcards and petitions) that constituents naturally and overwhelmingly favor diplomacy over pre-emptive war on Iran .
Unfortunately, despite peace groups imploring Senator Klobuchar not to sign the Graham-Lieberman-Casey Resolution (S.R. 380) that basically curtails diplomatic efforts and makes war the only option and despite the obvious actions of John McCain, Joe Lieberman and Lindsey Graham (nicknamed the "three Amigos") attempting to undercut Obama's foreign policy and institute their own, Klobuchar went ahead and signed their pro-war resolution in the first week of April.
68 Senators have signed SR 380 thus far and as Kate Gould of the Friends Legislative Committee explains in the excellent article below, the Senate was poised to even further undercut the recent promising talks with Iran .
We have postcards and petitions for anyone interested in signing or participating in further efforts to take this message to Representatives Colin Peterson, Eric Paulsen and Michele Bachmann.
We have thanked Betty McCollum and Keith Ellison as being among the 21 House Reps who have signed Barbara Lee's Resolution for diplomacy not war.
We have also requested Senator Franken to hold a town hall or panel discussion on these issues and we understand his office is considering doing so. By the way, Sen. Franken has thankfully not signed the Graham-Lieberman-Casey Senate Resolution 380.
Despite Klobuchar's having aligned herself with the Lieberman-Graham-McCain pro-war side, we still need to deliver the petition signatures that have already been collected for her. (Perhaps the delivery will be combined with a protest outside her office?)
More public protest and citizen input might make Klobuchar feel more constrained in promoting war and thus exhibiting her "unbreakable bond" with the pro-war Likud faction that currently governs Israel .
** The hypocrisy of her stump speeches and campaign positions regarding child safety issues is jaw dropping considering her callousness to the deaths of Iraqi, Afghan and now potentially of Iranian children but it is also reminiscent of Madeleine Albright's response that US sanctions on Iraq (in the late 90's) that took the lives of an estimated half million children "was worth it".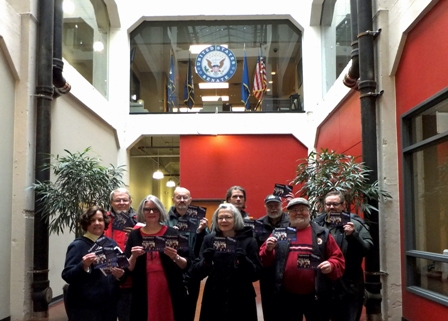 If you would like to contact Amy and ask her why it is ok to kill millions of children in other countries (that is my input)
Sen Amy Klobuchar
Washington, DC
302 Hart Senate Office Building
Washington, DC 20510
phone: 202-224-3244
http://klobuchar.senate.gov/emailamy.cfm
fax: 202-228-2186
7 replies, 1529 views
Replies to this discussion thread
| | | | |
| --- | --- | --- | --- |
| 7 replies | Author | Time | Post |
| MN's DFL Sen Amy Klobuchar ignores MN citizens imploring for peace and No War with Iran (Original post) | annm4peace | Apr 2012 | OP |
| | RobertEarl | Apr 2012 | #1 |
| | gleannfia | Apr 2012 | #2 |
| | annm4peace | Apr 2012 | #3 |
| | dflprincess | Apr 2012 | #4 |
| | annm4peace | Apr 2012 | #5 |
| | dflprincess | May 2012 | #6 |
| | annm4peace | May 2012 | #7 |
---
Response to annm4peace (Original post)
Sun Apr 22, 2012, 09:20 PM
RobertEarl (5,039 posts)
1. They want war?
I say we give them a battle that makes war on their warmongering.

68 Senators who want to derail diplomacy? Is Hagan of NC on that list? She better hope not.
---
---
Response to gleannfia (Reply #2)
Sun Apr 22, 2012, 09:40 PM
annm4peace (5,689 posts)
3. Awesome
---
Response to annm4peace (Original post)
Sun Apr 22, 2012, 10:00 PM
dflprincess (20,066 posts)
4. Hardly surprising coming from Klobuchar
Last edited Sun Apr 22, 2012, 10:11 PM - Edit history (1)
I never expected much from her, but she's turned out to be far worse than what I imagined and I don't know how I'll bring myself to vote for her in November no matter how bad whatever Republican runs against is.

Is it too late to find someone to run against her in the primary?

I'll send an email - not that it will do any good - her staff only wants to hear from people who agree with her, but it will be interesting to see what kind of non-response response they send out for this one.

If we don't fight hard enough for the things we stand for, at some point we have to recognize that we don't really stand for them.--Paul Wellstone
---
Response to dflprincess (Reply #4)
Sun Apr 22, 2012, 11:28 PM
annm4peace (5,689 posts)
5. i agree
I just couldn't stomach being in the DFL this year and partly because of Klobuchar.

I don't know if anyone is running against her but they way the party seems to be going I doubt it.

so many peace activists have dropped out of the DFL party and like me they were involved in the caucus.


---
Response to annm4peace (Original post)
Sat May 5, 2012, 10:10 PM
dflprincess (20,066 posts)
6. I received a response from Amy-kins Thursday
Note she never mentions the Graham-Lieberman-Casey "Anti-Containment" Senate Resolution (S.R. 380) which was mentioned in the article in Huffington Post & I mentioned in my email to her. And, despite referencing other House Resolutions she ignored my question about whether or not she supported Barbara Lee's H.R. 4173.


I believe Iran's present course of action represents a threat to the United States, our allies in the Middle East, and the international community. Iran has defied repeated demands from the United Nations Security Council to stop enriching nuclear fuel and to fully disclose all information regarding its nuclear program. Compelling Iran to abandon its support for terrorism, promote the rights of its citizens, and terminate its nuclear enrichment program is critical to meeting the goal of long-term stability in the Middle East and around the world.

I have long supported using all diplomatic, economic, and political tools available to press Iran to cooperate with the international community. That is why I voted to support H.R. 2194, the Comprehensive Iran Sanctions, Accountability, and Divestment Act of 2010, which was signed into law on July 1, 2010. This law expands sanctions against Iranian financial institutions as well as the crucial imports of gasoline, related fuels, and other services that facilitate the production of gasoline. I am also a cosponsor of S. 1048, the Iran, North Korea, and Syria Sanctions Consolidation Act of 2011. This bill would tighten restrictions on Iran by sanctioning affiliates of the Revolutionary Guard, foreign firms that participate in energy-related joint ventures with Iran, and any providers or purchasers of militarily useful equipment to or from Iran. Unlike H.R. 1905, a bill in the House of Representatives, S. 1048 does not prohibit diplomatic communication between U.S. and Iranian officials. S.1048 also contains provisions aimed at supporting the efforts of Iranian human rights activists.

Again, thank you for taking the time to contact me. One of the most important parts of my job is listening to what the people of Minnesota have to say to me. I am here in our nation's capital to do the public's business and to serve the people of our state. I hope you will contact me again about matters of concern to you.

Sincerely,
Amy Klobuchar
United States Senator

If we don't fight hard enough for the things we stand for, at some point we have to recognize that we don't really stand for them.--Paul Wellstone
---
Response to annm4peace (Original post)
Sat May 5, 2012, 10:57 PM
annm4peace (5,689 posts)
7. I can't stand her
she does not care her votes cause the death of innocents.