Thu Mar 22, 2012, 04:04 AM
pinboy3niner (32,361 posts)
U.S. drilling won't lower gas prices, study shows
Source:
AP
Thursday, March 22, 2012
Washington --
It's the political cure-all for high gas prices:
Drill here, drill now. But more U.S. drilling has not changed how deeply the gas pump drills into your wallet, according to an Associated Press statistical analysis of 36 years of data.
Political rhetoric about the blame over gas prices and the power to change them - whether Republican claims now or Democrats' charges four years ago - is not supported by cold, hard figures. And that's especially true about oil drilling in the United States. More oil production in the United States does not mean consistently lower prices at the pump.
...
"
Drill, baby, drill has nothing to do with it
," said Judith Dwarkin, chief energy economist at ITG investment research. Two other energy economists said the same thing and experts in the field have been making that observation for decades.
The statistics directly contradict the title of GOP presidential candidate Newt Gingrich's 2008 book "Drill Here, Drill Now, Pay Less," as well as the campaign-trail claims from the GOP presidential candidates.
...
http://www.sfgate.com/cgi-bin/article.cgi?f=/c/a/2012/03/22/MNE51NO6PT.DTL
"Sometimes I wonder whether the world is being run by smart people who are putting us on or by imbeciles who really mean it." -- Mark Twain
6 replies, 1017 views
Replies to this discussion thread
| | | | |
| --- | --- | --- | --- |
| 6 replies | Author | Time | Post |
| U.S. drilling won't lower gas prices, study shows (Original post) | pinboy3niner | Mar 2012 | OP |
| | Cali_Democrat | Mar 2012 | #1 |
| | liberal N proud | Mar 2012 | #2 |
| | shawn703 | Mar 2012 | #3 |
| | kaffy4x4 | Mar 2012 | #4 |
| | Javaman | Mar 2012 | #5 |
| | badtoworse | Mar 2012 | #6 |
---
Response to pinboy3niner (Original post)
Thu Mar 22, 2012, 04:09 AM
Cali_Democrat (18,235 posts)
1. This is impossible
Last edited Thu Mar 22, 2012, 04:11 AM - Edit history (2)
The Republicans said that more drilling will lead to $2 dollar gasoline in no time. Surely the GOP wouldn't try to bullshit the American people for political gain, would they? They have every intention of telling Americans the truth, right?

---
Response to pinboy3niner (Original post)
Thu Mar 22, 2012, 05:55 AM
liberal N proud (45,407 posts)
2. Duh!
Some cannot tolerate when others do not agree with them. This problem is the underlying cause of most conflicts. A little tolerance goes along way to making the world fit together.
---
Response to pinboy3niner (Original post)
Thu Mar 22, 2012, 07:04 AM
shawn703 (2,055 posts)
3. When have facts mattered to Repubs or Fox?
Facts just get in the way. Who needs them when you can make shit up nearly half the country will believe it?
---
Response to pinboy3niner (Original post)
Thu Mar 22, 2012, 07:05 AM
kaffy4x4 (49 posts)
4. Drilling permits in the US and Gulfs
run into the thousands already. The problem isn't that there isn't enough oil, it's refineries and the cost of refining oil. Oil companies world wide don't want to increase the refineries because it would bring down the cost of oil. Don't fall for the story about "not enough oil" there is plenty out there, just hard to get and even harder to refine.
---
Response to pinboy3niner (Original post)
Thu Mar 22, 2012, 10:54 AM
Javaman (41,886 posts)
5. The best part about the argument in regards to drilling more is...
from the time it takes to test to output is at least 7 years. Plus, and this is a big plus, just because someone has a lease on a piece of land to drill doesn't mean there is oil on that land.

If you ever meet someone in the oil industry, ask them sometime how many test exploration drills they conduct against how many are actual producers. It's a gigantic ratio.

the repukes can drill all they want, but it doesn't guarentee that there will be oil.

Amazingly, we are drilling and producing more oil now, under Obama, than when moron* was in power.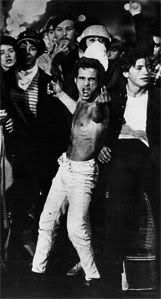 The Tea Party: The hopelessly stupid lead by the willfully corrupt.
---
Response to pinboy3niner (Original post)
Thu Mar 22, 2012, 11:04 AM
badtoworse (4,015 posts)
6. You're right. Let's keep buying our crude from people who hate us and want to kill us...
...instead of producing it domestically and employing people at home. Price is not the only reason to drill here.