Mon Dec 19, 2011, 10:21 AM
Javaman (41,909 posts)
My 35,000th post...and a few extra....
(I didn't realize I blew through the threshold of 35K until I checked this morning)

Well well well. 35K posts. That's a lot of words. Some useful, some lame, some wasted and some just plain WTF?

I have made some great online friends here over the years. I also have really pissed off a number of people over the years. And a number of you are reading this and thinking, "who the fuck is this guy?"

DU saved my mental state back in '04. Back then, before I joined DU, I was writing a weekly blog entitled Javarants via an unknown blog. I found that while screaming into cyber space helped me vent my frustration at the then current state of things, it didn't give me the feeling of community or the back and forth I realized I desperatedly wanted.

While I haven't been here since it's inception, I have been here long enough to experience the DU evolution.

Classic threads come to mind, classic members come to mind. Some great laughs, some truly memorable rantrums. (some of which were my own).

Through it all, DU really had provided me with a way to connect with like minded folks who really were scared at the direction our nation was going.

I have posted many a rant, editorial and opinion over the years (most, if not all can be found my old DU journal), dealing with the poor, energy issues, climate change and the general insanity that had and still grips our nation.

I wish to thank all of the DU community. To the big guys: Skinner, Earl, Elad, to the mods (old term), the the passionate members of DU, thank you.

Sincerely, Thank you.

As on my 30 thousandth posting, I will be taking a step back. I won't be posting nearly as much anymore. I'm finding that the time and energy I devote to DU can be used in more productive areas of my life. I may still post one of my rants or editorials from time to time and will continue to troll the headlines, but I will be less actively involved with DU.

Am I burnt out? Maybe. Am I tired of the politcal poo flinging, possibly. Do I desperately need a spell check? Yes!

In the past, I would now release all those who were on my ignore list, but alas, the switch over did that for me. (my false sense of god like powers has been ripped from me! LOL)

And as always, I say fuck you! Fuck you all! from the bottom of my heart.

With peace, with kindness, with understanding and most of all, with profound sincerety,

Javaman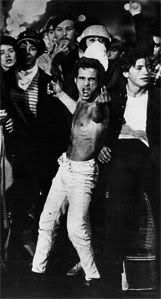 The Tea Party: The hopelessly stupid lead by the willfully corrupt.
0 replies, 487 views