Wed Feb 27, 2013, 07:04 AM
RILib (862 posts)
McConnell's wife on U.S. workers need to take baths
McConnell condemns group that brought up this article about his Taiwan-born wife, Elaine Chao:
http://news.yahoo.com/blogs/ticket/mcconnell-camp-denounces-race-baiting-attack-wife-213757638--politics.html
"In that piece, Chao, who helmed the Labor Department under President George W. Bush from 2001-2009, seemed to channel overseas employers' complaints about U.S. workers. "American employees must be punctual, dress appropriately and have good personal hygiene," she said. "They need anger-management and conflict-resolution skills, and they have to be able to accept direction. Too many young people bristle when a supervisor asks them to do something.""
8 replies, 1004 views
Replies to this discussion thread
| | | | |
| --- | --- | --- | --- |
| 8 replies | Author | Time | Post |
| McConnell's wife on U.S. workers need to take baths (Original post) | RILib | Feb 2013 | OP |
| | brer cat | Feb 2013 | #1 |
| | Kolesar | Feb 2013 | #2 |
| | Canuckistanian | Feb 2013 | #3 |
| | Javaman | Feb 2013 | #5 |
| | Berlum | Feb 2013 | #4 |
| | ck4829 | Feb 2013 | #6 |
| | KoKo | Feb 2013 | #7 |
| | Enrique | Feb 2013 | #8 |
---
Response to RILib (Original post)
Wed Feb 27, 2013, 07:23 AM
brer cat (2,106 posts)
1. She needs to give her husband that same advice...
especially the anger management, conflict resolution and being able to accept direction part.
---
Response to RILib (Original post)
Wed Feb 27, 2013, 07:25 AM
Kolesar (30,442 posts)
2. Chao is Taiwanese/Nationalist, but is selling out to China/Communist
This is complicated.
Success is not about how much money you make, its the difference you make in people's lives -Michelle Obama
---
Response to RILib (Original post)
Wed Feb 27, 2013, 07:48 AM
Canuckistanian (42,288 posts)
3. Ah, yes
Those dirty, smelly, angry, uppity poor people who are disrespecting their "betters".

That's what's wrong with America.
The plural of "anecdote" is not "data"
---
Response to Canuckistanian (Reply #3)
Wed Feb 27, 2013, 10:15 AM
Javaman (41,886 posts)
5. +1 nt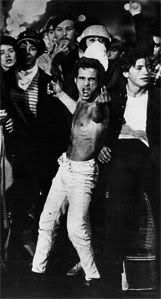 The Tea Party: The hopelessly stupid lead by the willfully corrupt.
---
Response to RILib (Original post)
Wed Feb 27, 2013, 07:57 AM
Berlum (5,758 posts)
4. "You smelly Proles need to be more compliant." - E.Chao (R)
Last edited Wed Feb 27, 2013, 08:15 AM - Edit history (2)
"You smelly Proles had better sit down, STFU, and do what we tell you."
- E. Chao (R)
What is honey for the bee is honey for the bear.
---
Response to RILib (Original post)
Wed Feb 27, 2013, 11:10 AM
ck4829 (15,614 posts)
6. The progressive group shouldn't have even responded to the 'race-baiting' charge
---
Response to RILib (Original post)
Wed Feb 27, 2013, 11:18 AM
KoKo (73,280 posts)
7. Mr. and Mrs. Washington Insider: Mitch McConnell and His Wife
http://www.politicususa.com/washington-insider-mitch-mcconnell-his-wife.html
Mr. and Mrs. Washington Insider: Mitch McConnell and His Wife
By: Dennis S
The guy is a United States Senator. Heís been fouling up the chamberís air for 27 years. Heís married to Elaine Chao, a reasonably bright and attractive Taiwanese immigrant (most likely Han Chinese) with a heavyweight CV that includes an 8-year stint as U.S. Secretary of Labor where she spent considerable time leaning on unions. She was also the Director of the Peace Corps and CEO of United Way. She earlier had been a VP of two huge banks. Before her labor gig, she was with the Heritage Foundation; she returned to Heritage in January 2009.
One might ask what a gal like her sees in Mr. Crepey. It seems the attraction is in their mutual sleaze compatibility.
Heritage opened an office in Hong Kong in 1996 and hired Chao to supposedly serve as Heritageís academic liaison, passing on valuable cultural and scholarly matter for a better understanding of China and the region. In truth, Chaoís apparent lone responsibility was to grease the skids for U.S. manufacturers to cut deals to bring American jobs to non-union cheap labor plants in China. WorldNetDaily reported that she was also a director of an Alabama-based Insurance Company that partnered with the Chinese government. Iím sure she received a handsome stipend for her connections with a U.S. Senator Ė her husband. And this union-hating, American job exporter becomes U.S. Labor Secretary?
Any thoughtful Republican would consider most of the above to be a conflict of interest, not to mention her board membership of the National Association of Security Dealers. As Church Lady would say Ė ďIsnít that special.Ē For Republicans, itís just another day at the office. Just like Clarence and his Tea Party wife, Virginia (Ginni).
The Senator married this accomplished lady after getting rid of the woman who helped him through law school. Donít they all?
If you havenít guessed by now, the object of my disaffection is Kentuckyís Mitch McConnell. Heís my human equivalent of fingernails on a blackboard. While the media concentrates on the madman menagerie that is the U.S. House of Representatives, almost no attention is focused on the equally whacked out Republicans in the senate; every bit as Tea Party-possessed and Obama-hating as their house-bound colleagues.
MUCH MORE of the article at:
---
Response to RILib (Original post)
Wed Feb 27, 2013, 11:25 AM
Enrique (23,873 posts)
8. they have apologized for the Tweet
I can't find the original tweet, but it seems to have said something about Chao's "Chinese money".